Projects worth £275m push Hill to top of contractor tables
Contracts with Peabody Trust put firm at top of civils and non-civils leagues but Kier heads yearly work won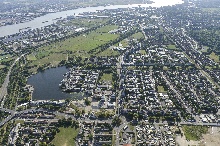 The top contractor for April was Hill, with four projects totalling more than £275m. The housing developer and contractor secured contracts with the Peabody Housing Trust, with work at the latter's estates on Wyke Road, and Lea Bridge Road, in London's East End, worth £133m each.
In what was a relatively quiet month for contracting activity generally, Kier held the number two slot on both league tables...
THE CPA/BARBOUR ABI INDEX
The Index shows construction contract awards based on Barbour ABI research. It is adjusted for seasonal variation and includes monthly deflators to allow for price changes. The Index is benchmarked against the value of 100 in January 2010.
For index data on 11 different industry sectors click here