Concrete Quarterly (CQ) is produced by The Concrete Centre four times a year and is free to download.
First published in 1947, CQ continues to champion iconic concrete projects.
CQ encompasses design guidance, aspiration, inspiration, vision and latest projects. It is aimed at all members of the project team and demonstrates the potential of concrete in terms of architectural vision, structural solutions, best practice and performance.
The following page showcases the best of concrete design and construction, alongside new videos and project studies from every issue of Concrete Quarterly.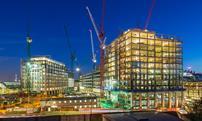 The transformation of King's Cross includes some of the UK's most sustainable office buildings - and concrete is key to all of them

Bennetts Associates Architects, Buro Happold and Kingerlee discuss the benefits concrete brings to the design and build of The Gateway Buildings, St Antony's College Oxford. Produced in association with Concrete Quarterly.

Foster + Partners' new airport in Jordan uses a mix of in-situ and precast concrete techniques to create a mesmerising pattern of shallow domes, curving beams and tapering columns

Zaha Hadid's Pierresvives council building in the French city of Montpellier relies on concrete to solve a range of structural and environmental challenges, as well as providing a spectacular geometric facade
Produced by Building.
If you'd like to do a video project with Building please contact Cameron Marshall on 0161 874 3809 or email cameron.marshall@ubm.com.