Find out how much you are worth
This year's Building/Hays Construction pay guide reveals a disturbing trend of pay rises for those at the top of the tree, but salary cuts and recruitment freezes for those at the bottom. See how your salary compares to the rest of the industry using our interactive data player for engineers, surveyors and architects. Choose your job sector from the tabs above or the buttons to the right.
Read analysis from Emily Wright of this year's data,
and click on the graphs below for visualisations
of this year's major trends.

2011 salary guide analysis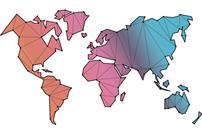 This year's Hays International Salary Survey shows that potential pickings for candidates are a lot richer overseas. The 'Trump bump' and Australia's infrastructure boom are fuelling the already-strong international demand for UK construction professionals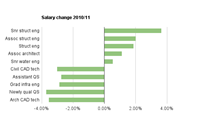 Five positions with the largest increase in average salary in the last 12 months, and the five worse


Quantity Surveyor £51,327
Partner/Director
Building Surveyor £50,782
Partner/Director
Architect £46,864
Partner/Director
Bridge Engineer £45,536
Associate
Quantity Surveyor £44,227
Associate
Traffic / Highways Engineer £42,864
Associate
Geotechnical Engineer £41,818
Principal Engineer
Structural Engineer £41,500
Associate
Building Surveyor £39,473
Associate
Quantity Surveyor £39,355
Claims Surveyor