Winning work in China | White Paper
How to get this report
The link below will become active once the White Paper has been purchased.
Click 'buy now' to purchase.


To purchase this report via invoice please
download
the form attached
*Please note you will need to be logged in or registered on building.co.uk in order to make your purchase*
Pre-ordered reports will be delivered as soon as available.
Winning work in China - Building White Paper
Already purchased this report? Sign in
Price: £ 299.00 Buy now
Want to know how to win work in China?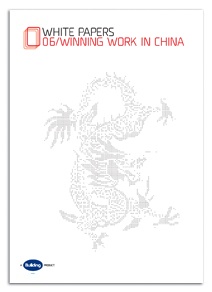 Winning Work in China, part of the winning work series from Building's White Papers, provides in-depth information and practical guidance that will help you to win work in this major market for construction.
Inform your business planning with in-depth analysis of the current and future direction of the Chinese construction market including an overview of the current economic situation and growth projections
Plan ahead for your business by seeing the market opportunities and challenges by sector and key regions
Analysis of the biggest areas of opportunity and barriers to entry for western firms, including case studies and interviews with Chinese professionals
Better understand the market with detailed guidance on legal and regulatory compliance and data on recent spending trends
Benchmark your performance by finding out which construction firms and developers have the best performance on sustainability in China, a key market differentiator for western firms
Stay ahead with key contacts for winning work in the region, giving you a head start over your competitors
Related company resources