CPD 10: Using LPG for low-energy buildings
In the latest of our regular series of CPD modules, we look at the environmental benefits of using liquefied petroleum gas as a power source. This module is Sponsored by calor
How to take this module

To take this module read the technical article below and click through to a multiple-choice questionnaire, once taken you will receive your results and if you successfully pass you will be issued automatically with a certificate to print for your records.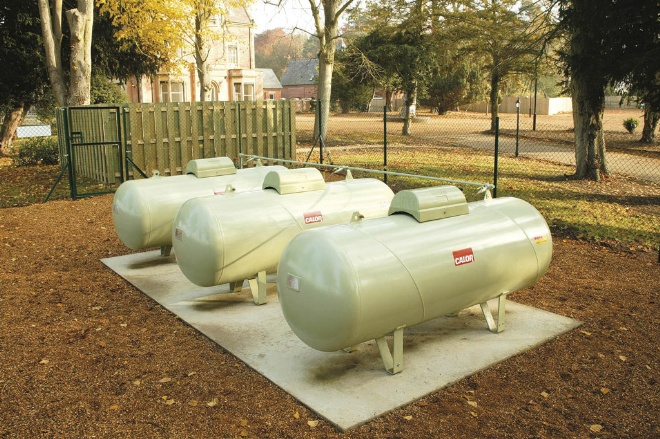 INTRODUCTION TO LPG
Liquefied petroleum gas, or LPG, is a flammable mixture of hydrocarbon gases, derived from fossil fuels. It currently provides around 3% of all energy consumed, and is most commonly used as a fuel for rural heating and catering applications where there is no piped supply of natural gas. There are two main types of LPG: butane, which is often used in small-scale cookers and heaters, and more commonly propane, which can be used for domestic, commercial and industrial heating applications. This CPD will focus on propane, and in particular the role it can play in the low-carbon refurbishment of rural commercial buildings.
INTRODUCTION TO PROPANE
Propane can be stored in cylinders or large tanks, above or below ground. Bulk storage tanks are only filled to 87% of their capacity to leave space for expansion of the liquid in warmer temperatures.
Key properties of propane include:
Colour It is colourless as both a liquid and a gas.
Odour It is odourless, but a stenching agent is added for safety reasons.
Flammability It is flammable in the range of 2-11% by volume of gas to air. Outside of this range it is either too weak or too rich to propagate flame. For comparison, natural gas has a flammability range of 5-15% by volume of gas to air.
Vaporisation One volume of liquid LPG will yield about 270 volumes of vapour. This enables high volumes to be stored as liquid in pressurised containers. It has a vapour pressure (indicating the volatility of a liquid) of 7 bar at 15ºC, which means that it must always be stored outdoors.
Boiling point It boils at -42ºC at atmospheric pressure, which means that its performance is not affected by cold weather, as sufficient vaporisation will take place to provide a constant supply of gas throughout the year in the UK.
Energy It has a higher calorific value than natural gas so it is important that appliances are specifically designed for LPG. Generally, LPG burners will need to be fitted.
BENEFITS OF LPG
In areas not connected to the mains gas grid, there are three main fuel options for heating: oil, electricity and LPG. The advantages of LPG include:
Carbon emissions According to the BRE, LPG is the lowest carbon fuel available in non-mains gas areas. A recent study by energy consultant NIFES Consulting Group (commissioned by Calor Gas) showed that commercial buildings can reduce carbon emissions by 22% by replacing an old oil boiler with one that uses LPG. This was partly a result of a more efficient system, and partly a result of the emissions factor for fuel oil of 0.265kg CO2/kWh, while for LPG it is lower at 0.214kg CO2/kWh. In addition, a separate study published in the peer-reviewed journal Environmental Impact Assessment Review earlier this year demonstrated that, in domestic buildings, heating oil generates about 20% higher greenhouse gas emissions than LPG.
Energy efficiency The NIFES study also showed that replacing an oil boiler installed in 1996 with LPG can cut energy use by 11%.
Reliability Because liquid LPG yields so much gas, it is easy to keep a long-lasting supply on site. Also, because LPG is stored under pressure, it is difficult to illegally siphon off - a growing problem for oil storage tanks. National storage and supply infrastructure ensures LPG companies are well placed to meet demand throughout the year.
Safety LPG is non-toxic and a leak of LPG vapour is unlikely to pose any significant ground or water pollution hazard. As a liquid, it is lighter than water so has the environmental benefit of always remaining above the water level. Any LPG spillages simply vaporise, leaving no contamination of soil or water. As a result, LPG is not subject to the same regulations as those covering oil storage.
Maintenance LPG suppliers themselves typically own and are therefore responsible for the upkeep and maintenance of the LPG tank installation. This means each time a delivery is made, the tank is checked by the driver and, periodically, the installation is checked by a qualified engineer. Essentially, this means that the tanks are one less thing for the home or business to worry about.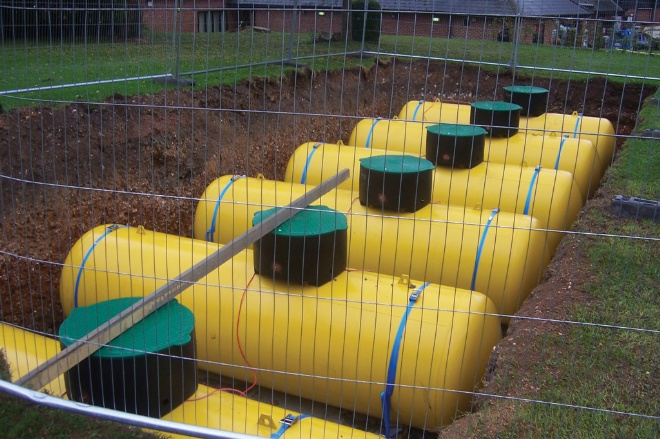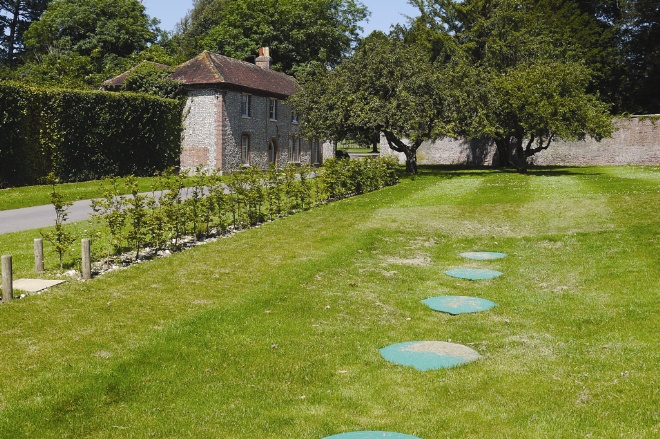 SPECIFYING AND INSTALLING LPG
Siting considerations
It is essential to keep potential sources of ignition, such as naked flames, combustible materials and electrical equipment, away from LPG storage vessels. Separation distances can be reduced by using a fire wall, which disperses any leakages before the gas reaches a site boundary or ignition source. This should be at least 2m high and 1-1.5m away from a 2,000-litre tank.
If there is a potential risk of a vehicle colliding with a bulk tank, this must also be minimised. Crash barriers, kerbs or fencing are the most effective way to prevent collision, and are required if vehicle impact is seen as a reasonable risk.
For larger commercial installations, the tanks and all fittings should also be protected by a security fence at least 1.8m high.
For installations that require 25 tonnes or more of LPG storage, Hazardous Substances Consent is required in addition to the normal planning permission for the siting of LPG tanks and associated equipment. For any site proposing to have an LPG storage facility of greater than 50 tonnes, Planning (Control of Major Accident Hazards) Regulations will also apply.
Finally, the maximum distance between the site of the LPG tank and the site where the tanker will park when it comes to refill the tank is about 30m.
Above-ground tanks
It is possible to site a tank unobtrusively above ground - by concealing it behind evergreen shrubs, for example. However, any screens should be at least 1m from the tank, and the tank must remain visible to drivers at all times.
The minimum separation distance from buildings, boundaries and fixed sources of ignition depends on the capacity of the tank: 3m is required for 2,000-litre tanks, 7.5m for 4,000-litre tanks.
The surface below an above-ground vessel should be compacted or concreted and should have no drains or culverts.
Below-ground tanks
Where ground conditions are suitable, an underground LPG installation may be the preferred option. All that is visible are the tank covers, which give access to the tank valve assemblies and the pressure regulator equipment stored in the same enclosure.
The area can be returned to grass or planted with flowers or shallow rooted shrubs. However, no trees should be planted nearby and buildings should not be erected over or close to the vessels.
Underground installations enable storage vessels to be sited closer to buildings than with above ground installations, which often makes siting easier.
Sizing of tanks
For security of supply, it is usually recommended that storage capacity provides three weeks of LPG at maximum demand. When the power requirements of the plant are known in kW, this is converted to litres of LPG required per hour by dividing the kW by 7.08.
The liquid phase LPG in the tank must be able to produce vapour fast enough to supply the required gas rate. This rate of vapour production is known as the "vapour off-take capacity" of the tank. In general terms, the following principles apply:
The larger the tank, the greater the off-take.
Multiple vessels will have a greater off-take than a single vessel due to the increased surface area.
Off-take rates fall with decreasing temperatures and decreasing gas volumes inside the tanks.
Underground tanks provide about 50% of the off-take of an above-ground tank.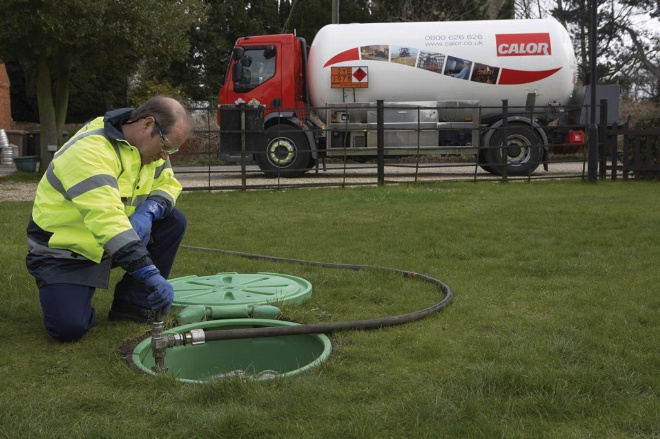 LPG AND LOW-ENERGY TECHNOLOGIES
LPG can be integrated with low-carbon and renewable technologies to provide solutions for rural commercial developments and refurbishments, which combine a reliable year-round heating supply with further carbon and cost savings. The integration of LPG and low carbon or renewable technologies is therefore an increasingly attractive option, especially given that carbon emissions have become increasingly expensive since the introduction of the Carbon Reduction Commitment for larger businesses and the Climate Change Levy (CCL), which is charged on all commercial sites. It is worth noting that the CCL is not payable on LPG installations smaller than 4,000 litres.
Renewable and low-carbon technologies that can be used with LPG include:
Condensing boilers A modern condensing LPG boiler will lower fuel consumption as much as 30% by reusing the energy that would be lost through the flue. Condensing LPG boilers are suitable for most commercial premises.
Solar and PV installations The lower greenhouse gas emissions produced by using LPG compared to oil make a condensing LPG boiler particularly suitable as a year-round back-up to solar power.
Gas absorption heat pumps (GAHP) GAHPs are low-carbon solutions for heating and hot water which can use LPG as a clean primary fuel source. They are suitable for outdoor operation, which means there is no need for a plant room, and can achieve extremely high levels of efficiency.
Combined heat and power A CHP system is effectively an on-site, stand-alone power plant, that is capable of producing both electricity and heat from a single fuel. While the generator produces electricity, the heat by-product is captured and used for central heating and hot water. If additional heat is required, a back-up condensing LPG boiler can boost output.
To take this module read the technical article below and click through to a multiple-choice questionnaire, once taken you will receive your results and if you successfully pass you will be issued automatically with a certificate to print for your records.

Company name: Calor
Website : www.calor.co.uk
Privacy policy
Information you supply to UBM Information Ltdmay be used for publication and also to provide you with information about our products or services in the form of direct marketing by email, telephone, fax or post. Information may also be made available to third parties. "UBM Information Ltd" may send updates about Building CPD and other relevant UBM products and services. By providing your email address you consent to being contacted by email by "UBM Information Ltd" or other third parties.If at any time you no longer wish to receive anything from UBM Information Ltd or to have your data made available to third parties, please write to the Data Protection Coordinator, UBM Information Ltd, FREEPOST LON 15637, Tonbridge, TN9 1BR, Freephone 0800 279
0357 or email ubmidpa@ubm.com. View our full privacy policy online at www.building.co.uk/cpd