CPD 2: Alternatives to stone facade work
In the second of our regular series of CPD modules, we look at lightweight alternatives to stone facade work. this module is sponsored by Monolith

How to use this module: Building's free continuing professional development distance learning programme is open to everyone who wants to develop and improve their professional knowledge and skills. These modules can contribute to your annual programme of CPD activity to help you maintain membership of professional institutions and bodies. All you have to do is read this module then take the questions via the link above or at the bottom of the page. Module deadline: 29 July 2011.
Introduction
Natural stone is an attractive and popular cladding material, but there are a number of reasons for considering alternatives that can replicate its appearance. Natural stone is a finite and depleting resource and its production process has a high carbon footprint. It is expensive and therefore unlikely to be available to the majority of homeowners. Specifying stone can create additional safety risks on site, particularly when it is to be installed at height.
Natural stone also requires careful installation to avoid cold bridging. With the introduction of the Code for Sustainable Homes and the push towards zero-carbon buildings, all components of a building must provide greater insulation. For example, to meet the Passivhaus standard, all components of a building's exterior shell are required to achieve a U-value no greater than 0.15W/m2/K. Some newer methods of sustainable construction have meant a need to develop compatible profiles to maintain their overall performance.
For example, insulated concrete formwork achieves good insulation levels but window and door openings must be carefully designed to prevent cold bridging. Stone products will require considerable insulation, whereas products made of a similar material are compatible and can be more easily integrated into the facade (see diagram, left). The focus on retrofitting the UK's existing homes for better performance means that, ideally, all architectural enhancements should meet higher standards of insulation than the profiles they replace.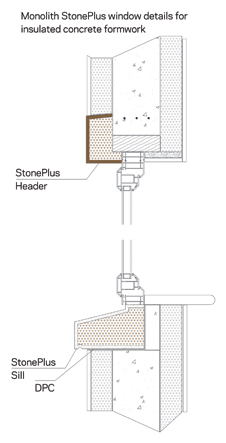 Alternatives to stone
Natural stone as a building enhancement is both traditionally and aesthetically acceptable, so it is important that any alternative can replicate its appearance and feel. It is difficult to achieve this through the use of either sprayed finishes or moulding techniques. Products derived from stone are generally the most successful in replicating this appearance. Specialist lime mortars used as a finishing coat can provide not only the appearance of stone but also the robustness required of external profiles. The finishing coat should be a minimum of 3mm in thickness, preferably 5mm on very exposed surfaces. The most suitable priming plaster is a ready-mixed mortar based on natural hydraulic lime and siliceous and calcareous sand, with a thickness of at least 5mm. As a base material, 200-grade expanded polystyrene (EPS) is very suitable due to its ability to retain its thermal characteristics indefinitely and its high compressive and bending strengths. To achieve the necessary robustness required of external profiles, it is essential to use a preparation mortar that can enable non-standard surfaces to accept lime plaster and mortar.
One of the advantages of these products is that they are tried-and-tested with known characteristics, so it is possible to accurately predict their performance (see table below)

Facade maintenance
Facades are exposed to a number of factors that may compromise their long-term performance:
exposure to the elements, including extremes of temperature, UV radiation and water penetration
polution, such as acid rain caused by sulphur, chlorine and nitrogen compounds, and damage caused by other impurities such as soot and dirt when combined with water
knocks and scratches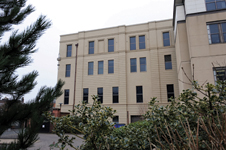 While some products require a rigorous maintenance programme to combat the impact of these external influences, products derived from stone do not because they behave in exactly the same way as stone. The lime mortars used in stone-derived facade products have a life expectancy comparable with stone, which leads to extremely low maintenance costs over a building's lifetime.
For example, tests on Monolith's StonePlus profiles have shown that temperatures ranging from -20°C to 60°C do not affect the integrity of the surface/substrate bond. Extensive freeze/thaw testing confirms no detrimental effects from total immersion and subsequent freezing. As with stone, UV radiation and other climate-related factors will produce a weathered look on StonePlus over time. Where the product is to be used in high-pollution areas, a hydrophobic magnesium stearate additive can be used to increase chemical resistance. Damage caused by knocks and scratches can be invisibly patched in the same manner as historic stone to replicate surface colour and texture.
Advantages of lightweight profiles
Cost: alternatives to natural and cast stone are much cheaper, which makes them available to a much wider clientele
Health and safety: lightweight profiles weigh around 80% less than cast stone equivalents, which means improved safety for operatives on site, particularly when working at height, and an associated reduction in labour costs. Installation is simple and can be carried out by one person, with no lifting equipment required.
Sustainability: materials fabricated using EPS have significantly less environmental impact than natural stone.
Fire resilience of EPS
In combustion, the amount of carbon monoxide and particulates given off by EPS is a small fraction of that emitted by wood or cardboard. EPS only begins to soften at 100 degrees C. It will auto-ignite at 454.4 degrees C, considerably higher than wood (340 degrees C). When encapstulated by a fire resistant product, EPS will not assist the spread of fire, and 200-grade EPS self-extinguishes when removed from an ignition source.
Sustainability of alternatives to stonework facades
Natural stone is a finite resource. It is used extensively in road building and in the wider construction industry, which means that despite huge reserves, it is a depleting resource. Although the finishes of alternatives to stonework facades are derived from limestone, they also contribute to this depletion, but to a much lesser extent.
While a typical natural stone or cast stone profile would contain 100% stone, an EPS-based alternative would have a coating with a maximum thickness of 10mm, with the rest of the volume made of EPS. This not only reduces the amount of stone required, but also the costs and environmental impacts associated with transporting construction materials. Natural and cast stone are by nature heavy products. Their transport will therefore generate a higher carbon footprint than something that is 80% lighter.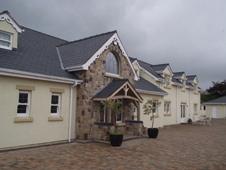 The use of EPS also saves considerable energy and resources. EPS is 98% air by volume, captured in a closed-cell structure, and therefore it has extremely low thermal conductivity. It is also one of the lightest construction materials in common use, which helps to minimise the environmental impact and costs associated with moving heavier materials. EPS is made from oil, but it can save up to 200 times the resources used in its manufacture over its lifetime through thermal energy saving. For example, 1kg of oil used to manufacture EPS saves the equivalent of more than 100kg of oil over the lifetime of the building.
The Building Research Establishment's Ecopoints scheme provides a standardised way of measuring the environmental impact of construction products or processes. The higher the score, the greater the environmental impact. For example, the annual environmental impact caused by a typical UK citizen creates 100 Ecopoints.
Under this scheme, EPS scores just 0.043 over a 60-year life. This assessment takes into account the production, transportation and disposal of products.
The EU's Ecobalances programme assesses the impact of a product across its whole life-cycle. EPS has been found to have zero ozone depletion potential and a low global warming potential.
In the BRE Global Green Guide to Specification, EPS for commercial construction applications achieves the highest possible rating (A+), which means it has the least possible environmental impact. In addition to the A+ summary rating, EPS achieves A ratings across the majority of critical environmental performance indicators including:
Water extraction (A+)
Mineral resource depletion (A+)
Stratospheric ozone depletion (A+)
Human toxicity (A+)
Ecotoxicity (A+)
Nuclear waste (A+)
Waste disposal (A+)
Fossil fuel depletion (A)
Eutrophication (A+)
Acidification (A)
Because it does not degrade over the life cycle of a building, EPS also has excellent post-use environmental credentials.

Building's continuing professional development distance learning programme can contribute to your annual CPD activity and help you maintain membership of professional institutions and bodies. If you experience any problems veiwing the test online, contact building.cpd@ubm.com
MODULE DEADLINE: 29 July 2011
Information you supply to UBM Information Ltd may be used for publication (where you provide details for inclusion in our directories or catalogues and on our websites) and also to provide you with information about our products or services in the form of direct marketing activity by email, telephone, fax or post. Information may also be made available to third parties on a list lease or list rental basis for the purpose of direct marketing.
If at any time you no longer wish to receive anything from UBM Information Ltd or to have your data made available to third parties, please write to the Data Protection Coordinator, UBM Information Ltd, FREEPOST LON 15637, Tonbridge, TN9 1BR, Freephone 0800 279 0357 or email ubmidpa@ubm.com.