CPD 27: Security on construction sites
The latest in our series of CPD modules examines the measures that site operators should take to reduce the risk of theft, vandalism and arson. This module is sponsored by Zurich
How to take this module
To take this module read the technical article below and click through to a multiple-choice questionnaire, once
taken you will receive your results and if you successfully pass you will be issued automatically with a certificate to print for your records.

INTRODUCTION
Construction sites are an easy target for thieves, attracted by high-value plant and materials and the chance to make a quick and easy profit. Poor security can also leave sites vulnerable to arson and malicious damage, potentially jeopardising project completion and leading to lengthy delays, penalties, adverse publicity and loss of customer confidence. Theft and arson are significant reasons for increasing insurance costs - the Home Office estimates that plant theft alone costs the construction industry £400m each year.
Construction site occupiers may also face civil claims or criminal prosecutions if workers or members of the public are killed or injured. Thiscan involve significant cost in terms of investigation, lost time, indemnity spend and, potentially, criminal fines.
This is in addition to the reputation cost associated with such incidents and any subsequent litigation. Property next to construction sites can also be damaged and occupants put at risk - for example, if a fire on site spreads beyond site boundaries.
This CPD will focus on ways for owners and operators of construction sites to maximise security and minimise the threat of theft, deliberate damage and arson.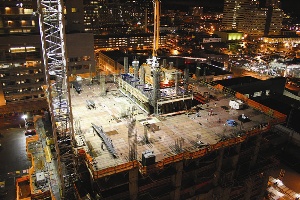 ASSESSING SITE SECURITY AND FIRE SAFETY
Investment in site security can be regarded as an undesirable addition to the cost of the overall build. It is therefore advised that the risks at key stages of a build (such as demolition, foundations, framework, main structure, fit-out and completion) are assessed to ensure that the most appropriate and cost-effective measures are implemented. Factors to consider include:
When will combustible materials be introduced to the build and how long will they remain exposed?
Where will combustible and flammable materials be located and stored, and in what quantity?
When will fixtures and fittings that are attractive to thieves be installed, such as copper electrical wiring and copper plumbing?
How much would it cost to replace items of plant, taking into account the time taken and hire charges incurred in the meantime?
Each should be assessed in terms of the financial consequences should a major fire or theft take place. For example, at the framework stage, a concrete or steel frame will be much less vulnerable to arson than a combustible frame. In the case of a concrete or steel frame, a good quality hoarding may be considered appropriate, whereas a combustible frame may require manned overnight guarding.
PLANT THEFT
Over £1m worth of construction plant and equipment is stolen each week in the UK alone, and less than 10% is ever recovered. Plant security is particularly challenging as professional thieves are well versed in both stealing and disposing of plant - in many cases, it will be taken out of the country in a shipping container within 24 hours.
Plant security can essentially be divided into two overlapping areas:
Devices and strategies designed to prevent theft occurring
Security devices intended to improve the chance of recovery if an item is stolen.
Despite the availability of protection systems, it is common to find £60,000 excavators, without any form of reliable security, left vulnerable to theft overnight on open contract sites. A key step in any plant security strategy is to ensure that supervisors and operatives understand best practice methods to reduce the risk of theft. This can be a very effective and inexpensive method of enhancing plant security.
Physical and electronic security devices include:
Physical locking devices such as leg locks, ram locks, track locks
Tow hitch locks applied to trailers
Immobilisation devices, especially those approved by the Thatcham Research Centre
Key security both during the day and when the site is unoccupied
Tracking devices for high-risk items (see below)
Appropriate security measures may already be fitted to new plant, but it is also important to address the security of older plant, which may be especially vulnerable. This should also extend to hired plant. Where possible, hire companies that supply equipment fitted with appropriate security measures should be used.
Identifying stolen plant
Construction plant should be identifiable, meaning that it should be possible for the police to determine ownership with certainty. In the case of poorly marked equipment, the police may be powerless to confiscate items of stolen plant. Companies are strongly encouraged to use the CESAR (Construction Equipment Security and Registration) scheme, or CESAR Compact scheme for smaller items of plant. This provides a package of security measures, and has a proven track record of improving the rate of recovery and acting as a deterrent. As such, it is highly valued by insurers - for example, Zurich is able to apply a substantial premium discount to any plant that is CESAR registered.
Companies should also consider using forensic marking compounds such as SmartWater, vehicle identification numbers and corporate branding for items of plant, as well as keeping accurate records and a photographic database that includes unique identifiable features.
Tracking devices
Tracking devices alert a monitoring station to any unlawful movement. Such devices can, if installed and specified correctly, be extremely effective at detecting a theft and tracking the exact location of stolen items. It is possible to overcome some tracking devices, so plant at a high risk of theft should be fitted only with Thatcham-approved devices, installed by approved companies.
It is essential that tracking systems are activated immediately following any unauthorised movement of the construction plant. Tracking devices that must be activated upon discovery of a theft are not advised. For more information, visit www.thatcham.org.
PREVENTING MATERIALS THEFT
Logistics
Unattended materials present an opportunity for thieves, vandals and arsonists, so the amount of stock left on sites should be kept to an absolute minimum. Effective logistics practices include just-in-time delivery scheduling, varying or alternating delivery times, and ensuring there is always someone trustworthy to accept the delivery. If materials do have to be ordered in bulk, they should be stored in a security compound or an area where theft will be noticed quickly.
Outbuildings
These may contain items helpful to would-be thieves, arsonists and vandals. For example, ladders can be used to gain access to roofs, petrol in plant can be used to start and spread fire, and portable tools can be used to break into other areas.
Outbuildings are usually inherently weak due to their construction. If the building is not strong enough, valuable items or those that could prove helpful to a thief or arsonist should be stored elsewhere. Any temporary outbuilding on site needs to be securely locked, and items such as ladders should be secured using good-quality chains and padlocks. High-value materials, plant and tools should be stored in security containers where possible if they cannot be removed from the site overnight.
Site office
The site office should be positioned so as to minimise access for the opportunist thief. External doors and windows should be in a good state of repair, while good-quality locks should be fitted and checked regularly. Vulnerable windows and doors should be fitted with bars and shutters.
Office equipment should be marked with indelible marking techniques such as stamping, etching, engraving, sandblast, acid pens, SmartWater or ultraviolet lacquer.
Metal theft
Opportunist thieves will strip materials, especially metals, from existing structures. In such situations, consequential loss can also occur - for example, following the theft of lead roof flashings, water ingress can cause substantial further damage.
Protection measures should be considered where metals are present, especially the ferrous metals copper, lead, tin and related alloys such as brass and bronze, but also aluminium, stainless steel and mild steel.
Barbed wire secured along the edge of roofs can help prevent access to areas where metals are present within the fabric of buildings. Physical security measures must be visible, accompanied by appropriate warning signs, and deployed at least 2.5m above the ground. This gives the greatest chance of avoiding any legal liability. Anti-climb spikes or anti-climb paint can also be fitted to downpipes to inhibit access.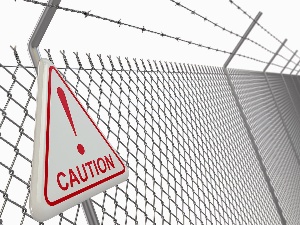 ENSURING SITE SECURITY
Site operators are often reluctant to improve general site security because of cost, especially with many contractors operating at very low margins. However, this can prove to be a false economy - uninsured costs following an incident are often greater than the cost of improving security in the first place.
Security patrols
Security patrols or manned guarding should be undertaken by approved security personnel, licensed under the Private Security Act 2001. The Security Industry Authority and the National Security Inspectorate run official guarding schemes and can provide details of approved local security companies. You must also assess the risks to security staff when considering the adequacy of other security measures, in particular to lone workers, and implement suitable measures to control those risks.
Perimeter protection
Boundaries need to be both strong enough and high enough (minimum height of 2.4m) to keep intruders out. Security fencing is the best form of perimeter protection, although opaque fencing should be avoided as it can provide a screen to hide criminal activity once scaled. Where security precautions are in place, warning notices should be displayed around the perimeter. These should provide enough information to act as a deterrent without providing details that could be useful to vandals.
Ideally, access should be controlled for all sites, with visitors asked to sign in. Any "reception area" should be situated near the main gate - the fewer known access points, the lower the risk of illicit entry.
Ensure that stored materials are not stacked against walls or fences. This prevents their use as a climbing aid for access, and from being set alight from outside the boundary. Ideally materials should be stored in secure containers.
External lighting
Providing external lighting on site can deter potential intruders, especially where a site is overlooked by nearby properties. Lighting should be installed as high as possible, and where obviously vulnerable to physical damage, it should be adequately protected - for example, with armoured cable.
CCTV
Rapid deployment monitored CCTV is a fairly recent innovation for construction sites. It can be hired in from major hire companies and has been shown to be effective. CCTV systems can offer a deterrent against malicious damage, arson or theft, and also provide evidence for the police.
It's important to consider what a CCTV system is there to achieve at the outset, as this will determine the type of system and equipment required. For example, cameras can be concealed or highly visible. The more visible the camera is, the higher its value as a deterrent. The less visible a camera is, the more likely it is to escape vandalism and survive with its testimony intact. Note that warning notices must be displayed if CCTV imagery is to be used as evidence in court.
Remote alarms
Remote monitored alarm systems can be triggered by the breaking of an infrared beam, with response from a monitoring station or key holder, or directly from the police. These are cheaper than static guards, and offer good site coverage and out-of-hours protection. Systems can include speakers so that intruders can be challenged.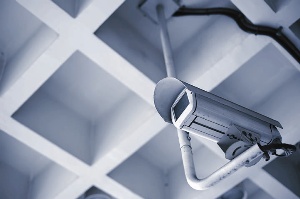 Secure areas
Secure areas should be created, ideally off site or in areas on site that have enhanced physical protection. Access to secure areas should be inhibited using physical barriers, such as concrete blocks or telescopic collapsible barriers.
Locks
Where possible, locks should comply with current British standards. However, even the best locks do not stand a chance against some items of plant, such as butane torches. Mitigate the risk by removing keys for secure areas from the site, and securing plant that could be used to break into them.
Scaffolding
Scaffolding provides a potential access point onto the roof of a building. Corrugated iron sheeting should be bolted to the base of the scaffold (to a height of 3.5m) to deter climbers, and ladders should be removed to a secure place at the end of each day. Local people could be asked to keep an eye on the property, or the scaffolding be protected by an intruder alarm.
Security manager
It is important that one person is made responsible for security. They may delegate some responsibilities to others, but they must retain overall control and accountability.
Staff awareness
Good control of staff and vehicles on site is vital, especially as a high proportion of site crime is committed by people with links to the industry. It is important that security measures are discussed at the highest level and that all senior staff fully understand the implications of poor security.
ARSON AND MALICIOUS DAMAGE
When planning site security, it is important to bear in mind that it is the arsonist's deliberate intention to cause damage. They will seek ways to maximise the damage, such as using an accelerant such as petrol, or starting fires in more than one place.
A fire risk assessment should be undertaken, taking into account:
The ways in which an arsonist could start a fire
What the effect would be
How to reduce or prevent the risk.
Identify and eradicate any obvious fire hazards if they are present, such as waste materials or inflammable liquids. Prevent rubbish from building up, indoors and outdoors. Wheelie bins are often set alight, so lock lids to any external bins and where possible, store them away from buildings, ideally in their own locked compartment, or with a chain padloced to a post in the ground. External litter bins should be emptied several times a day.
MITIGATION
Stolen plant should be reported to the police immediately, giving as much information as possible about the missing item, including all serial numbers or CESAR numbers.After any theft or during refurbishment works, replace metal roofing or flashing with materials that are unattractive to thieves - eg, coated steel sheet, glass reinforced plastic (GRP), non-lead flashing or flexible (bitumised) felt. Speak to your insurer before replacing metal roofing with felt.