CPD 4: Energy efficient building envelopes
This CPD covers envelope design and reducing energy use. Sponsored by Ruukki

How to use this module: Building's free continuing professional development distance learning programme is open to everyone who wants to develop and improve their professional knowledge and skills. These modules can contribute to your annual programme of CPD activity to help you maintain membership of professional institutions and bodies. All you have to do is read this module then take the questions via the link above or at the bottom of the page. Module deadline: 11 November 2011.
Introduction
Improving a building's performance and reducing its impact on the environment is now an essential part of the design and construction process. The envelope of a building can make a significant contribution to reducing the amount of energy it uses through good thermal performance and airtightness levels. It can also help to generate renewable energy through the use of photovoltaic modules, reducing the amount of fossil fuels that must be burned to heat and cool the building and therefore reducing its carbon dioxide emissions.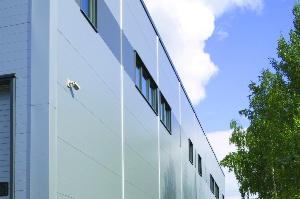 Composite Panels
Composite or sandwich panels are versatile prefabricated construction components, which can be used for facades, roofs, compartmentalised structures, partition walls and ceilings. They are suitable for use in industrial and commercial buildings, sports facilities, warehouses and power plants, and in demanding clean-room applications such as facilities for the food industry.
The panels consist of two colour-coated steel sheet layers around an inner insulation core. This core can be made of different materials depending on the properties required of the panels. PIR panels include a rigid, self-extinguishing polyisocyanurate (PIR) foam core, which is free of hydrochlorofluorocarbons (HCFCs), so does not do damage to the ozone layer and offers good thermal performance. Non-combustible composite panels with a core of rigid mineral wool offer good fire resistance and acoustic properties.
Benefits of an airtight envelope
An airtight building envelope can make a major contribution to the sustainability of a building. The relevant Building Regulation is Approved Document L2A: Conservation of fuel and power (New buildings other than dwellings) (2010 edition), which requires that the limiting fabric parameter with respect to air permeability is 10m3/hr/m2 at a pressure of 50 pascals.
Reducing air leakage through the fabric of a building reduces the amount of energy needed to heat or cool the internal environment, lowering carbon dioxide emissions and earning credits under environmental accreditation schemes such as BREEAM and LEED. An airtight building envelope also helps to create a comfortable indoor environment with no draughts,
a stable temperature and insulation from external noise. A high-performing envelope reduces the risk of condensation and mould, and can reduce running and maintenance costs.
Ruukki's eSPA Energy Panel solution has a specially engineered joint to provide enhanced airtightness and is suitable for industrial buildings, commercial buildings, logistics centres and warehouses. Airtightness levels can be as low as 3m3/hr/m2.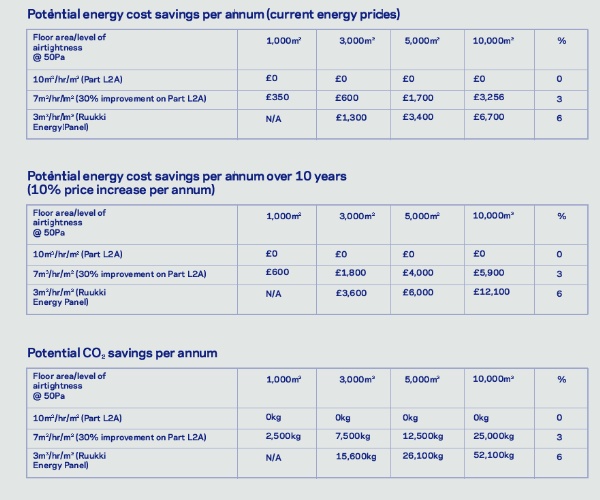 Reference building information
These calculations are based on a reference building with the following characteristics:
Floor area: 8,400m2
External wall area: 3,150m2
Envelope area (wall, roof, floor): 20,000m2
Window area: 10% of external wall area
Building volume: 67,000m3
Building volumes, heated area: 63,000m3
Room height: 9m
Heat recovery ratio (ventilation): 0.55
U-values for envelope: Wall 0.30; roof 0.25; floor 0.22; windows 1.5; doors 1.7 W/m2K
Heating system: Air heating, gas
Energy prices: gas 3p/kWh, electricity 9p/kWh (average non-domestic energy prices from DECC Quarterly Energy Prices, June 2011)
Nominal emissions: gas 0.2125kg/kWh; electricity 0.6221kg/kWh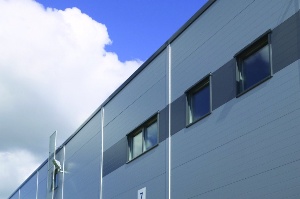 Benefits of non-combustible panels
Long-spanning non-combustible composite panels, with a mineral wool core, have enjoyed a leap in popularity in the UK in recent times. They have a number of advantages, including:
Safe and reliable fire performance
The fire resistance of panels varies according to the thickness of insulation. Ruukki's SPA F panels can achieve fire resistance of up to four hours (see table, below).

Non-combustible composite panels can provide column-to-column spans of up to 8m with no wind posts.
Good thermal and acoustic performance
The inherent properties of the mineral fibre used as a core material also enable panels to easily achieve U-values as low as 0.17W/m2K and sound reduction values in the order of 30-35dB, though performance varies depending on the thickness of the panel.
Made from lightweight, durable materials
Panels typically include a lightweight 0.5mm galvanised steel inner skin coated with polyester for walls and ceilings, and a 0.6mm galvanised steel outer skin coated with a PVf2 finish for external walls. Other finishes can be specified to special applications. Surface finishes can be ripped or smooth, and different effects can be achieved by installing panels vertically or horizontally, or with a mixture of these styles.
Panels can be used as external walls, internal walls or partitions. In the food industry, ceilings and walls in food preparation areas must be protected with a coating that can be washed daily with high-pressure water jets. A PVC laminate or polyester coating is ideal.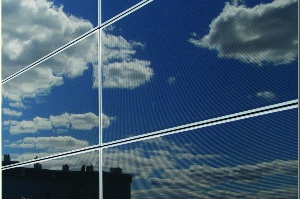 Introduction to solar facades
Building facades offer a major opportunity to generate solar energy. There is increasing interest from individuals and companies in producing renewable energy from their buildings, to reduce energy bills, to meet targets on renewable energy production for new schemes and to reduce the contribution of the built environment to climate change. In the UK, the feed-in-tariff scheme also allows building owners to generate an income by selling renewable power back to the grid.
In a solar facade, photovoltaic modules are fully integrated with the building so that they are an integral visual and functional part with no need for additional components on the facade or roof surfaces.
Solar facades enable renewable energy generation in crowded cities where there is little free space on the ground for energy production. They can be installed on new buildings and during refurbishments and on a variety of wall materials and types.
Components of solar facades
In a solar facade, panels are attached in the same way as any other cladding system, with support studs and frames fixed to the backing wall and the panels screwed to the steel frame. The panels themselves have a metal base to which two layers of glass and a solar cell are added.
The substrate is a 3mm sheet of glass on which a thin photoactive film no more than a few tens of millimetres thick has been deposited. The surface layer is clear, tempered glass 4mm thick. The PV modules are based on polycrystalline CIGS thin-film technology, which uses a copper-indium-gallinium-selenide semiconductor.
Photovoltaic panels convert solar radiation into electricity. The electricity is gathered via cables concealed behind the cassette modules and transmitted to an inverter, which converts it from a direct current supply into an alternating current supply. This is then fed into either the building's own network or the main power grid via a kWh counter to measure the amount of energy.
The appearance of the panels is shiny, smooth and almost black, and they provide a virtually seamless glass surface when installed.
Efficiency of solar facades
Thin-film technology is not dependent on solar heating but on solar radiation, which means it is able to produce energy even when there is only diffuse light and in cloudy or foggy conditions. To maximise power production, the solar facade should be orientated south, or between south-west and south-east.
Payback time on the investment in a solar facade will depend on a number of factors:
the price of the technology used
levels of feed-in-tariffs, if applicable
sun and weather conditions
local energy pricing
Ruukki's internal research has found that the price of photovoltaic modules is dropping and has halved since 2009. Some 40% of that decrease has occurred since spring 2010.
Case study of Ruukki Liberta solar PV facade
Ruukki has installed the Liberta Elegant 500 cladding system on a demonstration project near Helsinki in Finland. The modules measure 1,190mm x 630mm x 38mm with a 7mm gap, and are installed on the south-facing facade. Each module is capable of 90 Watt-peak (Wp), giving a generation potential per m2 of 120Wp. To generate 1kWp, an area of 8.3m2 would be required.
With a 1kWp system, annual production of 680kWh could be expected, avoiding 600kg of carbon dioxide emissions. The calculated annual energy production is 84kWh/m2, and the annual carbon dioxide emissions avoided are calculated at 74kg/m2.

Building's continuing professional development distance learning programme can contribute to your annual CPD activity and help you maintain membership of professional institutions and bodies. If you experience any problems veiwing the test online, contact building.cpd@ubm.com
MODULE DEADLINE: 11 November 2011
For further information go to www.ruukki.co.uk
Information you supply to UBM Information Ltd may be used for publication (where you provide details for inclusion in our directories or catalogues and on our websites) and also to provide you with information about our products or services in the form of direct marketing activity by email, telephone, fax or post. Information may also be made available to third parties on a list lease or list rental basis for the purpose of direct marketing.
If at any time you no longer wish to receive anything from UBM Information Ltd or to have your data made available to third parties, please write to the Data Protection Coordinator, UBM Information Ltd, FREEPOST LON 15637, Tonbridge, TN9 1BR, Freephone 0800 279 0357 or email ubmidpa@ubm.com.