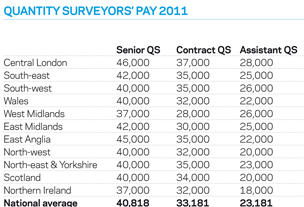 Signs of life
This year's contractor salary survey, compiled by Hays Construction, shows that pay has risen for some professions over the last 12 months. Senior estimates topped the table after securing an average 9% pay increase and there are signs that job seekers may be feeling more optimistic – but things aren't looking up for everyone.
Click on the tabs above to view all the winners and losers on our interactive, sortable tables, and read full analysis of what this means for the industry below.

Frozen salaries have got many looking to change jobs, according to this year's contractor salary survey compiled by Hays Construction. So what's the outlook for those who have forgotten what a pay rise is? Building peers into the distance for a glimmer of hope

The Building/Hays Construction pay guide reveals a disturbing trend of pay rises for those at the top, but salary cuts and recruitment freezes for those at the bottom. Are we in danger of losing a generation of young talent?