Before we made the big mistake of demoting it, arbitration used to be the main place for dispute resolution. Soon parliament will have the chance to make amends …
Shortly, all our forms of building contract will have to change. I will tell you why in a moment. Meanwhile, would you form compilers think about a mistake that was made in 1998, when you had to change the forms of building contract? You removed arbitration as the sheet anchor for resolving building and civil engineering disputes.
I understand why, but please put it back where you found it.
In 1998, parliament gave construction a unique dispute management system. It's called 28-day adjudication. And next year, parliament will bring into force a raft of revisions to the 1998 rules for paying and rules for disputes. So, you form compilers will dash around and revise JCT, NEC, PP2000 and more besides to comply with the latest version of the construction act. That's all very well, but please don't make the same mistake as last time. You brought in adjudication and took out arbitration.
Why? Because you (and I) thought that adjudication was arbitration on roller skates. We all missed a key point. Arbitration is, and always has been, the constructor's dispute resolution forum. Notice the word "resolution". You thought that in 28 days of adjudicating we could make a near enough fist of deciding a dispute. So why have two almost identical systems? But adjudication is not a dispute "resolution" system, nor anything near it. Adjudicators and adjudication only sort out who should have the money pro tem. The dispute is then "resolved" by negotiation, litigation or arbitration. In other words, the pro tem adjudication is considered "properly" in litigation or arbitration if needs be.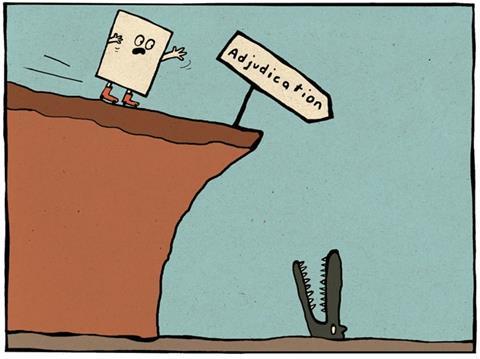 My plea is to put back the arbitration clauses in these forms. And, importantly, will you judges please make yourselves available to be arbitrators? Arbitration works better than any other final arena, once we slot the right arbitrator into place. Sometimes the dispute needs a High Court Technology and Construction Court judge. It so happens that all the judges of the construction court are entitled to sit as arbitrators - so all that talent is available for arbitration. Sometimes the dispute needs an engineer, a QS, an architect or a flooring, roofing, piling or plastering expert to be the arbitrator. An arbitration clause in the standard form, together with an arbitrator-nominating body that will move heaven and earth to select the right person, is vital. I put it this way, only the arbitration clause gives us the opportunity to get the right dispute decider. Please put back the arbitration clause.
Construction is unique. It is not general commerce. We need specialists to decide our disputes. This dawned on us 175 years ago. The High Court scouted around for folk qualified in construction and asked them to arbitrate. They were called Official Referees. They were not judges. They were, in the beginning, engineers or architects "well versed" in construction. Eventually they sat in the High Court in the Strand. Eventually they became judges. Even today the construction judges have either come from being engineers or have spent a lifetime dealing with drains, doors and disruption. But it is wrong to deprive the whole mass of our industry of having their disputes finally resolved by their peers. These peers are the arbitrators.
There are masses of disputes being adjudicated, but if the only place to go for a final resolution is the courts. That's not on.
The mistake of taking out the arbitration clause in 1998 only came to light when we began to appreciate the new Arbitration Act for England. It came into force in 1999. That was after adjudication started. Soon we realised the new act in arbitration gave a significant range of powers to arbitrators to use their own procedure to suit the particular dispute. In the eighties and nineties, arbitration had sunk to a hopeless rigmarole that aped litigation. Arbitrators were trained to fall into a lunatic trap of having to copy court procedures. All that has been swept away. Now the arbitrator could tailor the process to suit the dispute. I promise you the arbitrators nowadays will, must, shall, effectively and economically decide and resolve disputes in their own way using highly experienced industry people. So please put back the arbitration clause.
Tony Bingham is a barrister and arbitrator at 3 Paper Buildings Temple