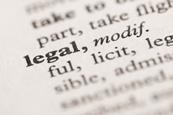 A liability and contract perspective on how the government commitment to net zero carbon by 2050 will impact the industry

The first BIM protocol for use with ISO 19650 provides a legal framework for those using the international standard

Emergency government guidance on contracts urges us to 'behave responsibly' during the pandemic. But why only now?

Can variations clauses be invoked over pandemic-driven changes to the way construction projects are being run?

The bill aims to help firms hit by the pandemic but will permanently change how contracts work

Continuing our series on the basics of construction law, Sara Cunningham considers some of the issues that can arise when valuing variations under a construction contract

With modular building methods, the question is: when are construction operations not 'construction operations'?

With the ban on work north of the border finally lifted, what must sites do to comply with the rules?

Several new services now available for resolving straightforward disputes revive adjudication's original aims: reducing costs and simplifying procedure

Good faith is becoming a central tenet of construction law, as highlighted in two recent publications