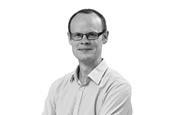 The new proposals are a giant leap in the right direction, says Joel Gustafsson

Infrastructure investment is the key to achieving the government's target of net zero emissions by 2050

Noise and overheating are considered separately in the design and planning stages. This needs to change

It may sound like science fiction, but CO2 could soon be widely used as a raw material for construction and help reduce emissions

Last week, the world's leading politicians, top policy wonks and the most decorated climate scientists are gathering in Katowice in Poland for COP24, the UN's climate change conference. As with most of the climate change conferences in recent history, the backdrop is grim.

We ask readers to share their visions of the industry in 25 years' time. Here, Gpad London's Charles Bettes sees considering waste becoming part of every decision

Overheating represents a risk to the health and well-being of occupants of buildings - we need our new builds to be resilient

Overheating in homes and commercial property is a real problem now - and it's not going away any time soon

Terry Keech says it's time to end the disconnect between 'intended performance' and 'actual performance' of low carbon technologies installed in social housing

The only way to decarbonise heat generation is by going all-electric, says Barny Evans. And we need to start working on it now.