This week, Kier's outgoing finance director displays uncanny vision in his purchasing restraint, Sisk's chief exec offers a fair excuse for at least one late payment, and Google asks for a half-price architecture deal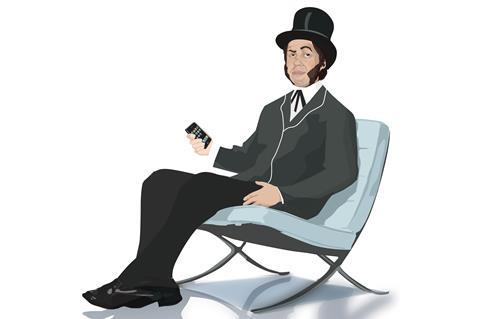 Taking the Gove out of government
Given that Tory leadership hopeful, at the time of writing I must add, Michael Gove has admitted snorting cocaine in the past, I did wonder if his fondness for the stuff was acquired during his stint as a columnist for Building. But Gove says it all occurred 20 years ago – so long before his pieces appeared on these pages a decade ago. One, from October 2009 and headlined "The evil that men do", recalled his Scottish Presbyterian upbringing where he was assured hell awaits "miserable sinners". He must be a terrible disappointment to the hellfire and brimstone sermonisers (not to mention the Tory membership, if they are not the same thing).
Guns and tulips
A letter in support of the Foster + Partners' Tulip tourist attraction destined for the Square Mile is fulsome in its praise of the architect and the developer, Brazilian banking billionaire Joseph Safra. "A great new addition to London and the country as a whole, to offset some of the more dreary parts of London," thunders John Necholas' missive to City planners last month. The scheme actually got planning permission the month before, but never mind. "The developer and architect should be knighted instead of some of these no-talent small-time 'rock stars'." Like Sir Paul McCartney, for example?
No thanks, I'm good
A notice on the London Stock Exchange last week says that outgoing Kier finance director Bev Dew decided to let shares options handed to him in October 2015 lapse. I thought financial directors were supposed to show their support and wade in, in this case at £11.27 a share. That would have cost Dew £17,986 if he'd bought all 1,596 shares at that price. Last week, in the wake of another profit warning, Kier's shares sank to an all-time low of 150p. That would have left Dew nursing a loss of £15,592 if he'd bought them at £11.27 each and then hung on to them all this time. But he didn't. I wonder why.
Dating can be tough, they say
John Sisk's chief executive, Stephen Bowcott, tells my hack that his company was once late paying an invoice by a whopping 410 days. Not something to shout about, surely, when you've just been booted off a government fair payment initiative? "The invoice had the wrong year on it," Bowcott explains. With errors like that, I wonder if the supplier concerned is still in business.
Why pay more?
A star turn at this year's British Council for Offices conference, held last week in Copenhagen, was local boy Bjarke Ingels. The man behind BIG, the architect working on Battersea Power Station as well as Google's new King's Cross building, reveals the US tech giant can be as keen to get value for money as the next client – despite being worth billions of dollars. Ingels told delegates that after a couple of office jobs for the firm, "Google also said why don't we try to see if we can use the same principles and provide the same qualities with roughly half the budget." The delegates all seemed quite familiar with this kind of request …
All our troubles seemed so far away
Staying in the Danish capital, former foreign secretary William Hague also took to the stage at the BCO with these opening remarks: "I left government in Britain four years ago – please notice everything was running fine when I left … Majority government, stability, staying in the EU, economic growth [but] everything was about to go wrong." It seems such a long time ago.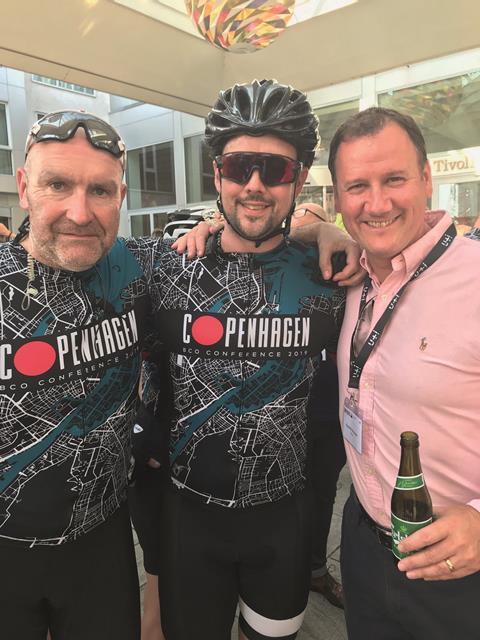 On the level
Denmark is known, among other things, for being flat – so the 60-odd Cycle Challenge riders arriving at last week's British Council for Offices conference in Copenhagen probably thought the three-day trip starting from Gothenburg in neighbouring Sweden would be a doddle. But it turns out there were some 20 falls on the journey, one bizarrely involving two French poodles. No bones broken, luckily. It was organised and sponsored by Alinea, whose team included partners Mark Lacey (left) and Carl Giles (centre), who organised the ride for the BCO, pictured with Mike Ashley lookalike and partner Alastair Kenyon.
Send any juicy industry gossip to Mr Joseph Aloysius Hansom, who founded Building in 1843, at hansom@building.co.uk