Everyone yearns for a moment in the limelight - shooting music videos on a Zaha backdrop, enduring the X Factor ordeal, and allowing (as the Labour Party did) film stars to upstage their beloved leader
Too cool for school
Zaha Hadid's second consecutive win in the RIBA Stirling prize for the imposing (some have used less charitable adjectives) Evelyn Grace Academy in Brixton has not gone down uniformly well with architects. But it has won an unlikely celebrity endorsement. Step forward Matt Cardle, winner of the X Factor in 2010, who has shot the video for his latest single on the running track at the London school, which cuts through the heart of the building. The reason for Matt's choice of a kids' 100m track? The single is called "Run For Your Life"… Get it?
One of many talents
Sticking with the X Factor, the industry has this week been digesting the shock news that 51-year-old scaffolder Terry Winstanley has been dropped from the all-singing ITV show. This has not been a good year for the construction industry's attempts to crack the fickle world of reality TV. Terry's axing comes just months after hapless construction recruiter Ellie Reed was booted off the Apprentice by Lord Alan Sugar after just five episodes. Perhaps it is time for Building's construction super-group "Make That" to dust off their oversized eighties' wigs and attempt a reality TV hat-trick with Britain's Got Talent.
Here's the plan
Party conferences are supposed to be a civil servant-free zone, with big censures for public officials seen attending political events. However, the communities department chief planner Steve Quartermain did not escape Labour's conference last week scot-free. Already under pressure as the architect of the planning reforms that have got Middle England, and the Daily Telegraph in particular, in such a tizzy, Quartermain may have other things to worry about if Labour ever gets back in. Labour's housing spokesperson in the Lords, Jeremy Beecham, was less than impressed when a delegate from Leeds council claimed Quartermain had advised the council to "relax" about its regeneration ambitions. Beecham's response indicated that Labour might look for another chief planner if it was returned to office.
Get me a doctor
The launch of Building's Health White Paper at the Future Health & Care Expo revealed some of the current problems within the healthcare system. Not least the dangers of the Internet and self-diagnosis. Why wait to see a GP when you can Google your symptoms yourself? A VIP conference attendee from Lend Lease has the answer: "I Googled my symptoms when I had stomach ache," he said. "I was slightly concerned by the diagnosis. Apparently I had an inflamed womb. Not what I was expecting. My wife was a bit shocked too!"
My name is …
A recent visitor to Davis Langdon's HQ in central London had reason to chuckle, after overhearing one of its receptionists haplessly trying to explain the company's new name to a confused caller. Apparently it took three attempts to explain to the bewildered outsider that no, correspondence should not be sent to "Davis Langdon", it should be sent to "Davis Langdon, an Aecom company". Clearly, just over a year after the US engineer's takeover of the QS, the new corporate identity is yet to take hold …
Star struck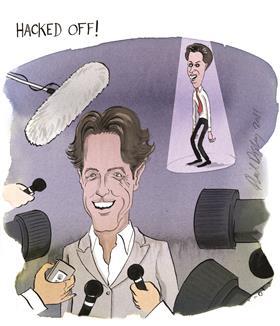 You may be surprised to hear that the most exciting moment of last week's Labour Party conference was not leader Ed Miliband's jittery conference speech. Nor was it Ed Balls' combative polemic on the economy. It wasn't even Sir Alex Ferguson's brief appearance on Miliband's pre-speech promotional video. No, it was without doubt actor Hugh Grant's discussion of the phone hacking scandal. After causing many of the audience to swoon (with his recollections and coherent arguments over the affair), he left amid the kind of media scrum notably absent from the rest of the conference. In contrast Miliband seemed able to walk around the conference almost completely untroubled by anyone.