This week, indecision prevails as the RIBA swaps cool for sophistication, politicians disagree on numbers and the communities department isn't sure whether it's setting up a committee or not
Job hunting, BIM-style
The good people of Autodesk - the company that makes 3D building design software for construction firms - have a lot to thank Paul Morrell for. Our chief construction adviser can't stop gushing about the brilliance of BIM, which happens to be one of the main products Autodesk markets to its clients. One of my hacks happened to meet the software company's vice president, Pete Baxter, at an industry event in London. So, he queried, is Paul Morrell, in fact, on Autodesk's payroll? No, came the reply … But if Morrell is keeping an eye out for his next role, Baxter said he would be "more than happy to take on a man of his calibre".
Architects go upmarket
RIBA president Angela Brady's attempts to rebrand the institute as cool via the opening of a new "hub" in London's Hoxton appear to have floundered after Brady changed her mind, saying the plan had merely been a metaphor. With that in mind, could "sophisticated" be a more realistic adjective for the marketing department to aim at? After all, the RIBA is hosting a wine-tasting event later this month that also features a talk by Jaime Valle of Foster + Partners on the practice's award-winning Portia winery in Spain. Now that's my idea of cool.
Politics will add years to you
The average age of first-time house buyers is, as we all know, steadily rising - but nowhere more so than at last week's Conservative party conference in Manchester. At an event on Tuesday morning, housing minister Grant Shapps quoted the standard estimate of 37 years old. That evening, Westminster councillor Jonathan Glanz pushed it up to 38. By nightfall, some slightly inebriated delegates were overheard insisting it was "about 40 years old" as they attempted to right the UK's housing wrongs over a glass or two of complimentary wine. Nothing like a day at the Tory Conference to make you feel old …
Unregulated remarks
Regs minister Andrew Stunell's announcement last month that he was "urgently" setting up a compliance committee to investigate new homes that don't meet their designed energy standards raised a few eyebrows - not least in his own department. The communities department press office was at a loss as to explain what their minister was talking about when my hack colleague called them up. Eventually we were told Stunell's statement related to a one-off "compliance round table" back in February and that there is no expectation that the committee will ever meet again. So I think we can probably dismiss Stunell's revelation as a bit of party conference over-exuberance. As one official said wearily: "I'm rather hoping I never have to hear of it again."
Do as you would be done by
Understanding your clients is key to winning business, or so the well-worn mantra goes. But how far is your firm willing to take it? If said firm is EC Harris, the answer is very far indeed. The consultant's head of health is a former health planner, its chief of aviation is a former air traffic controller and the boss of education is (you guessed it) a former headteacher. Full marks!
Jaws in suburbia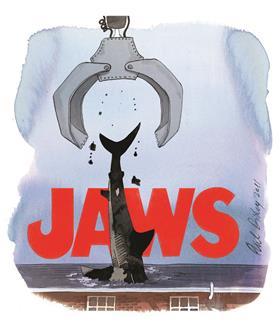 One of the country's quirkiest icons - a 25ft-long fibreglass shark sticking out of the roof of a suburban house in Oxford - is 25 years old. The bizarre piece of English eccentricity was erected in 1986 by householder Bill Heine, who has now told the story of its construction and the long planning battle in his book, The Hunting of the Shark. According to the blurb, this tale of "art, anarchy and architecture" featured courtroom drama, arrests and the intervention of then environment minister Michael Heseltine. Could be worth a read …