The industry finds itself this week examining vaunting ambition, coming a cropper over a letter and witnessing an epic battle - clearly it's not only a young Michael Gove who enjoyed Shakespeare
47/50 ain't bad
Turner & Townsend's UK MD Steve McGuckin was recently revisited by Building 10 years after appearing in our original 40 under 40. When he was 21, McGuckin wrote a list of 50 things he wanted to do before he was 50. And now, aged 49, he is 47 down, with three left on the list: doing a Ph.D, flying a fighter jet, and having five kids. But he is happy to let those go: "The Ph.D will never happen now as I don't have enough years before I am 50 to complete it; I was going to do the fighter jet one but the instructor had a heart attack the day before so I took that as a sign not to; and as for having five kids, I have two now so unless we can engineer triplets somehow …"
True blue?
Word has it that the British Council for School Environments, a body that campaigns for better schools in the UK, has been touting itself as something of a Conservative-friendly answer to Partnerships for Schools, the delivery agency set up under Labour. But it seems that the BCSE is not as Tory as it would like others to believe. Its conference at the end of the week is due to have former Labour minister Jim Knight topping the bill, and also an appearance by Fiona Millar, the partner of Alastair Campbell, who has set up the Local Schools Network in opposition to Michael Gove's favourite advisory body, the New Schools Network. Now that's cross-bench construction.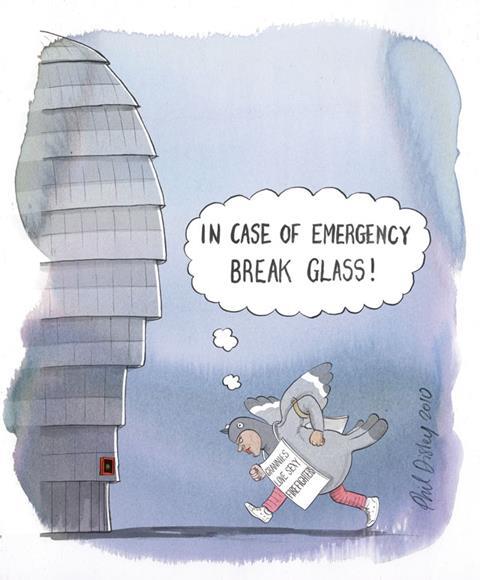 Tackling it head-on
Boris had some unusual visitors last week, when a group of men dressed as old women holding signs reading "Grannies Love Sexy Firefighters" descended on the mayor's office to support the firefighters' right to strike. They caused panic - and then confusion - among security staff as one cross-dressing dissident repeatedly hurled himself, head first, into the windows of City Hall, like a brain-damaged pigeon. After four collisions, he gave up, leaving nothing but bafflement in his wake. By far the most imaginative use of the right to protest we have seen this week.
War of the Roses
Readers of our Inbox section from 29 October may have enjoyed a letter from Stephen Rose, managing director of Rose Builders in Essex, in which he lamented the public sector's favouritism towards national contractors and, in particular, Essex council's decision to let work through a framework. Shortly afterwards we received a call from Mr Rose explaining that he hadn't written the letter and that Essex council was one of his main clients. I know times are tough, but there's no excuse for this kind of skullduggery.
Fretting his hour upon the stage
With access to government becoming more vital with Francis Maude's every crack of the whip, Davis Langdon may have an "in" with Whitehall that no other QS can match. I hear that Erland Rendall, DL's high-flyer who is now heading up their new "McKinsey-like" Knowledge Agenda, was at school with Michael Gove. A public performer in the making, Gove appeared alongside Rendall in school productions of Shakespeare. There is no word on just what role the education secretary played. Terminally cash-strapped King Lear? Or Julius Caesar, surrounded by ambitious rivals? Further suggestions to the usual email, please.
It's okay, we stashed the rodent …
You have to worry about the priorities of engineers from drainage specialist Lanes for Drains. A news release received this week makes much of the fact the company found a live gerbil in a blocked toilet. But that's not the only strange discovery - there is also a far more casual reference to the recent discovery of a hand gun. Apparently they gave the firearm to police, fearing that "there was always the chance it had been used in a crime". It is understood nobody attempted target practice on the gerbil.