Nothing is as it seems this week, what with resurrected chief executives turning up at race courses, bestiality taking place in the workplace and well-known architects running away to sea
Francis and the cat rapist
Francis Ives, the outgoing chairman of Cyril Sweett, was given a suitably debauched send-off last week, with revellers moving on to a private members' club until half three in the morning. Sore heads all round, I hear. Earlier in the evening, after chief exec Dean Webster gave a "speech" to assembled competitors and collaborators that sounded suspiciously like an upbeat annual report, Ives was able to be rather more candid. It seems he started out in the business checking timesheets, and once found that a wag had logged two and half hours off for "shagging the office cat". Naturally, he was shocked, he said, "because it wouldn't have taken two-and-a-half hours".
Any excuse
Now we're on the brink of the spending review announcement, attempts to bend the Treasury's ear are becoming ever more shameless. Boris Johnson proved himself to be a master of the shoehorn at last week's launch of regeneration plans for the post-Olympic Games site, where culture secretary Jeremy Hunt was also in attendance. The do was at the BT tower, and Hunt tried to get to there by tube, but had been delayed by the closure of Warren Street station because of faulty escalators.
"I'm delighted the first secretary of state has got here by tube, and am sorry he was slightly delayed this morning," Boris began. "I'm sincerely hoping he will report back to the Treasury about his problem and the consequent continued need for public investment in improving the underground system." With Crossrail looking safer by the day, perhaps the mayor fears the axe is swinging towards the tube?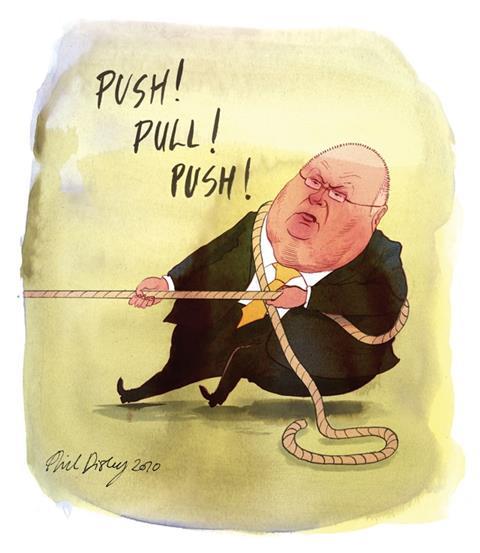 Mr Pickles' pullover
Tensions between private and public property sectors heightened this week when members of each took part in a bizarre tug-of-war for the charity LandAid. Taking the strain on the public side was communities minister Bob Neill, civil servant Richard McCarthy and Richard Blakeway, who is Boris Johnson's housing adviser. Private tuggers included Liz Peace of the British Property Federation and GVA Grimley's Rob Bould - and it was they who triumphed. If only the public sector team could have deployed political heavyweight
Eric Pickles as anchor the result may have been different. Or would the quango-smasher secretly be rooting for the other side?
Drummond hits the deck
BDP boss Peter Drummond, once described in a Building headline as a "revolutionary in carpet slippers", informs me that he is to throw off his red velvet babouches once and for all. He will exchange them for deck shoes, it seems, as he prepares to spend a month crossing the Atlantic in the Arc race from Gran Canaria to St Lucia. He'll be joined by sailors from Stanhope, DTZ and Ashcroft Estates, as well as Andrew Ogg, chairman of Leslie Jones Architects. And the name of the boat? Disco Inferno. Perhaps white platform boogie boots would be more appropriate.
Lazarus returns
Rick Willmott gave a lively address to guests at the contractor's annual Ascot bash last Saturday, which was all the more noteworthy given certain sections of our financial industry had until recently been under the impression he was dead. Apparently, credit rating agency Dun & Bradstreet recently upped the firm's rating on the grounds that "the chief executive is no longer deceased". As Willmott said: "I know I could get out a bit more, but I didn't think things had reached that level." A word of warning to anyone who finds themselves stuck in the boardroom for too long …
FT suffers Cable cut
I fear that the business department may have taken to the Age of Austerity a little too enthusiastically. Paul Morrell has been bemoaning the fact that Vince Cable's department has cancelled The Financial Times, which seems a little extreme. Perhaps they think they can get by with the Metro?