Confusion reigns as a four-year-old building ends up with a RIBA award, the folk of Aberdeen prepare to greet their new road and the Commonwealth Games tries to keep the identity of its demolition contractor secret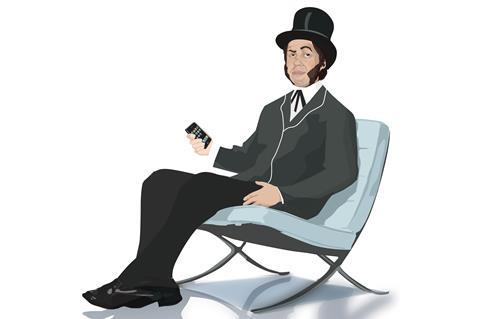 Political circles
On a trip last week to Portcullis House to meet Liberal Democrat leader Vince Cable, my colleague was waiting in the visitors' area just past the security checks. To pass the time, she kept a look out for famous political faces wandering in and out, managing to spot Labour leader Jeremy Corbyn and former paralympian and now cross-bench peer Tanni Grey-Thompson in the Hopkins-designed atrium. But she was distracted from her celebrity-spotting by an official getting stuck in the revolving doors. He still hadn't broken free as my colleague went to her meeting and, by the time she returned, another unfortunate individual had taken his place. Now that's high security.
Open road
It's not only Balfour Beatty and Galliford Try who are eagerly awaiting the opening of the delayed Aberdeen bypass – mainly to get off that loss-making job pronto – it's the locals as well. And to get them in the spirit, Transport Scotland is holding a series of community events along the road as different stages reach completion. Still, given its history – the opening date has shifted a number of times – I do wonder how confident they are that children won't be taking pony rides around on diggers. As a side note, Transport Scotland has said that, after the celebrations, the road will open to strategic traffic – in other words, cars, vans and lorries.
Cheesed off
I'm a little in the dark as to why the Leadenhall Building, designed by Richard Rogers, has been handed a RIBA award, which could mean it ends up with a spot on this year's Stirling prize shortlist, out next month. The City of London located tower, better known as the Cheesegrater, was opened in 2014, but it later had a host of problems with malfunctioning bolts which took a while to rectify. Perhaps that's why it has only just received a RIBA gong this month? I emailed the RIBA to find out, but nobody has come back to me, so I'm still in the dark.
Taking ownership
Multiplex is moving to sister firm Brookfield's offices at 99 Bishopsgate this autumn. Brookfield is off to a new abode in Canary Wharf, which is not surprising given that it owns the Canary Wharf Group, along with the Qatar Investment Authority. When Multiplex does leave its current address at One Broadgate, just down the road from us at Liverpool Street, its new home will afford it a bird's eye view of their tower schemes at 100 Bishopsgate and 22 Bishopsgate. It is chasing another tower job at 6-8 Bishopsgate as well. Perhaps it's time for this corner of the City to be renamed Multiplex Row?
Bad sport
It seems that the spectre of London 2012 is back again. You may recall that, under the strict rules of the International Olympic Committee, the firms that worked on the venues for the Games were prevented from promoting their work in the run-up to the event. It overlooked the fact that it was the UK taxpayer footing the bill and prompted the then president of the RIBA, Angela Brady, to wear a dress bearing the names of the architects and engineers who had worked on the 2012 venues, while standing outside the institution's headquarters at 66 Portland Place wearing a gag. Now we hear the demolition contractor working on the athletes' village for the 2022 Commonwealth Games is not allowed to say it's won the job because of similar marketing restrictions. We're bound by no such order, so we'll say it for them: they're called DSM Demolition and they're from Birmingham, where the events will take place.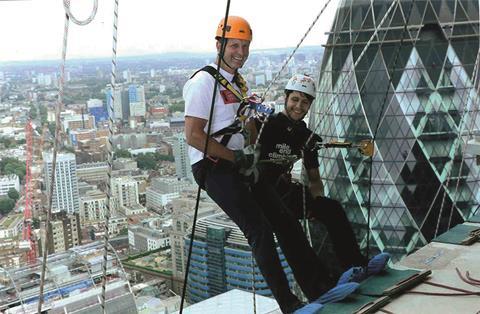 High time
Appropriate, really, that the chairman of the Council on Tall Buildings was abseiling down the 22 Bishopsgate tower for charity earlier this month. Steve Watts (left), a partner at the cost consultant on the job, Alinea, was lowering himself down from level 35 of the building, which is about 150m up. I'm told he's not that great with heights, which is perhaps not ideal for a man in charge of promoting a group with tall buildings in its title. Still, he survived the drop, enjoyed it as well and helped raise money for this year's Lord Mayor's charity appeal.
Send any juicy industry gossip to hansom@assemblemediagroup.co.uk