Strict marketing rules have so far prevented many of the firms involved in the London Olympics from talking about their own work, but there are signs that pressure from Building and the industry is forcing the authorities to rethink. Will Hurst reports
Back in early January, prime minister David Cameron held the first Cabinet meeting of 2012 in the Olympic handball arena. In a speech to mark the event, Cameron pledged that he and his colleagues were doing their utmost "to make the most of this unique opportunity to showcase all the great things the UK has to offer to the rest of the world".
"I want the message to go out loud and clear, from tourism to business, sport to investment, we are determined to maximise the benefits of 2012 for the whole country," he said.
The prime minister's impassioned words sounded rather ironic to the firm behind the design of the multicoloured venue in which he was sitting - Make Architects.
A well-known practice with a particular flair for publicity, Make - like many other firms involved in the Olympic construction effort - has found it almost impossible to publicise its 2012 achievements because of strict rules governing such promotion: the "No Marketing Rights Protocol", enforced by the London Organising Committee of the Olympic Games (LOCOG).
"At the time of the Cabinet meeting, a lot of journalists went there and they christened it the 'Smarties building'," says Make founder Ken Shuttleworth. "But we've not been able to do anything to promote it. We have played by the rules and tried not to upset the apple cart. The rules have completely stopped us from saying anything. It would be great if
we could take the shackles off … it's not as if it's a secret project."
It emerged last week that such complaints are finally being heeded, following months of lobbying by both the industry and Building, through the magazine's 2012 campaign. The campaign was last week raised in parliament by shadow Olympics minister Tessa Jowell, and the coalition - keen to use the Olympics to boost business - is looking at how the protocol can be relaxed, albeit after the Games have ended.
But how far do the marketing rules go, and why has the issue suddenly become a political hot potato?
'Pretty draconian'
Much of the funding for the Games was sourced through official sponsorship. Large firms including McDonalds, BT, EDF, Atkins and architect Populous agreed to pay nearly £2bn in fees and work-in-kind in return for full 2012 marketing privileges.
The 32-page No Marketing Rights Protocol - which all 2012 suppliers and contractors were required to sign - was designed to protect the rights of these sponsors by placing strict limits on what non-sponsors could say about their Olympic work.
It is, of course, true that firms could have refused to sign, missing out on the chance to work on the Olympics in the process. But many who did still complain that the rules have robbed them of the right to take a small part of the credit for the Olympics success story.
"It's such a shame that this opportunity to promote the construction industry in the UK is being smothered," says Clare Lowe, an associate director at environmental consultancy Southfacing, which acted as the BREEAM assessor on four Olympic venues. "The protocol is pretty draconian and makes it difficult to talk about what you've done."
Just like Make, Lowe and her colleagues have chosen not to test the rules for fear of the consequences, which can involve being pursued by lawyers seeking to enforce LOCOG's regulations.
"It's a big risk for us," she says. "We know that when we're talking to potential clients we can mention that we were involved [in the Olympic park], but we have to be very careful. Because we're much smaller than most of the companies involved, we cannot afford to put ourselves in a position where people could come after us."
Meanwhile, firms that have been bolder have quickly found out that they do not get far. Architect Hawkins\Brown designed the £110m redevelopment of Stratford station - the first project that the Olympic Delivery Authority (ODA) granted planning permission.
Director and co-founder Roger Hawkins complains that despite the fact that the "complicated" project was delivered on time and on budget, client the ODA has forbidden his firm from entering it for any awards, most recently the RIBA awards.
"We were told in no uncertain terms by the client that we couldn't put it in," Hawkins says. "The excuse they gave was that it wasn't a sporting project and that it didn't fit their profile. It's very frustrating that we can't be seen to be promoting our own work. There seems to be a whole culture in the ODA and LOCOG of control. They have gone too far."
But the ODA pointed to a different reason for refusing the architect's request: "We have been inundated with requests for award applications so we had to put a limit on what we could realistically manage - this was the reason for rejecting the applications."
A policy with few defenders
Hard as it is to understand the logic of such decisions, it became even harder to defend after government plans emerged earlier this year for an Olympic-themed business summit to be held at Lancaster House in central London this summer. Olympic bosses themselves then refused to defend the protocol at this month's Mipim property fair.
The scale of the government's rethink became clear last week when Building revealed that, amid high-level discussions between ministers, lawyers and LOCOG, ODA chairman Sir John Armitt was recommending a relaxation of the protocol.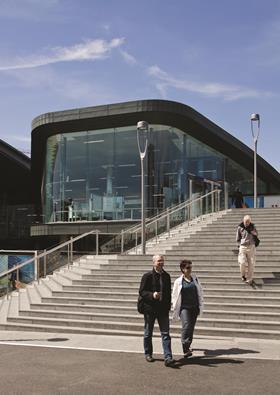 "We're getting the picture that a lot of sensible people within the Olympic organisations think the whole set-up is ridiculous," says New London Architecture boss Peter Murray, who first raised the issue in Building in January.
Several weeks ago, David Cameron himself agreed to investigate after being lobbied by telecoms firm STL Communications, which is working on the opening and closing ceremonies and is based in the prime minister's Oxfordshire constituency of Witney. STL complained to him that it had been chased by lawyers working on behalf of LOCOG after a tradepublication reported on STL's Olympic involvement, incurring the wrath of telecoms giant and 2012 sponsor BT.
"We won our contract in direct competition with BT, which is of course a main sponsor, and one that is quick to complain at the merest mention of STL's involvement with the Games," wrote Brendon Cross, STL's managing director, in an email to Cameron's constituency staff, seen by Building.
"I understand the need to protect the sponsors' investment, but this is bordering on censorship."
Despite the ground shifting beneath its feet, LOCOG appears to be the one party involved in the row continuing to stick closely to the script. "A large proportion of the funding for the staging of the Games comes through sponsorship … and these sponsors purchase exclusive rights to promote their association with the Games," says a LOCOG spokesperson.
"Without these sponsors, the Games simply wouldn't happen, which is why we require suppliers not to advertise their involvement in order to protect our sponsors' associations with London 2012."
LOCOG - a privately funded company that will cease to exist after the Olympics - may be calculating that it can maintain this line until the protocol is no longer its problem.
Given that the prime minister himself is now part of the great Olympic marketing row, one wonders whether it will succeed.
Rules of the Games
The "No Marketing Rights Protocol" document runs to 32 pages of detail of exactly what contractors, suppliers and consultants can and, more importantly, can't do to promote their involvement in the Games.
The protocol, designed to protect the sponsorship revenue that is paying for the Olympics, covers everything from advertising and PR to private conversations and the branding on plant and machinery at the Olympic site. In general it says that suppliers may not use the Olympic logos, or make "any association" with London 2012, without being authorised "in writing" in advance by LOCOG. While suppliers are allowed to answer factual questions - in certain circumstances - the general bar includes advertising, marketing, PR or any other promotion.
It specifies an extraordinary level of detail. For example, it is OK to say you work on the Olympic Games on your website, as long as it is within a list of at least nine other clients, and where "no special emphasis" is given to the Games. Firms are allowed to have private conversations about what they do, but not when speaking to the media. With permission, a supplier may make reference to work on the Games in a job ad, but again, without undue emphasis.
No mention of the Games should appear on the firm's homepage, and it must not issue any press releases, or - and this is key - "seek to initiate any press, broadcast or media activity".
After 18 pages of prohibitions, which also include a list of words that cannot be used in conjunction with one another (for example, using "Games" and "silver" in the same sentence is not permitted), the protocol then has 14 pages of further examples.
Legal opinion is divided as to whether the protocol is heavy-handed. While it is much stricter than anything else stipulated by public sector clients, Joanna Kelly, partner at Taylor Wessing, says a more accurate comparison would be against other major sporting events that rely heavily on sponsorship revenue. Kelly says: "It is quite draconian at first look, but LOCOG does have to preserve its sponsorship. It could have a lighter touch, particularly in regards to the absolute ban on international advertising."
Joey Gardiner
BUILDING 2012

Building's 2012 campaign seeks to celebrate and learn from the UK construction industry's achievement in delivering the London Olympic Games on time and to budget. Online and in print, Building 2012 is highlighting the innovation, technology, projects, speed and sustainability initiatives that companies have deployed through three key themes - Greener, Faster, Smarter. The campaign seeks to promote the use of this expertise both at home and abroad, tying in with efforts to capitalise on the Games, including a government summit to showcase UK construction and architecture this summer. It has also called for the relaxation of strict Olympic marketing rules, which many 2012 firms complain are preventing them from taking due credit for their Olympic success.