Airports in the UK and many parts of the world are facing unprecedented demand and growth, coupled with increased passenger expectations – meaning terminal buildings need to catch up. Aecom's Bryony Martin  explores the key issues to consider when increasing airport capacity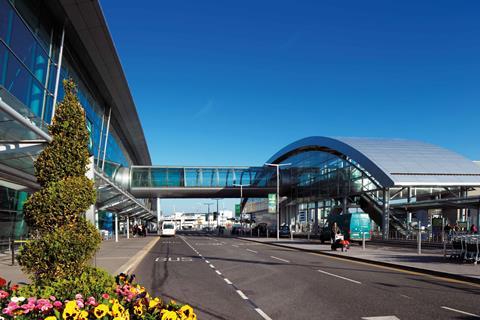 01 / Introduction
Airport passenger traffic is due to double in the next 20 years, according to the recent report titled Airport of the Future, from the International Air Transport Association (IATA). With the report also noting that 45 of the world's 100 busiest airports already have capacity issues, there are major changes and development required, as well as a need for UK airports to react to any operational changes required after Brexit.
The pattern of passengers has shifted significantly over the last five years, with national growth concentrated in London, which has seen demand increase by 36%. This view is supported by forecasts from the Department for Transport (DfT) that indicate passenger numbers will grow to 355 million a year by 2030.
The pressure is on, but not just domestically; globally the top five busiest airports are seeing volumes in excess of 83 million, with a 7% increase in passengers and 7% increase in cargo seen in 2017. Airports around the world therefore need to look at developing robust capital investment plans to cater for increasing demands.
To understand the challenges that airport operators face, we also need to understand what capacity means for an operator. While a growing number of passengers may meet an operator's target, the number of passengers
that can pass through a terminal is dictated not only by available space but also by the importance of maintaining health and safety and meeting strict security protocols, along with baggage handling efficiency, passport immigration and welfare facilities.
Terminal and runway capacity are directly related. However, a vast terminal with the ability to hold large numbers of passengers will not be financially viable if the carriers cannot support it. A terminal's relationship with its apron in terms of distances between aircraft, their stands and bridges will dictate the speed at which carriers can seat passengers and take off. An airport's runways are often not only its most expensive asset but also its most significant capacity constraint.
02 / Current situation in the sector
The expansion of London Heathrow will no doubt change the face of the sector in the UK, but other regional UK airports also predict and are planning for increasing numbers of passengers, which means expansion and/or more efficient use and management of existing assets and space is required.
Low-cost airlines
The increasing popularity of budget airlines is contributing to the growth in passenger numbers; the likes of Luton and Stansted airports have become dominated by EasyJet and Ryanair respectively. It is a model that attracts passengers due to the low ticket prices and variety of routes that are offered from regional airports and allows the operators to achieve maximum throughput from minimal operating costs.
The airlines often drive decisions for the owners and operators as they determine passenger profile and expectations of the passenger experience. The operators are required to streamline the passenger journey through automation and smart technology.
To improve airport performance, each aspect of a passenger journey needs to work seamlessly with the others, from arriving at the airport to take-off. The budget airline operating model has led to similar initiatives across terminals such as: remote check-in; passenger bag drop bays; automated gates to security and in passport control/immigration; and doubling the departure security bays. All these initiatives are driven to improve throughput, while maintaining a safe, secure and pleasant experience.
Airbus vs Dreamliner
The aspirations around routes and ease of travel for passengers can also influence the type of aircraft deployed by airlines and therefore the facilities needed in airport developments. For example, while the Dreamliner 787 only carries 242-335 passengers (as opposed to around 500 in the three class configurations of the Airbus A380) it runs on two engines, providing more comfort for passengers, and is smaller and lighter and so can land on a standard runway. This gives much more flexibility on where this type of aircraft can fly and provides long-haul flights from "point to point", therefore cutting out major hubs and reducing queuing time for security and baggage on arrival due to reduced passenger numbers.
It not only changes the trends in travel, but provides additional revenue for airlines through more expensive tickets and reduced landing charges if no stopover is required.
Regulation and security
Airport owners and operators are bound by regulations that are set by the Civil Aviation Authority (CAA), which can be influenced by sociopolitical factors. For example, heightened security measures mean that a higher standard of baggage screening has come to be required. This, coupled with the issue of ageing infrastructure, is leading to the upgrading of baggage handling systems at airports across the country, regardless of their size.
It is no surprise that safety and security remains a top priority for the DfT's Aviation Strategy, which was published earlier this year, and therefore the focus on issues such as baggage and passenger screening will only increase.
Airport owners and operators will rely on smart technology to implement such changes efficiently and without causing delay to passengers. The CAA will continue to be responsible for setting and ensuring adherence to the regulations governing all aspects of civil aviation in the UK, including policies to manage the security and environmental agenda.
Smart technology
Airport operators are embracing smart technology more than ever and are continually developing and trialling new technologies to improve the time to travel for passengers from the minute they set off from their home until they leave the runway. The process of moving passengers through an airport needs to be secure, seamless and quick, while still offering a positive experience. If the baggage handling system is not sufficient, no matter how efficient a passenger journey is, it will cause delays.
New initiatives such as intelligent autonomous vehicle technology replace the need for fixed conveyors and sorting systems. For example, enabling automated "pods" to move between fixed drop-off points to collect and offload cases would mean they can determine their own optimal route through an airport. This provides the airport with a flexible system, operational certainty, and a reduced footprint of conveyor systems that reportedly uses 50% less energy.
To support passenger engagement, these types of systems could also provide a priority bag track and trace facility through an app, so that each passenger can see the progress of their bag through the airport. Pre-built modular monitor and screening rooms that can be easily moved to suit demands can offer flexibility over space usage and layout. Automated tray return systems, auto diverters and parallel spot checks also enhance efficiency and speed up the process for passengers. This means that remote inspections and more efficient searches can be carried out away from security scanning areas to reduce waiting times and delays.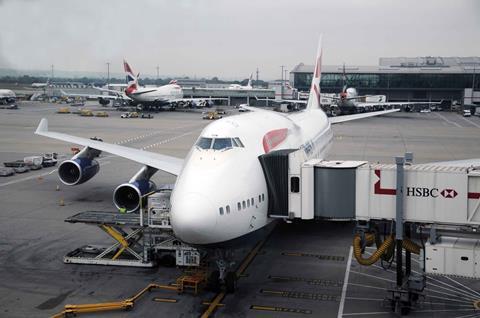 03 / Design issues
The issues of the current sector situation will all need to be considered in the design of a new airport facility.
Passenger experience
As discussed, the focus will be on providing a good level of passenger experience at every stage of the journey; there is a move to make the journey more efficient, with smart technology giving direction and information to passengers as they move through the airport process, or even ahead of this in the case of delays and cancellations to their flights. Commercial initiatives aim to bring in this technology, including enabling passengers to be notified on devices of buying opportunities.
Related to this is the challenge for designers to provide the space and efficiencies for fast security clearance for passengers when enhanced security requirements are in operation. However, the potential requirements for segregation of passengers in a post-Brexit world may result in remodelling of even the smallest airports.
Electrification and autonomous vehicles
Many airports managements are thinking ahead to the day when most airside vehicles and equipment will be electric powered. Monitoring of every vehicle on the airfield GPS is already commonplace and will be used increasingly. There is also growth in research and development projects around connected and autonomous vehicles (CAVs), including Capri, which was awarded funding by the Centre for Connected & Autonomous Vehicles and Innovate UK to support the early market for CAVs.
This research is being delivered by an Aecom-led consortium comprising 19 partner organisations across the public, private and academic sectors. Capri won a share of the government's £100m Intelligent Mobility Fund through the CAV2 competition and is focused on highly automated solutions with real-world benefits. The competition is looking at how autonomous vehicles will work as part of a wider transport system and the business models to enable them. Driverless pods have already been trialled at Filton airfield in Bristol as part of the Capri scheme, which will pave the way for the use of CAVs to move people around airports, hospitals, business parks, shopping and tourist centres.
Sustainable design
As well as future-proofing the design of airports to enable them to harness advancements in technology, many airports are pledging to maintain or even reduce their carbon footprint, despite their expansion plans.
These changes will require careful consideration of building services design and selection of construction materials, review of sustainable technologies and a wider consideration of the transport strategy to ensure there is adequate public transport for passengers to travel to the airport and leave their cars at home. However, the sustainability-driven expansion of public transport options poses a dilemma, as in many cases car parking charges are a large revenue generator for an airport.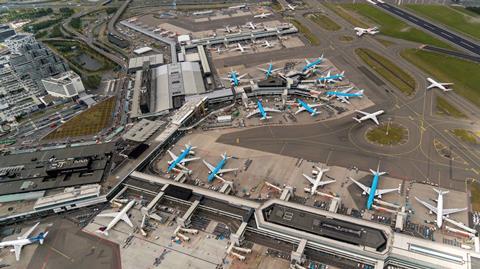 04 / Construction issues
Airside environment
One of the major construction challenges that most airports face is how to carry out major works in an airside environment where safety and security are paramount. Often airports are constrained in the areas and access they can offer for a construction compound. Where there is sufficient space to construct a logistics "hub" to support a programme of works, this poses challenges around management, security and cost. In any case, there is a need to ensure that construction equipment and materials do not contaminate or interfere with key airport systems or pose a risk to aircraft.
Competition for resources
Another significant consideration, in the context of major infrastructure projects, is the availability and capability of resource to deliver large-scale airport projects that will be needed to meet capacity growth. Although not a challenge solely for the aviation sector, airport clients will compete in the war for talent both for their own organisations and within the construction firms delivering work, potentially driving up prices with the demand.
Modular construction
Modular techniques are being increasingly explored in the construction of airport buildings to achieve consistency, speed of construction and a high level of quality. However, it is not yet known if this will be a viable option for a complex terminal or pier. And with access and space constraints, how can the storage and on-site installation be effectively managed?
05 / Cost influences / drivers
Revenue generation
Though maximising revenue for airport operators remains a priority and while increasing terminal space may offer higher income, there is a fine line between the risks of overcapacity and the need to offer flexibility at peak periods. There is inevitably a trade-off between the two, for example a 5%-10% decrease in scheduled flights may be effective in reducing capacity, while also allowing an airport to recover from periods of moderate disruption.
Airport terminals are designed to respond to the needs of both passengers and carriers, and having the right balance will also drive revenue opportunities. An airport must maximise the available time that a passenger spends waiting in the departure lounge. Operators maximise retail offers by "snaking" the passenger journey and providing open frontage to retail outlets, so that they are more available and inviting. Investment plans will need to take these requirements into account when designing terminals for both short-term demands and future-proofing.
Another set of factors to consider in this balance are the environmental targets of many airports, which could mean additional capital expenditure and fall in ongoing revenue generation because of reduced car parking at the airport.
There are several key cost drivers:
Technology – the incorporation of new technology will come at a cost for initial installation, staff training and maintenance of the systems to ensure maximum efficiency and return on the investment.
Resourcing – there are issues around resource availability, given the extent of large-scale construction projects ongoing in the UK – this is especially relevant for the large-scale airport developments. Careful consideration would need to be given to the procurement strategy, packaging of works and programming to secure required supply chain partners to deliver specialist packages of work and avoid inflation of construction prices.
"Design to budget" – the need to design to budget is prevalent, and construction plans have to be managed stringently, often in the context of a wider overall programme. It is important to understand the client's objectives for an individual project so that spend can be prioritised in the correct areas to meet these objectives. Construction methodology and costs associated with phasing and interfaces between projects should be considered, as well as the integration of client direct items such as specialist airport systems.
Planning – one of the biggest cost influences is the time and money spent on planning application and approvals, such as environmental consents, and the cost of subsequent mitigation measures to satisfy such approvals or consents. For example, an existing watercourse on a major European airport is currently being diverted to permit airfield expansion. It is crucial that there is early engagement by all airport and government departments so that the critical path involving surveys and analysis is agreed and understood at day one.
Site management – the management of the works on site can add significant costs to a project through the need for screening of materials and construction personnel and movement between landside and airside environments. Phasing construction works to keep an airport operational can also lead to additional cost in contractors' preliminaries and introduce risk of interfaces between projects.
06 / Tax relief opportunities
The highly serviced nature of aviation terminal developments can generate significant opportunities to mitigate much of the capital expenditure incurred via a variety of tax reliefs and incentives. This is likely to be primarily via capital allowances, which can offer relief of up to 100% for qualifying assets.
Based on our cost model, relief of between £100m and £120m could be available, which would equate to a cash value of between £19m and £22.8m to a UK corporation tax payer. The benefit will accrue at a number of rates, dependent on the nature of each particular qualifying asset. Installations qualifying as "integral features", for example much of the mechanical and electrical installations, will accrue relief at the rate of 8% per annum on a reducing balance basis. Expenditure incurred on those installations of a more specialist nature, such as signage, graphics, scanners and security systems, will be relieved more quickly at 18% a year.
Finally, any expenditure incurred on qualifying energy or water-efficient technologies could accelerate the relief to 100% in the year of expenditure, or generate a 12.67% payable credit for loss-making UK companies under the enhanced capital allowances regime. Further specialist fit-outs, for example by the terminal operator, retailers and airlines, are also likely to attract high levels of allowances, with 75% or more of the cost incurred potentially attracting relief, as this would focus on the occupier's bespoke services installations, fixtures and trade-related equipment such as check-in desks and baggage handling equipment.
It is also important to note that contributions made to an occupier's costs can yield relief to the contributor and it is therefore important to ensure that development and lease agreements are appropriately structured to ensure all available allowances are secured. In addition, where elements of the design or construction involve innovative solutions to overcome specific site challenges or utilise improved material technologies, the relevant staffing costs may generate a research and development expenditure credit. Qualifying expenditure is relieved at either 230% or a 12% "above the line" credit. Capital projects can also benefit from 100% relief for research and development allowances (RDA) where the expenditure is trade related.
Finally, for contaminated sites, UK companies carrying out site remediation works may be able to benefit from land remediation relief (LRR) which provides a 150% super-deduction against corporation tax (provided the taxpayer is not the polluter). Again, for loss-making UK companies, this can be surrendered for a payable credit. There are therefore a variety of avenues by which the capital cost of aviation terminal developments can by offset by the various reliefs and incentives available, many of which can be optimised by consideration at the design stage of a project and in the drafting of development and lease agreements.
07 / About the cost model
The cost model is based on a new airport building, with a gross internal area of around 50,000m2. The costs exclude demolition and site clearance, external works, external services, underground drainage and baggage handling and passenger processing systems.
The project was procured using a single-stage competitive procurement strategy. Client contingency, professional fees, taxes and site specific logistics have been excluded. The costs are relative to the South-east of England and based at Q418.
08 / Cost model
To see the full cost model, click the pdf below.
Acknowledgments
The author would like to acknowledge the contribution of Aecom colleagues to the development of this article and cost model, including Geoff Coleman, Steve Warnock, Mike Jackson, Tim Jackson and Richard Gammon