Water companies are changing their business models and the way in which they work with their construction partners. Simon Rawlinson and Mike Nugent of EC Harris examine the water industry's growing focus on whole life performance
01 / Introduction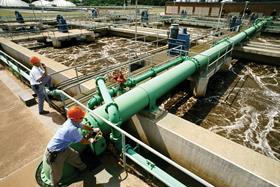 Water companies are major construction clients. Collectively industry investment spend has totalled £90bn since privatisation, and the construction spend has remained over £3bn a year through the depths of the recession. The scale of the industry is truly impressive. For example, 17 billion litres of clean water are supplied to clients in England and Wales each day. Looking forward the sector faces major challenges with respect to ensuring security of supply, managing environmental impacts and meeting affordability targets.
The objectives of water companies are determined by their regulator, Ofwat. They focus on providing high levels of customer service by ensuring water availability, and waste-water capacity. In doing so, the water companies have to meet strict quality and environmental standards and must also maintain their asset base. Water companies have to attract high levels of investment, which has made them very attractive construction clients.
Historically, the water industry has been focused on delivering capital programmes, and in the current spend period to 2014, Capital Investment (Capex) is planned to total £24bn. By contrast, total operating costs (Opex) will be £19bn. With the next Asset Management Plan period (AMP6) due to commence in 2015, there is already a huge level of industry interest in the next generation of frameworks.
Changes in the sector
The industry outsider could be forgiven for assuming that water companies operate in a fairly stable business environment, but this is not always the case, as demonstrated by recent hosepipe bans in England. Not only is population growth placing a strain on the network, but climate change is affecting rainwater catchments and demand for waste water capacity. The 2012 draft Water Bill proposes an evolutionary approach to reform to address these issues, but still proposes to introduce new initiatives such as bulk trading of water between companies, or complicated ideas such as the concept of a "sustainable economic level of leakage".
Combined with ever growing customer service expectations, increasing environmental regulation and pressure on prices, the drive for water companies to improve performance is relentless. As an example, since 2011, over 220,000km of private sewers and drains have been transferred into water company control, increasing the complexity and risk associated with network asset management.
If these changes to the business environment weren't enough, water companies are rebalancing their construction programmes, increasingly switching to the maintenance and adaptation of existing assets, as large-scale investment programmes come to an end. Understanding the condition of existing assets and building and directing the capability to deliver large scale capital maintenance programmes will have a substantial effect on the shape of their future construction programmes.
02 / Impact of regulation on investment priorities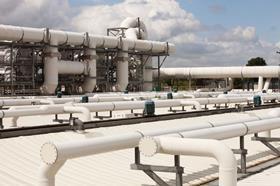 Most water company activities are subject to regulation, covering water quality and environmental impacts, as well as economic regulation covering prices, revenue and service quality. Regulation sets the planning framework for investment, and defines the outcomes that water companies are required to deliver. Under the present system, Ofwat has a detailed role in determining the programme of capital investment and how much it should cost.
Economic regulation is designed to mimic the effects of competition in monopolistic market structures - focusing on customer needs, controlling prices, encouraging innovation and attracting investment. The stability and level of return underwritten by the regulatory regime has helped to attract high levels of investment and new owners into the industry.
With a new regulatory period starting in 2015, Ofwat have prepared by undertaking The Future Price Limits Review - a wide ranging assessment of the effectiveness of the system. Proposed changes include the implementation of major top down market reforms including:
Retail competition from 2017 Competition will be opened up to large consumers from 2017 onwards. 26,000 organisations could potentially benefit - potentially by establishing single national supply agreements, or at the very least by renegotiating existing arrangements
Upstream water supply deals New suppliers having the opportunity to supply additional water from cost effective and least environmentally damaging sources.
Both initiatives could potentially encourage new market entrants as well as increase competition between existing players. In addition to these high profile and potentially highly complex changes to markets, the review has also included existing mechanisms used to incentivise investment, customer service and innovation.
One of the areas that Ofwat has considered is a perceived bias in incentives towards capital investment. In order to address this, and to encourage optimal use of the existing network, Ofwat has proposed a shift from regulation which manages Capex and Opex separately to incentives focused on "Totex" - the sum total of expenditure on capital investment, asset replacement and controllable Opex. This could have a big impact on the design and management of capital programmes. The Totex approach has already been adopted in the gas distribution market.
Presently, Ofwat agrees a programme of capital works ahead of the AMP. The regulator assures value by testing the proposed scope against output measures such as improved customer service, expanded network capacity and network condition. Cost is determined by benchmarking with other water companies and by an efficiency challenge - both of which reward cost-effective companies.
The changes that could result from a shift to Totex thinking could be very significant and include:
Agreement of the value of Capex and Opex on the basis of forecasts of activity and selective benchmarks, rather than a detailed bottom-up assessment
Investment decision-making based on best whole life cost performance, not just initial cost
Greater emphasis on focusing spend to ensure desired outcomes, such as satisfied customers and reduced flood events, rather than the delivery of a pre-agreed capital investment programme
Opportunities to out-perform through effective asset management - doing the most valued work as an efficient, well-managed programme
Increased incentives for innovation - either by doing less work, reducing cost or by improving performance at no extra cost.
Designers and constructors are likely to become important partners under the new system, as the ability to select and effectively deliver the programme will be a big source of competitive advantage. Water Companies planning for AMP6 are reviewing procurement strategies to identify how they can better align supply chains through early contractor involvement, allocation of workload and different incentive models. However, with the balance of work switching from Capex to asset maintenance, the supply chain will need to develop new skills around asset information management, condition-based decision making and portfolio management to meet these needs and to maximise their opportunity under the new regime.
03 / Workload and value drivers
Capital investment in the water industry will always involve a number of large, complex, high risk projects. However, an increasing proportion of spend is to be focused on a growing number of smaller projects with a more simple work content, such as the replacement or lining of water mains, or reconstruction of manholes. While the delivery risk associated with these projects is low, the potential for waste in the supply chain is greater - due to layers of management, potential blockages in planning, logistics or low utilisation of manpower. This is a problem that has challenged the industry for years, but which is becoming more business critical as the balance of spend moves away from Capex and as regulatory incentives increase their focus on wider measures such as customer satisfaction, as well as cost reduction.
The efficiency of capital delivery between upper and lower quartile water companies typically varies by 30% - demonstrating significant potential for performance improvement. Lean methods of working are really important in achieving greater efficiency, focused on delivering planned work, and avoiding downtime at the workface and rework.
Construction workload undertaken by water companies can typically be broken down into six categories, characterised by the size of capital investment and the extent to which programmes can be planned well in advance.
Network expansion to meet new supply or treatment needs
Increasing the regulated asset base and generating a return on capital. Investment has included abstraction sources, storage and treatment plant and large scale distribution to meet water quality standards as well as increased demand for water. These are large-scale investments with an extended planning horizon, often delivered by discrete project teams. With less incentive for large-scale capital investment, water companies may look at alternatives to capacity expansion such as SUDS for drainage
Network upgrade to replace at risk assets
Investment in upgrades to mains pipe networks, pumps and treatment plants. Investment in upgrade work also adds to the value of the asset base, generating a return. Capital investment in the network has been running at a high level for over 20 years so many programmes are well advanced. There is a high level of repetition in some elements of upgrade work but efficient delivery is dependent on good quality asset information. The new risk-based incentives will encourage more condition-based upgrade investment, requiring a more rigorous approach to planning.
Condition and risk-based work aimed at maintaining the current condition and performance of the network. Capital maintenance typically involves the replacement or upgrading of plant and machinery with known asset lives. Given £90bn of investment since privatisation, the volume of capital maintenance is growing substantially, driven also by the need to invest to reduce energy costs. The areas for out-performance in capital maintenance are associated with asset information and a risk-based portfolio approach - focusing expenditure on areas of greatest benefit and sweating assets while maintaining the overall performance and function of the network.
New customers and new connections, service diversion works, meter installations. This involves high volume, small value, unplanned works with a high degree of customer interface. Customer satisfaction is a significant regulatory measure, so this work-stream involves an important aspect of the customer/company relationship.
Dealing with faults and leaks. Typically this is part of operating costs and also sensitive to customer interface issues.
Dealing with supply interruptions. Typically this is part of operating costs. Supply interruptions are a discrete performance metric so are also performance critical.
By contrast with most construction clients, Water companies manage an extensive portfolio of projects during an AMP, either as separate contracts, or on the basis of a wider programme. The volume of work provides opportunities to develop expert client functions such as effective approvals processes, as well as efficient back of house functions around project administration, asset data capture and real time reporting. Given the right procurement strategy, water companies can create programmes of work that enable contractors to improve their own performance. Key elements of the interface include the packaging of projects, the alignment of project processes to avoid delay and the delegation of decision-making down to the work face.
04 / shift to life-cycle management
Water companies recognise that their major strategic investment programmes are largely complete, and that the focus of their construction operations needs to shift to the maintenance of the asset base. This is no mean task. The value of the water and sewage infrastructure in England and Wales is in excess of £200bn, and with most assets underground, having access to good quality information on asset condition and history is an increasingly critical issue.
Almost by definition, maintenance and asset management operations have a much closer interface with network operations and the customer interface than conventional capital project delivery. As a result, the potential for a poor performing maintenance programme to affect customer satisfaction means that their impact on business review and performance can be disproportionately high. This perception of a higher level of risk is influencing planning around team selection and procurement - with water companies recognising that they need to secure the right capabilities, and that well designed incentives need to be in place to drive performance to meet the regulator's targets, sharing risk and reward as appropriate.
With capital maintenance there will always be opportunities to improve performance and levels of utilisation at the workface. Here the aim is to ensure that work crews are fully utilised doing the right work, with minimal abortive time or rework. However, the real gains to water companies come from having a well planned capital maintenance programme. Planned maintenance activities typically cost 50% of unplanned work, yet currently a high proportion of work is undertaken on a reactive basis, in some cases up to 90%. With water companies being incentivised to look after their existing assets more cost-effectively, a structured approach to asset maintenance is an important route to customer satisfaction and value.
However, this is a complex area of operations. Not only are there challenges around work planning, data quality and the management of a dispersed and often reactive work programme, but there are a huge number of interfaces that need to be managed too - with data systems, the regulator, in-sourced and out-sourced delivery teams and others needing to be integrated. The root of the problem is not with asset management itself, but in the alignment and coordination of different parts of the business around a programme together with the quality of the data on which decisions are based.
Once the programme is established more tactical management capabilities need to be in place to ensure that delivery is effective. Most of these activities could be undertaken either by the client or a constructor partner depending on the strategy adopted. The main elements of the process are:
The asset management operating model: The important aspect is the establishment of single points of responsibility across the business for assets, asset data, risk-based decision making and so on. As these are likely to be cross cutting functions, affecting finance, operations etc, there is a substantial element of change management involved in embedding these roles
Strategic and tactical planning: This activity ranges from agreeing the initial business plan with Ofwat to allocating work to programmes and individual contractors, along with necessary logistics, etc. Under the new risk-based system, the planning function - aimed at identifying work that needs to be done and which delivers benefit - will be an important route to outperformance. Currently, poor data and planning can result in teams being allocated work that isn't a high priority, or which duplicates work already completed
Increasing productivity: Optimising performance at the workface is a vital route to reducing unit costs, relying on robust performance targets and a detailed understanding of plant, labour and workflow requirements. Contractors can make a major contribution to increasing productivity if the incentives are designed properly
Cost and programme control: Estimates of direct and indirect costs, outturn cost control and management, incentives and reporting
Benchmarks and target setting: Cost and programme targets based on a combination of best practice data and stretch targets - again aligned to driving better processes, productivity improvements and effective incentive mechanisms.
05 / Asset management planning cycle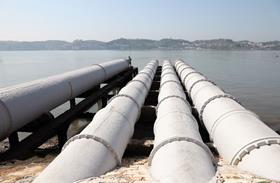 Effective asset management will play a key role in AMP6 as a major profitability driver for the water companies. Getting the business functions, processes and data in place for the new AMP will drive wider organisational effectiveness - which will create benefits for customers and suppliers - as well as the water companies themselves.
06 / Procurement strategy
The shift in workload to a Totex-based approach is a big challenge for the water companies, as are changes to the regulatory mechanism which will determine their investment strategy and route to profit. This is because planned workload will be difficult to optimise in terms of life time costs, incentives will need to reward innovation including "doing less work" and performance will be assessed on a whole life-basis.
With Ofwat's continuing emphasis on customer satisfaction and delivery of lower prices to consumers, the role of the supply chain in helping their clients to meet their performance targets will remain very important, providing opportunities for potential outperformance. Shortfalls in the delivery of either construction or capital maintenance could result in the client incurring revenue or reputation penalties. With contractor performance having a greater impact, the design of procurement strategy has become more business critical.
Programme management models have been adopted by many clients in the sector to administer the huge volume of contracts typically let by a water company, alongside the burden of progress monitoring, performance management and change management. With the progressive shift towards capital maintenance and condition-based planning, water companies will need a far greater level of integration between business functions including asset information, regulatory performance, investment approval and project delivery. The ability of a water company to maintain the pace of project delivery through its project/programme management function whilst integrating all internal business activities will be a key test of the effectiveness of procurement strategy.

Across the sector there are a wide range of approaches to procurement strategy and project procurement. All water companies have frameworks or alliances in place. The extent to which contractors are engaged in the planning and/or delivery of programmes varies a great deal. One or two water companies have fully integrated alliance-based project teams operating under direct client control. At the other extreme, some water company clients have opted to competitively tender a high proportion of work, missing out on potential advantages of early contractor input, but taking full advantage of current highly competitive market conditions.
In advance of the finalisation of the new regulatory regime, evidence from the gas and electricity distribution sectors suggests that cost targets will continue to be driven down by the regulator, and that in order to meet the targets, the supply chain could be given a greater role in contributing to whole-life based decision making and the elimination of waste. This requires development of incentives that are based on a wider range of measures than the pain/gain associated with the delivery of a single project.
Collaborative working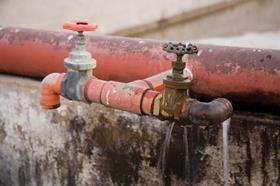 This development points to an earlier involvement of suppliers. A greater emphasis on collaborative working will benefit from effective client leadership and well understood contracts and incentives, balancing risk and reward.
However, ultimately the water companies need to secure relevant, high calibre skills, and, with £60bn of utilities spend being procured between now and 2015, water companies will be competing for scarce resource in the supply chain - particularly for expertise in programme optimisation and delivery, logistics, asset information capture and so on. In order to compete effectively in this marketplace, high performing clients will build a stronger position by demonstrating that their programmes are aligned with the contractor's motivation.
This is typically focused on certainty of turnover and margin, and visibility of future pipeline. The design of incentive mechanisms to align the supply chain with the client's incentive - customer satisfaction and optimised spend rather than turnover could also become a significant element of competitive advantage. Procurement options that are being considered range from the incremental - variations on pain/gain models to the more radical such as the introduction of the performance contracting model associated with ESCOs, where the supplier designs, finances, builds and operates an asset, relying on meeting performance targets such as reduced energy costs to drive their revenue and profit.
The implications for contractors are that new skills and working methods will be needed to help water company clients to succeed under the new regime, and that contractors will need to secure their share by operating to the agreed incentives correctly.
Looking forward to AMP6, the initial challenge for the clients is to maintain commercial pressure during the initial supply chain procurement. However, this cannot be done at the expense of retaining the flexibility to deliver optimised Totex-driven solutions over the AMP. Going forward, ensuring the performance standards are met, through strategic leadership, work selection, performance management and shared reward will be an important means by which water companies deliver out-performance. Water companies will continue to be major clients and are likely to become more demanding.
07 / indicative capital costs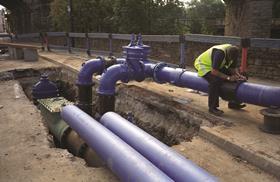 The analysis below sets out typical benchmark costs for common elements of mains water and drainage networks. The analysis compares median costs taken from Ofwat's final determination for AMP5 with benchmark costs current in 4Q2012 taken from EC Harris benchmark databases.
The costs in the table represent the cost base - materials, labour and plant - but exclude the contractor's management costs, overhead and profit, together with abnormal costs associated with ground conditions.
The range between the maximum and minimum unit costs of water companies is typically around 30-40%, which provides consistently cost effective high performing clients and contractors with an additional incentive to deliver their programmes economically.
Looking forward to the 2014 Price Review, the analysis also includes a comparison of 2009 price levels with current day benchmarks. Some of these costs have fallen as a result of the recent recession and greater efficiency. However, some have increased marginally as a result of increases in material costs for plastic pipe and so on.
Should the water companies be subjected to continuing downward pressure on their construction costs through the regulatory process, then greater savings will need to be achieved through procurement, process efficiency and incentives.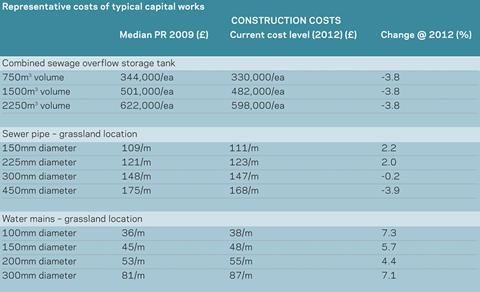 08 / Acknowledgements
We would like to thank Terry Povall, Greg Bradley, Mat Riley and Mark Baker for their contribution to this article.