Ciara Walker and David Rowlinson of Arcadis consider the challenges involved in designing and building railway stations in complex operational environments, and balancing stakeholders' competing objectives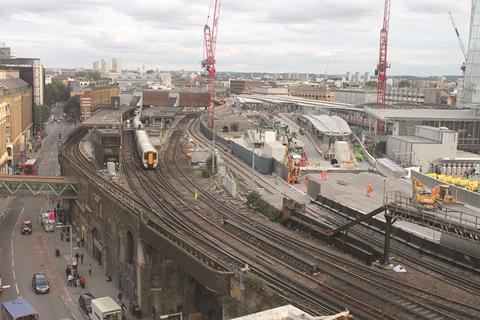 01 / Introduction
Stations are a vital component of the passenger railway network. Aside from responding to rail travel demand, stations offer facilities for finding information, buying tickets, sheltering from the elements and interchange.
Successful stations add to the passenger experience and support the economic, social and environmental benefits of rail as well as influencing their wider context. Network Rail and franchised train operating companies (TOC) operate over 2,500 stations on the UK's rail network.
With passenger usage on railways currently experiencing strong growth, forecast to continue for the next 30 years, and many stations built more than 100 years ago, there is significant demand for investment in stations.
However, in most cases expanding capacity and addressing pinch points means construction while the station remains operational, requiring complex, phased solutions within a collaborative framework to meet future demand.
02 / Railway stations landscape
There is a significant programme of station development ongoing in the UK in order to deal with increasing passenger numbers.
Passenger journeys in Great Britain reached 1.69bn in 2015-16, the highest recorded figure since the series began, and a 57% increase over the last decade. Most redevelopment or enhancement work is undertaken by Network Rail, which currently owns and manage 19 of the busiest stations in the UK, and is the infrastructure owner of around 2,500 franchised stations.
One of the main drivers of station development in the UK is the need to increase capacity. Current and forecast passenger demand means there is a need to increase concourse size, improve passenger ingress and egress, and in some cases add or extend platforms to increase train capacity.
Waterloo has the highest yearly station passenger numbers in the UK and capacity needs to be increased to meet future demand. A major programme is currently underway to extend some of the platforms to accommodate longer trains, and the old Waterloo International platforms are being brought back into use.
Station capacity is not the only driver for development. In smaller stations, there may be a need for a faster and more effective interchange and passenger experience and accessibility have also become increasingly important over the last decade, alongside the perception of branding.
Table 1 Busiest stations in London and outside London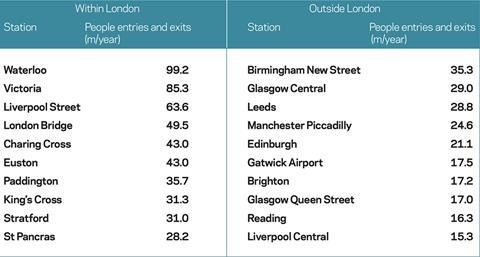 03 / Economics of railway stations
There has been significant government investment in stations through Network Rail over the past decade, but third party investment in station facilities is also actively encouraged. Given the demand for commercial and residential development around stations, there are often significant investment opportunities for developers.
The available land is always made to work first for the transport objectives and development is considered on any excess land, including above stations, with over-site development opportunities to be identified for every Crossrail 2 station. Potential development land is identified during the design process in co-ordination with existing local development plans, and funding from development can be used to finance the station.
Stations today not only benefit the passengers travelling to, from or through the station; retail and leisure facilities are increasingly making them destinations in their own right. An attractive station can enhance the prosperity of an area, creating jobs and serving as a centre for regeneration. For all stations there is an opportunity not just to invest in an excellent transport hub, but also to develop the surrounding area.
This regeneration role for stations is increasingly being recognised and Arcadis and its design consultancy CallisonRTKL use a mobility-oriented development (MODe) approach to station development. Transport hubs do not automatically deliver prosperity and the potential to lose out if development opportunities are not capitalised on is enormous, both for Network Rail in terms of potential revenue and for all stakeholders benefiting from regeneration. Development of the area surrounding stations is too important to be left to chance, and as such MODe seeks to describe all the benefits achievable, and help in designing a roadmap to achieving them.
Using this method, environmental, social and economic benefits can be captured and described in order to inform the desired outcomes of the station development. MODe brings together masterplanning and benefits realisation. It seeks to optimise four key values focusing on elements of transport-related development, within which varying indicators are considered:
Urban environment
Transit hub
Hub facilities
Transit quality
Proximity to areas of need
Economic development
Property value
Revenue
Economic prosperity
Social placemaking
Quality of public space
Public facilities
Putting in place benefits management - which monitors whether benefits promised are being delivered at each stage of the project lifecycle - ensures the wider benefits of a development are achieved, including public spaces, jobs and housing, as well as increased capacity and improved passenger experience.
Railway station developments should not simply be about producing outputs such as increased passenger capacity, but should also be about creating long term benefits for all the stakeholders involved. Using a MODe approach, the return on investment can be calculated not just in economic terms, but also capturing the social and environmental benefits as well.
If development around a station is not planned, the growth in land values usually aligned with transport development may not be optimised. To ensure growth in land values and capture some of the value generated, the planning of station developments should account for development opportunities in the wider area and, in particular, whether there are opportunities to capture revenue from them.
However, in many cases the station owner will not own the land surrounding the station or will not be able to obtain vacant possession. This will create challenges both in terms of design and construction, and also in capturing the value of regeneration.
However, station development can cause significant disruption for the community for long periods of time before the benefits can be realised. These impacts must be taken into account, and planned for with the local authority, working out which areas must remain accessible to avoid unnecessary disruption.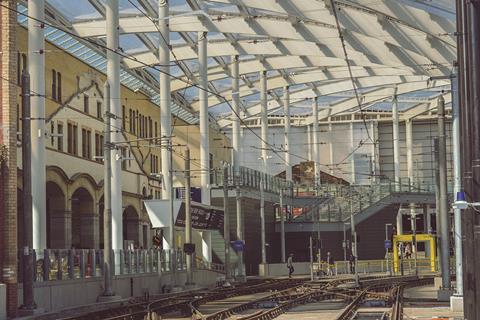 04 / Design
The challenges that design needs to address are those that drive most station enhancements.
The need for additional capacity is the main driver in most station developments, and often the biggest design challenge.
In addition to this, the easing of pinch points in the wider network is a significant driver, with some major interchange stations such as Clapham Junction creating bottlenecks, which have knock-on effects across the system.
Other important drivers of station refreshes are the improvement of passenger experience, accessibility and inclusion, designing for ease of maintenance and improving passenger flows.
Network Rail has identified the main considerations for the design and enhancement of stations:
Capacity and future proofing; PPM (passengers per month) targets and reliability The primary driver of station design is the capacity that the station needs to deliver for future use. Passenger forecasts are used to estimate the capacity needed, and the station is designed to meet it. Projection and analysis of passenger flows has become essential to ensuring the smooth running of the station over time. Designers can add to capacity in many different ways, including improving the passenger flow, extending platforms, and so on.
Safety and security Both in the design of the works for safety and in the design of future operations of the station, health and safety is a key consideration, with emergency escape routes, and people movement during emergency situations all designed for. For example, in London Bridge the control room is above the concourse, with a view of the whole station and there are to be more than 600 CCTV cameras.
Inclusiveness and accessibility Network Rail has made it a requirement for all new stations and station redevelopments to build in step-free access, not just for disabled passengers, but also to take account of the reduced mobility of our aging population.
Intermodal exchange and wayfinding Ideally, designers will look not just to provide interchanges but to optimise them with the most direct connection, both in terms of a shorter journey and least changes of level possible.
Whole-life cost and operation Stations must be designed with a long-term view to durability and lifecycle costs. Designing in maintenance access, use of durable materials and low energy consumption are examples of this.
System approach Stations are one link in a complex system, and all design needs to take account of the knock-on effects of development on the system. For example, capacity can be increased by building longer platforms but this may create bottlenecks at intermodal exchanges.
Sustainability, urban integration; retail, social and business Design is optimised against not only economic performance, but social and environmental criteria as well. Sites for commercial, residential or retail development can be identified and the design will seek to ensure a sustainable outcome that is beneficial to all stakeholders.
Standardised approach Network Rail is encouraging a standardised approach to station design to minimise costs and improve branding.
Passenger experience and delight Everything in stations should be geared towards optimising passenger experience, from smoothing passenger flows, decreasing the number of levels for interchanges, creating calming and attractive spaces, and simplifying information finding. Across all of this is the need for stations to make a statement: stations are a gateway to the local area and beauty needs to be balanced with functionality to delight the passengers.
05 / Stakeholders, risk and procurement
Given the complexity of railway station design and the many stakeholders involved in any one project, one of the most important success factors for a railway station development is engaging with stakeholders. Some key stakeholders involved in station construction are:
Project sponsors
Project managers
Maintainers
Station facility operators (SFO)
Train operating companies (TOC)
Other transport operators
Tenants
Safety/security stakeholders
Designers (architects and engineers)
Contractors and suppliers
Historic England.
In order to get engagement, it is necessary to understand the needs and objectives of all the stakeholders. This can be difficult due to the sheer number of stakeholders involved (at least 45 in Manchester Victoria).
It is key that stakeholders are all represented in the programme and design from the outset. To achieve this, it is useful to profile key stakeholders, and devise a stakeholder management plan to optimise design against all the stakeholders' objectives. Trust and transparency across stakeholders, and ensuring all involved feel their voices are being heard are essential in creating the collaborative environment needed for these often competing objectives to be met.
The multitude of stakeholders introduces additional constraints to the process. The public sector requires longer time frames for decision making. TOCs' franchise agreements may present different constraints and priorities to those of Network Rail. Where intermodal facilities exist, agreement is required on which stakeholder funds joint spaces, and the operations of the joint spaces. For example in Manchester Victoria, Metrolink (run by Transport for Greater Manchester) and Network Rail shared the cost of the roof over the interchange.
Station design is often a process of streamlining stakeholder objectives against what is achievable and buildable.

Station Retail
Retail is a major consideration for larger stations as a great source of revenue for the station operator. Stations are attractive to retail not just for the heavy footfall, but also for the line of sight of passengers and the opportunities for brand awareness this provides.
Risk
All relevant stakeholders should be involved from the outset openly to discuss and identify risks, and plan for mitigation that is realistic and time and cost-linked. These risks are outlined in a risk register, and different parts of the project will have risks associated with differing stakeholders. The risks defined in the register are mitigated against in the design process, and costs are identified against these risks.
A significant risk to the project can be the use of possessions (taking over a section of active railway to conduct necessary works, stopping use by train operating companies over a period of time), which are usually needed and can dominate the construction programme and delivery strategy. These need to be planned months in advance to minimise disruption to commuters and to design work around. In order to make the most of them, it is essential to make the process as simple and pre-controlled as possible. For example, where possible, concrete elements could be pre-cast, units could be standardised or pieces could be assembled nearby before being placed in position. Overrun on possessions leads to fines, so the activity taking place needs to be as time-efficient as possible.
Before the start of any build, it is essential to mitigate the logistical risks of getting materials and equipment in and out, while minimising disruption to the surrounding area. To address this, separate sites can be used, materials can be brought in by train rather than lorries, and deliveries can be made at night.
Contract design determines who holds the risk: recently the industry has been shifting towards increasing use of design and build, away from designing directly for Network Rail. This has shifted some of the design risk from Network Rail, and frequently a gain share risk management strategy is used. It has also allowed disagreements between designer and contractor to be ironed out between the two as part of a collaborative framework with common goals. This kind of stakeholder collaboration is essential in managing the risk of railway station projects effectively.
Procurement
Due to the complexity of station development projects and the number of stakeholders involved, Network Rail is increasingly using a collaborative procurement approach (JV or alliance) for delivery with the intention of lowering risk taken on by the client. Network Rail has recognised that early involvement in the design process by all parties in alliance type arrangements can better address immediate buildability challenges, stakeholder requirements and future operational needs. A one office model, with all stakeholders in the build represented on the site, is frequently encouraged to enhance collaboration. Network Rail suggests collaborative ventures will be increasingly appreciated for projects with higher development risk and opportunity to innovate.
Phasing
In most cases it will not be acceptable (due to service disruption) for the station to be completely shut down while the works are completed, though this would usually be the quickest and most cost effective way to programme them. As such, most station work is conducted in an operational environment, which raises additional complexities in designing and phasing the work to minimise disruption to service, and keep parts of the station functional.
London Bridge's phased station redesign was compared to "open heart surgery on a patient running a marathon"; a complex task performed on an entity already running at full capacity.
Though a main driver for phasing is the need to keep some of the station operational, there are many other drivers for phasing, such as:
Monetary Phasing can be designed such that profitable aspects of the project, such as retail or commercial development, are achieved earlier and can be used to fund later stages
Benefits Phasing can be used to deliver some benefits to stakeholders upfront, to ease the pain of the disruption while the development is finalised
Stakeholder Some elements of the build may have unacceptable impacts on public facilities and phasing can reduce the time this impact is in place.
Phasing is not the only way to minimise disruption to operations. Works can be designed around these challenges by working at night when services will not be disturbed and changing designs to minimise time spent on site.
In Manchester Victoria, some of the work on the roof was limited to night shifts between 11pm and 3am due to the danger of welding over passenger spaces. This led to a change in
the roof design to accommodate the short working time available.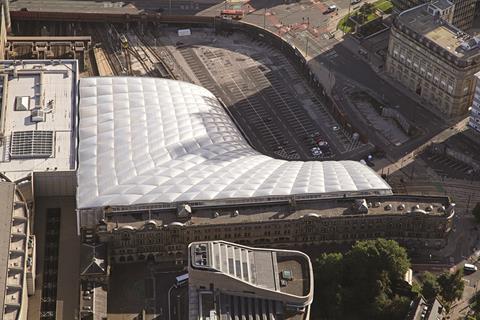 06 / Innovation and technology
Network Rail is collaborating with partners to direct, influence and monitor technological innovation for railway systems through Future Railway, a working arrangement between Network Rail and RSSB (the Rail Safety and Standards Board). The team co-ordinates R&D investment and initiates solutions prioritised by their value. Only well-tested solutions can be implemented on site so two Rail Innovation and Development Centres provide a safe space to test them in.
BIM is increasingly being used in smaller stations, and both the London Bridge and Manchester Victoria station developments were early adopters.
A benefit is the visualisation of what is happening on site. This allows station operators a more intuitive and tangible way of understanding the plans and translating from construction to operations language.
Working on Barking Riverside station, Arcadis is developing a virtual reality room for people to view the proposed design, generating better understanding of the scheme as a whole, as well as complex elements where the installation methodology or temporary works need to be developed.
07 / Case Study: London Bridge station redesign
London Bridge is a great example of the complexities of station development projects. The fourth-busiest station in the country, Network Rail has been looking to expand the capacity of the 150-year-old station since the 1970s.
A significant pinch point had developed, with many trains having to cross flat junctions to enter and exit the station, creating a backlog of trains queuing to enter. As a key point in the network, it was not possible to close the whole station, so the £1bn development is ongoing while the station is handling 52 million passenger journeys a year.
When finished, the concourse will form an area the size of the pitch in Wembley stadium. The main challenge for Arcadis and Costain, as part a collaboration of more than 20 stakeholders, was ensuring operations of the station continued while decommissioning and recommissioning sections of the station in staggered phasing of construction works. The complexity of the work required significant collaboration, and the co-location of contractors, designers, architects and engineers in an office right next door to the site allowed any problems between design and construction to be solved through co-ordination and agreement. The result was increased efficiency, reduced duplication of effort and greater outputs, minimising waste and unnecessary expenditure. The station will be open in its entirety by September 2018, while a major section of the concourse opened to the public this month.
The works will lead to a significant improvement in train frequency (from 16 to 24 an hour) as well as greatly improved facilities, and provide space for 66% more passengers than original capacity, to 95 million passenger journeys a year.
Varying challenges were addressed:
Capacity and bottleneck The pinch point has been addressed and work has progressed from south to north, starting with terminating platforms, which are being reduced from nine to six in total, with new through platforms 10 to 15 being brought into service on a staged basis.
Logistics Lorries were restricted to delivering at night, and there were holding zones outside and away from the site to drop materials and equipment when they could not be delivered to the station. Logistics are also designed into the future use of the station, with a service yard built into the station where multiple lorries can make deliveries for retail units and Network Rail without holding up traffic.
Passenger flows Improved knowledge of passenger flows has been used to create a direct concourse-to-platform link so any platform can be accessed quickly from any other platform, rather than the previous overbridge. Combined with the pay and non-pay sections of the concourse, this allows for a much easier flow of passengers.
Heritage Some heritage elements of London Bridge were maintained, or refurbished. For example, in the Western Arcade the quadripartite arches were seen as a grand feature of the old station. These were mostly demolished, but rebuilt with modern construction methods to ensure they would hold the loads they were required to.
Retail Retail was an important feature of the London Bridge design, with the layout of the station optimised to have as many retail units as possible (around 7,500m2 of retail space), to maximise the revenue for Network Rail and achieve its return on investment. These have been focused in the non-pay sections of the stations, in order for the station to be used as a destination for the local area as well as for passengers passing through.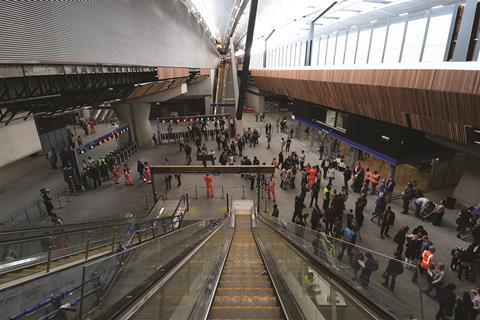 08 / Conclusion
Railway stations are a challenging, complex environment to work in, with a multitude of stakeholders with competing objectives and often works ongoing in an operational context. With passenger journeys at an all-time high, and numbers forecast to keep increasing, investment in capacity is much needed and will continue over the next decade.
To optimise planned investment in stations, it is essential that the wider benefits of railway stations be considered and that regeneration opportunities are outlined from the outset. The challenge for the industry is how to provide the capacity improvements and regeneration needed without worsening disruption to the existing network.

We would like to thank Maha Newell, David Edwards, Phillippa Spencer, Bauke Schat, Irum Malik, Nigel Hayward, Mahmood Faruqi, Laurence Claxton and Matthew Kitching of Arcadis and CallisonRTKL for their contribution to this piece.