With a World Cup, an Olympics, and recently discovered oil fields, it's all happening in Brazil. Jair Carlos Roxo of ARCADIS Logos and Magda Skalska-Burgess of EC Harris examine the data
01 / INTRODUCTION
When one talks about Brazil, the word "biggest" tends to appear in the description quite frequently. The Federative Republic of Brazil is the biggest country in both South America and the Latin American region and the world's fifth-largest country, both by geographical area (8.5 million km2) and by population (198.4 million in 2012). It is also the world's biggest producer of iron ore and the largest exporter of beef, sugar, coffee and orange juice. It is the second-largest producer and exporter of soybeans, after the US. Brazil's construction and real estate market is also the largest in Latin America. On top of this, Brazil is partially energy independent and rich in natural resources. Finally, it has just recently discovered "pre-salt" oil fields with oil reserves that are thought to rival those found beneath the North Sea. Together with the upcoming 2014 Fifa World Cup and 2016 Olympic Games, which Brazil will be hosting and which have an estimated combined budget of about $30bn (£18.7bn), it is a country whose economy should be bubbling.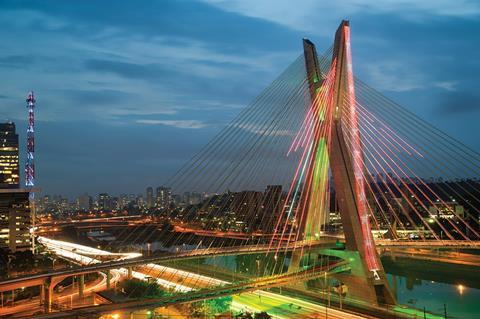 02 / ECONOMY
Brazil's economy certainly has been on the rise - in 2010 real GDP growth was 7.5% - but the visible slowdown of all BRIC economies affected the country, and 2011 saw the figure dropping to 2.8%.
While 2012 recorded 0.9% growth, the forecast for 2013 is 2.6%. In EC Harris' Global Built Asset Wealth Index 2013, Brazil took 13th place out of 30 reviewed countries with a stock of built assets estimated at $6tn (£3.7tn). Review of built asset wealth per person puts Brazil even further down the ranking in 25th place, just above South Africa, Indonesia, the Philippines, India and Egypt.
Mineral and agricultural wealth, hydrocarbons and a massive consumer base will continue to provide important engines of growth for the economy, but there are a number of risks that, if not looked after, may hinder the forecast and impede the long-term competitiveness of Brazil.
International experts point to several areas:
over-regulation, bureaucracy and cumbersome legal processes
a very complex and onerous tax system
corruption and gang crime
poor infrastructure
lack of specialised labour.
Since 2010, when the government of president Dilma Rousseff was elected, the country has seen some changes. Brazil has signed the OECD Anti-Bribery Convention and launched a widespread crackdown on corrupt officials, which has boosted confidence in the country. Large infrastructure works ahead of the World Cup and Olympic Games have begun and are supported by a number of public and private initiatives. Legal and tax system improvements are still outstanding and will be a main topic of the forthcoming presidential election in 2014.
03 / CONSTRUCTION WORKLOAD
According to Federal Government Statistics Agency (IBGE), the construction sector in Brazil represents almost 5% of the Gross National Product and secures around 7.5 million jobs, directly or indirectly linked to the sector. Construction is estimated to be worth $109.3bn (£68bn) in 2012 and forecasted to grow by 2% in 2013 in comparison with 10% in the previous year. Growth is expected to peak in the second half of 2013 and first half of 2014, as a result of the mounting pressure to complete infrastructure projects ahead of 2014 World Cup.
Due to the complex and changeable Brazilian business environment, domestic contractors dominate the country and they are likely to be big winners next year. Large local contractors are the main players in construction works for the Games and there is a small space for international consulting (design and construction management) firms. There are a large number of well-established, mainly local, homebuilders, engineering, procurement and construction (EPC) firms in the country, as well as building material suppliers. Foreign companies that want to operate in Brazil can be more successful if they establish partnerships with local players.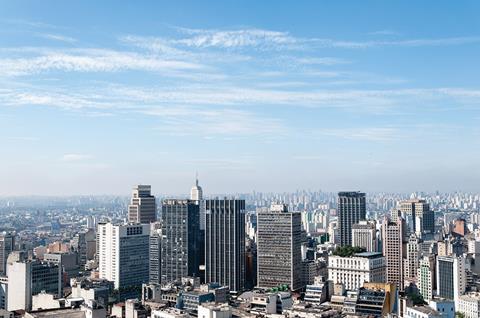 04 / INFRASTRUCTURE
The deficit of infrastructure investments in the country hampered the economic growth for many years and urgently demands new initiatives in several sectors. It was estimated that Brazil needed $639bn (£397.4bn) to finance infrastructure projects between 2010 and 2013. The response to this were two federal government's Growth Acceleration Programs (PAC I and PAC II, of a combined value of around $800bn, or £497.5bn) running from 2007 and due to finish in 2014. In total, both programmes led to more than 12,000 private and public infrastructure projects.
According to the World Economic Forum's assessment of overall infrastructure quality, Brazil sits near the bottom - 104th out of 148 countries surveyed. As a result practically all infrastructure sectors need some form of investment or development:
Highways There is almost 5,000km of highways concessions in the pipeline and with the value of roads and bridges infrastructure testimated at $21.8bn (£13.6bn) in 2012 and forecasted as $20.8bn (£12.9bn) in 2013 by Business Monitor International (BMI), road transport development is at the top of the government's agenda.The reliance on roads for the transport of goods (58% of all transport) and for people travel is very high and all parties bear the costs of its underdevelopment.Currently, only 12% of roads are paved.
Railways New investments depend on new concessions. There are 10 new railways referenced in the Logistics Investment Plan for private investment and operation. One of the biggest projects is the high-speed railway interconnecting São Paulo to Rio de Janeiro. It has been split into two phases and is scheduled for completion in 2018. Successful bidders will need to have a minimum of five years of experience operating a high-speed railway with no record of fatal accidents.
Airports BMI estimates airport infrastructure to be 0.7% of the whole transport infrastructure in Brazil and worth around $200m (£124.4m) in 2012. Air passenger traffic is forecasted to grow by 3.5% per year, from 111 million passengers in 2009 to 312 million in 2030.
Ports Real value growth in Brazil's ports, harbours and waterways infrastructure is forecasted by BMI as 4.9% in 2013 and 7.3% in 2014. The government investment programme worth around $26bn (£16.2bn) was unveiled in December 2012, with investment planned to come from both private and public sources. Development and improvement will be necessary to meet the growing needs of shipping companies operating in Brazil (17% of Brazilian transport is by water). Currently, complaints refer to the inefficiency of ports - it takes a container an average of 21 days to clear Brazil's main port, Santos, compared with only two days for Rotterdam.
Urban transport The tendency to increase investment in large capital cities (Metro lines, Monorails, bus corridors) is now fostered by the need for a governmental response to the recent protests sparked by an increase in bus fares. The cost of public transport is likely to be one of the key issues in the 2014 presidential election campaign.
05 / KEY DATA: BRAZIL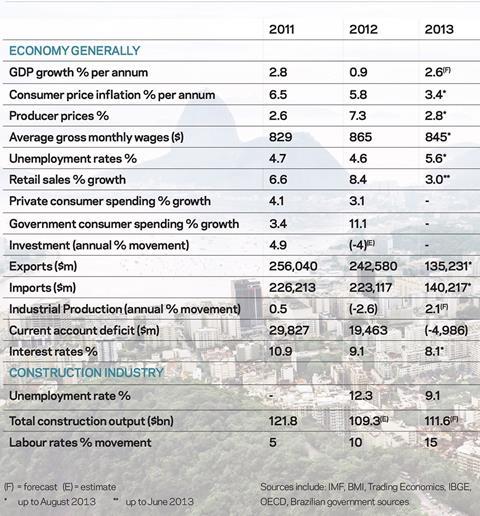 06 / OTHER
Mining
Despite the slowdown of worldwide economy - including China, Brazil's large iron ore importer - Brazil's main player in mining sector, VALE, forecast its annual investment for the next three years to be around $16bn-18bn (£9.9bn-11.2bn). It plans to continue its focus on iron ore, while also foreseeing some initiatives in copper, coal, nickel, manganese and fertilizers (phosphates and potassium). The Brazilian government has proposed a new Mining Code with new regimes over mineral research, operation and taxation of mining companies, which has caused many disputes as to its final effect on the sector.
Oil and gas
Sector is dominated by Petrobras, the state-owned company whose average annual investment program in the 2012-2016 period is estimated at $47.3bn (£29.4bn).
The so-called "pre-salt", deep-sea offshore oil exploration will be the main focus of the sector. New legislation and concession-based business model is due to induce significant investments in other related fields and sectors, for example, shipbuilders, equipment suppliers and port infrastructure.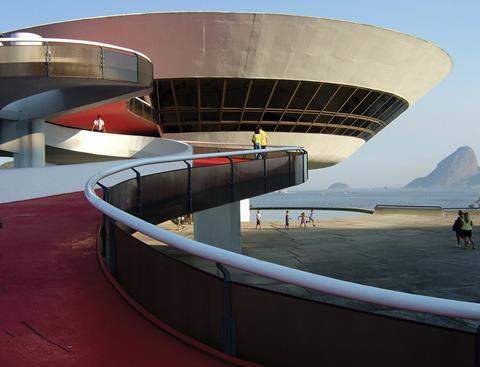 07 / COMMERCIAL SECTOR
After a boom in recent years, a readjustment of the market can be perceived, with lower rates of growth, although still sustainable:
Office São Paulo and Rio de Janeiro are among the most expensive regions worldwide per square metre for A and AA grade buildings for corporate offices. Monthly rental costs range between R$80 to 200 per m2 in 2012 (£24,500 to £31,000 per ft2 per annum), leases up to five years and a maximum of two months rent free. The project pipeline is healthy and is anticipated to be strengthened by around 400,000m2 over next two years.
Retail Twenty-seven new shopping malls were inaugurated last year and 46 new ones are scheduled to open in 2013. The trend seems to be the continuation of this growth, though at a slower pace. The scarcity of land and its high cost in urban locations started the trend of new projects being developed on the outskirts of cities.
Industrial As part of the logistic bottleneck in the country, there is a natural trend of growth in this area, with attractive payback expected for investors. Another recent trend is the arrival of several car manufacturers that will establish their plants in the country, within the CKD (complete knock-down) concept, in order to take advantage of tax incentives versus high import taxes.
Hospitality The trend of growth in large cities continues. Rio de Janeiro is due to add 22,000 hotel rooms to its base by 2014. However, international experts are sceptical as to whether this plan will be successfully completed. Rio also has an alternative to this concept: it plans to berth six cruise ships to house tourists in Guanabara Bay ahead of the 2014 Fifa World Cup and 2016 Olympics, but doubts persist as to the ports being ready in time.
08 / RESIDENTIAL
The sector is readjusting itself to smaller growth rates, after the strong expansion experienced in 2010. According to sector associations, real estate funding is fairly available, however the residential market may experience a change in pace, reaching a saturation point and in a most optimistic view, maintain or slowly reduce its volumes.
The Federal Government Program "My House, My Life", focused on the low-income population, surpassed 1 million newly-built units in 2013. The goal for 2014 is to build more than 1.4 million new houses.
There has also been a visible increase in the demand for two-bedroom apartments among the middle class, with a trend of reducing the usable area, aiming to cut back on the costs per m2.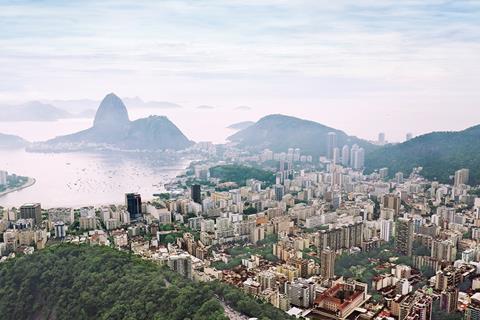 09 / PUBLIC SECTOR
The public sector will play an important role in the expansion of infrastructure in the next three years. The deficit in the sector is huge, and even though government at all levels (municipal, state and federal) has announced a significant number of investment plans for the next years, some factors such as, budget limitations and poor management capacity, consistently slow down every investment program. The private sector is always investing too, but in such a scattered way that it is difficult to follow the market size and trends. Public-sector pension funds have committed US$15bn and the state owned Brazilian Development Bank (BNDES) agreed to add $US77bn. The development of new concession programmes for highways, railways, ports, airports, energy power plants and transmission lines is expected as well as greater involvement of Public-Private Partnerships. Finally, recently discovered oil reserves on the Brazilian coast will add a much needed income boost for the government.
10 / LABOUR
Construction and equipment industries are experiencing a shortage of specialised labour, which impacts on construction schedules. The unemployment rate is one of the lowest in the world and averages around 5%. Additionally, the number of workers with formal employment has increased in recent years.
The cost of manpower in Brazil has become progressively higher when compared with other countries and has been a major impediment to foreign investors. Up to a third of employers' labour costs can be accounted for by various taxes and other charges. The federal government has recently started to adopt some measures to reduce these charges for some sensitive sectors.
On the other hand, the minimum wage keeps increasing each year, because of governmental indexing, which influences the wages of all categories of workers. Brazil's labour code provides fairly extensive benefits with a 44 hour working week, overtime pay of 50-100% of base pay, 30 days of annual leave and an annual bonus.
11 / CONSTRUCTION COSTS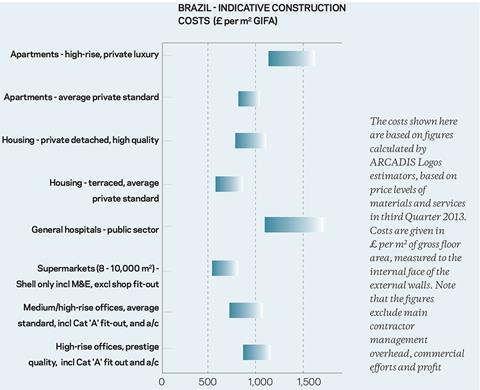 12 / TENDER PRICES
General inflation is currently running at 5.8%. Construction inflation is not strictly linked to domestic inflation, particularly as the scale and diversity of the country means that there are many sub-markets. Prices have been rising at about 5% per annum, with higher labour costs being offset by productivity gains. Barring political or economic disruption, these price trends are expected to continue over the next two years.