Hong Kong's tall towers and connection with the strength of mainland China makes it a particularly vibrant construction market. Tim Robinson and Magda Skalska-Burgess of EC Harris report
01 / SUMMARY
Hong Kong is one of the most developed and stable countries in Asia. Its location makes it an ideal focus for trade and investment, providing a headquarter location and gateway for foreign companies entering mainland China. It is a popular tourism and shopping destination and home to many of Asia's large conglomerates.
Hong Kong has a population of 7.1 million and an area of 1,100km2, giving the fourth highest population density in the world, exceeded only by Singapore, Monaco and Macau. It is mountainous and less than 25% of land area has been developed. As a result it is an epicentre of tall construction. Over 110 buildings exceed 180m tall. Hong Kong's tallest tower, the 118- storey International Commerce Centre is the fifth-tallest building in the world. Given the intensity of construction, high labour costs (driven by the living costs) and quality of the end product, it is not surprising that construction costs are some of the highest in Asia.
Hong Kong's economic performance is closely related to global trade and in particular, growth in mainland China. Last year's growth was disappointing at 1.6%, down from 5% in 2011. However, the economy began to accelerate in the fourth quarter and the government forecasts growth of 3.7% in 2013, associated with tourism, exports and recovery in China.
Careful management of the relationship between China and the Special Administrative Region of Hong Kong contributed to the success of Hong Kong over the past decade. The Chinese government has granted Hong Kong a number of concessions, including the Closer Economic Partnership Arrangement, which gives Hong Kong exporters duty-free access into mainland markets. It has also reduced the restrictions on mainland Chinese tourists visiting Hong Kong - contributing to its vibrant retail scene. People coming into Hong Kong from the mainland now account for 70% of tourist visits. Conversely, continuing growth in mainland China, around Shenzhen and Guangzhou, has been held responsible for pollution in the country as well as attracting some of Hong Kong's manufacturers into its lower cost locations.
02 / THE HONG KONG CONSTRUCTION INDUSTRY
The Hong Kong construction market is worth around £12bn a year. According to BMI analysis from 2012, infrastructure constituted over 40% of construction output. The residential sector accounts for around 30%. BMI forecast 5% growth in infrastructure over the next few years, compared with 1% in the non-residential sector over the same period.
In contrast to many other Asian construction markets, Hong Kong's industry is mature and well developed. There are well established international and local consultancies and contractors operating in the market with the award of government contracts favouring companies with a strong local track record. The government and leading client organisations are looking to promote innovation and productivity through a change in their procurement strategies which may create opportunities for international companies looking to enter the market. UKTI led a Hong Kong "mega mission" targeting large scale infrastructure opportunities in spring 2012, aiming for jobs worth £29m ahead of 2015/16.
The Hong Kong government is focused on keeping the built environment at the top of regional and global rankings and has developed a strategy to drive this - the Construction Industry Vision 2020. This has identified five strategic areas for development over the next seven years:
Safety, health and quality of life
Environmental awareness and energy efficiency
Business ethics and procurement process
Efficiency and productivity
Development of a long-term viable and sustainable construction industry.
Innovations being developed include widespread use of BIM technologies and the introduction of security of payment legislation by 2015.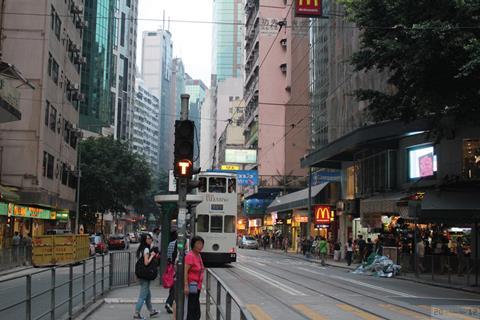 03 / MARKET DEMAND: INFRASTRUCTURE
Given the maturity of commercial and residential markets, the infrastructure sector has plenty of opportunities for growth, with transport leading the way.
Transport
The transport sector is a government priority and has the greatest potential for work, with high levels of investment opening up opportunities for foreign consultants and contractors. Transport infrastructure projects are estimated by BMI to account for 90% of the infrastructure industry's value over the next 10 years. Transport infrastructure is critical for Hong Kong's economic success, being fundamental to trade and tourism. Tourism volumes grew by 15.8% year-on-year in the first 10 months of 2012, while the value of Hong Kong's total exports grew by 14.4% year-on-year in December 2012 - underpinning the need to invest in infrastructure.
Transport - Rail
Recent efforts by the government to stimulate closer integration with the mainland are creating many opportunities. One of the large-scale transport projects recently commenced on site is the £5bn Guangzhou-Shenzhen-Hong Kong Express Rail Link. In total, there are 36 transport infrastructure projects currently under construction, worth around £13bn in total.
Transport - Air
Hong Kong's International Airport is seeing a total investment of £6bn to improve facilities and provide better services for growing numbers of air passengers. The airport served a record 53 million passengers in 2012. Investments include the development of the Midfield and West Apron, and a new cargo terminal, which will start operations in 2013. In 2012, plans for a third runway were approved. The expansion will take about 11 years before the three-runway system can be commissioned in 2023 and will cost around £12bn.
Transport - Ports
Currently the major investment is the Kai Tak Cruise Terminal, built on the site of the old airport. The terminal is scheduled to open its first berth on 1 June 2013 with second berth forecasted to be ready in mid-2014. The cruise terminal will have leisure, hospitality and landing facilities.
Hong Kong is also one of the largest container ports in the world, but is subject to intense competition with other South China ports. Investments in efficiency are essential, and some additional capacity may also be built in the next five years.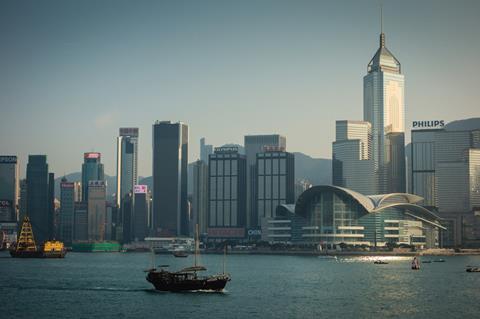 04 / MARKET DEMAND: REAL ESTATE
Residential
Hong Kong is the most expensive residential destination in the world. Prices in the luxury segment have increased by 70% in the past three years, and demand from wealthy locals, as well as a Chinese and international elite has underpinned this vibrant market. The government has introduced price control measures such as taxes and restrictions on loan values, including a 15% stamp duty on non-local and corporate purchasers in October 2012 to dampen demand, which has resulted in some softening of price inflation.
However, despite the risk of an extended slowdown of the Chinese economy, Hong Kong's safe-haven status and independent legal and banking institutions will keep attracting foreign investors, who will drive real estate prices up. The buoyancy of the primary sales market has been highlighted by Sun Hung Kai Properties' The Wings II scheme, where over 60% of the 784 units were sold off plan in January 2013.
Prices of mass housing have risen even higher than the luxury sector, increasing by over 100% since the 2008 crash. Concern over the affordability of houses for local residents has grown, forcing government into the introduction of new laws and policies. One, the "Hong Kong Land for Hong Kong People" policy, will restrict sale of certain properties to citizens only. There are concerns that these policies will have an adverse effect, pushing prices in the open market even higher, due to a smaller number of properties available for foreign investors.
In response to demand, the new chief executive of Hong Kong, Leung Chun-Ying, has announced plans for 65,000 private flats and 75,000 governmental rental flats to be built. Forty-seven residential sites are to be placed under the government's 2012-13 Land Sale Programme and Hong Kong's first new long-term housing strategy has been published.
BMI forecasts steady growth in residential and non-residential building industry value, estimating it to be worth £3bn in 2013, and growing at over 5% a year thereafter. Residential supply in Hong Kong will continue to lag behind demand in the near future.
Office
According to the "Office Space Across the World 2013" report by Cushman & Wakefield, London and Hong Kong are the world's most expensive locations, with the cost of occupying a prime m2 of office per year in Hong Kong reaching £1,300.
Recently, rents in the central area have fallen due to restructuring among banking and financial institutions, marking a decline of about 17% in 2012. Rents in relocation areas such as East Kowloon are increasing. Despite this, Hong Kong's demand for office space remains high and current new supply is restricted. There were only two significant construction completions at the end of last year, totalling 335,000ft2. It is reported that over 1 million ft2 of office space is due to be completed in 2013 in Kowloon East and West.
Although rents have softened, demand for investment property has increased as investors have moved away from residential - capital values increased by 20% in the year to November 2012.
It is forecast that availability of high quality office space in Hong Kong will remain constrained as up to 70% of new supply will not enter the market before at least 2015.
Retail
The retail sector is particularly strong. It is estimated that retail sales account for around 16% of Hong Kong's GDP and Hong Kong remains the most popular global destination for luxury retailers. According to a recent CBRE survey, 86% of luxury retailers have confirmed their presence in the country, and a number of new brands have recently announced their plans to enter the market, including Topshop, Canali and Boucheron. The growing number of mainland Chinese tourists underpins retail growth and it is reported that retail sales in January and February last year grew by 15.2% year-on-year, in turn supporting rental growth of around 10% a year. Four out of nine of the Hong Kong REITs are active in the retail sector, namely Link, Champion, Fortune and Sunlight, which is a good indication of the attraction of the market. Given the trend for rising sales, rents and the number of competing chains, some retailers may be pushed to non-core districts or secondary locations in prime areas.
Industrial
The shortage of space in Hong Kong is not favourable for the industrial sector. Despite a recent decline in exports - a consequence of the US and Chinese slowdown, eurozone crisis and general condition of the world's economy - industrial rents increased in the fourth quarter of 2012 by an overall average of 4.3% quarter-on-quarter. This trend is likely to continue in 2013 as limited options for space in the market will drive competition.
Competition for space is also being driven by the conversion of industrial buildings into offices, residential and data centres. A recently announced policy could see half of Hong Kong's 1,400 factory sites becoming eligible for conversion into residential. This trend will add further pressure on the supply/demand balance for industrial buildings.
Tenant demand for suitable premises in 2012 saw rents rising above the landlord's expectations. There are only a handful of new significant projects under construction, expected to deliver 1,112,000ft2 of rental space.
05 / KEY DATA ON HONG KONG
| | | | |
| --- | --- | --- | --- |
| | 2011 | 2012 | 2013** |
| GENERAL ECONOMY | | | |
| GDP growth % per annum | 5.0 | 1.6 | 3.7 |
| Consumer price inflation % per annum | 5.3 | 4.1 | 2.9 |
| Unemployment rates | 3.3 | 3.3 | 4.0 |
| Retail sales % growth | 24.8 | 9.8 | - |
| Private consumer spending % growth | 8.2 | 3.7 | 1.8 |
| Total capital investment % of GDP | 21.5 | 22.4 | 22.6 |
| Exports % growth | 10.1 | 2.9 | 1.6 |
| Imports % growth | 11.9 | 3.9 | 23.9 |
| Current account deficit % of GDP | 5.1 | 5.5 | 5.9 |
| Best Lending Interest rates | 5.0 | 5.0 | 5.0 |
| | | | |
| --- | --- | --- | --- |
| CONSTRUCTION INDUSTRY | | | |
| Unemployment rate % | 5.6 | 4.3 | 5.0 |
| Cement consumption million tonnes | 3.6 | 3.6 | 3.9 |
| Housing starts m2 million | 1.3 | 1.5 | 2.0 |
| Housing completion m2 million | 0.9 | 1.1 | - |
| Total construction output £bn | 11 | 12.1* | - |
| Construction tender prices % movement | - | 9.0 | 10 |
| Labour rates % movement | 5 | 1.0 | 15 |
- = Data not available
* = Projection based on 1st two quarters of 2012
** = ECHarris forecast
06 / CONSTRUCTION CAPACITY AND TENDER PRICES
The Hong Kong construction industry suffers from severe labour shortages. Recent wage settlements agreed by Hong Kong construction unions ranged from 5% to 30%, reflecting these constraints. The root of the labour shortage goes back to the downturn in construction activities following the Asian financial crash. The construction industry revived in 2006, only to find that an ageing construction workforce presented problems of skills mismatches and a lack of entrants. There are around 107,000 skilled workers, of which over 50,000 are aged over 50 years. Capacity constraints are particularly severe for structures trends - explaining high wage rises and accelerating inflation anticipated over the next couple of years as construction volumes increases.
In 2010, the government earmarked a fund of HK$100m (£8.6m) to enhance training and career prospects. However, the results to date are not very encouraging, and in the two-and-a-half years since the fund was set up, the headcount of skilled workers remains almost unchanged. Further investment of HK$220m (£18.9m) will do little to help with the immediate problem.
A further complicating factor is the growth of construction activity in Macau driven by the breakneck pace of casino investment. Simultaneous booms in Hong Kong and Macau in 2006-2007 resulted in high inflation, and the situation today seems very familiar.
Contractors are looking to use labour - as a scarce resource - more effectively.
Pre-fabrication and standardisation are being examined as well as options such as the increased use of dry trades such as partitions.
The obvious immediate solution to the labour shortage problem is to import foreign labour - as is seen in Singapore and Malaysia. However, the Hong Kong government will not permit this.
Given rising demand in Hong Kong and China and labour supply constraints, EC Harris' latest research indicates that tender prices in Hong Kong's construction sector are likely to increase by 10% during 2013. The study predicts that rates of growth in construction volumes will continue to rise throughout the next 12 months, peaking in 2014. As a result, construction inflation is predicted to grow by a further 9% in 2014 before easing to 7% in 2015.