After the 2008 crash in Dubai, growth and confidence are returning and a more mature construction market is developing, based on Abu Dhabi's huge investment in energy and infrastructure and Dubai's prime location as a hub for trade and tourism. Paul Maddison from EC Harris reports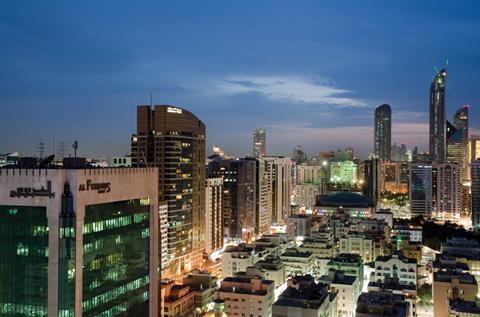 01 / ECONOMIC OVERVIEW
After a very difficult few years, the United Arab Emirates' economy appears to be recovering, set against a backdrop of continued uncertainty in the global economic environment and the geopolitical tensions within the region.
The IMF concluded, earlier this year, that the United Arab Emirates (UAE) had achieved an estimated real gross domestic product (GDP) growth of 4.9% in 2011. A breakdown of that figure indicates that non-hydrocarbon growth improved to an estimated 2.7% for 2011 supported by trade, logistics and tourism, as well as contributions from the construction and real estate sectors.
Looking ahead, a study by the Institute for International Finance (IIF) suggests that GDP growth may ease to 3.2% in 2012 and 2013 due to a slowdown in the hydrocarbon sector.
02 / CONSTRUCTION SECTOR
The UAE construction sector remains dominated by Abu Dhabi and Dubai and these two emirates set the pace for the UAE as a whole. The UAE government continues to drive the economy forward through a strategy of diversification and investment. The emirates of Abu Dhabi and Dubai continue to see expansion in urbanisation through a relatively young and growing population, which in turn fuels demand in real estate and infrastructure. The UAE is very much the hub of regional tourism and this continues to generate significant revenue from the sector and create further demand across the whole leisure sector.
Instability in the wider region has highlighted the UAE as a safe haven and this has had a positive impact upon the market. However, the uncertainty in the global economic environment continues to restrict the ability to raise debt funding to fuel real estate developments.
Having "right sized" over the past two years, the UAE construction sector appears set to return to near full capacity. This follows government announcements linked to a number of major projects, with a particular focus on social infrastructure. Meanwhile high construction demand from neighbouring countries in the region, such as Saudi Arabia and Qatar, will place further pressure on capacity, which may result in unbalanced price escalation.
After the highs and lows of recent years the UAE construction market is now more stable, although the key construction markets of Abu Dhabi and Dubai are at differing stages of the cycle.
Abu Dhabi
At the start of 2012, the Abu Dhabi Executive Council announced its major spending programme. This focuses on investment in projects that have significant strategic impact and confirms the government's commitment to the 2030 Vision after a comprehensive review of the emirate's plans.
There are large numbers of construction projects now coming to completion in Abu Dhabi, with the result that supply is hitting the market at a time of restricted demand and as a result rental levels for commercial office and residential units have fallen, although the retail market is still under-supplied and rental levels for retail schemes remain steady.
The residential market should be reinvigorated by the recent announcement that all employees of Abu Dhabi government departments and agencies must live in the emirate.
Social development remains high on the agenda, with plans for improvement and expansion of education and healthcare facilities together with social/national housing programmes. Funds were also assigned to the expansion of Abu Dhabi International Airport which will be delivered at an expected cost of AED25bn (£4.3bn) opening in late 2016. The 700,000m2 expansion will accommodate 27 million passengers a year.
The Executive Council has also confirmed plans for the Saadiyat Cultural District, which includes the Zayed National Museum, the Louvre Abu Dhabi and the Guggenheim Abu Dhabi as part of the goal to become a "world class tourist destination".
Infrastructure projects are also high on the agenda with projects such as Khalifa Port, Etihad Rail, STRATA and general road expansions.
Dubai
After the market lows and problems of 2009, Dubai is now showing signs of recovery. Projects previously placed on hold are being reviewed and restarted as the emirate looks to restructure to attract investment. The Dubai Department of Economic Development reports that the local economy grew by 3% in 2011, with GDP growth expected to be around 4.5% in 2012. Following the boom period of 2007/08, where planned projects would have serviced a population in excess of 10 million rather than the actual population of close to 2 million, the government is carrying out modelling studies to assess the development needs of the existing and projected populations.
Passenger traffic at Dubai airport increased to 51 million passengers in 2011, an 8% increase from 2010. This increase reflects the strength of the UAE tourism sector despite the regional instability.
Investor focus in Dubai is linked to well-located, high-quality, income-producing assets and there has been an increase in the number of cancellations of less attractive projects, including 220 cancelled by the Real Estate Regulatory Agency (RERA200). Investors are increasingly focusing on customer requirements and financial viability as the market shifts away from speculator-driven developments.
Enhancements to community living appear to be becoming more important, with local "high street" style shopping taking place around the highly populated areas of Al Wasl Road and Jumeriah Beach. Improvements to the emirate's infrastructure also press ahead, with access around Business Bay now taking shape. This is leading to the restart of some previously stalled projects in the area.
As the emirate recovers, many of Dubai's leading developers who, after the market crash, sought opportunities outside the UAE are now refocusing on Dubai. These developers are looking to maximise returns from existing assets with redevelopment plans ongoing for many of the emirate's regional shopping malls. The strong business and tourism demands have also led to the refurbishment of several of the emirate's older hotels.
03 / CONSTRUCTION PRICES
Tender price levels in the UAE fell by 3% during 2011 and has remained at the same level through 2012 according to the EC Harris Construction Cost Index. Consumer price inflation, material prices and construction labour rates have remained more or less flat through 2012 and are unlikely to rise by more than 2% during 2013.
Crude oil has seen a steady increase of about 7% over the past year; in contrast most commodity prices for metals have fallen, with copper down 10%, aluminium down 6% and steel beams down 11%.
Looking ahead, the construction market is expected to show little improvement for the remainder of 2012, but is expected to improve through 2013 and beyond, with a number of large projects being given the go ahead. However, as most new projects are still in the planning stage and not likely to be tendered this year, contractors will need to review their order books in 2013 and plan for slight increases in the cost of labour, plant and materials.
While tender prices fell by 3%, in line with costs, during 2011 and remained flat this year, a number of major schemes will soon be going to tender. As a result, the expectation is that tender prices will increase by around 4% next year.
Looking further forward, as confidence begins to return to the global economy and funding becomes more readily available, we would
expect tender prices to continue to rise, by about 5% in both 2014 and 2015.
A / FIRST QUARTER 2012 COSTS (£/M2)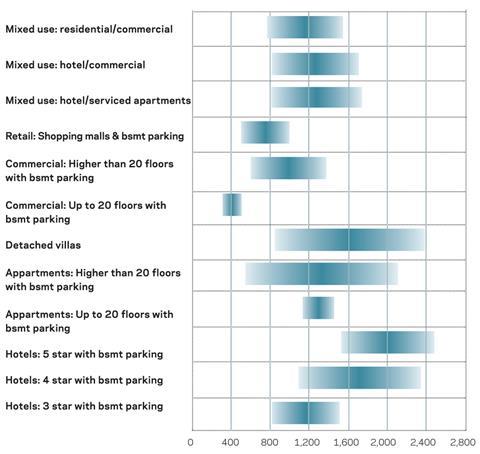 04 / KEY CHALLENGES
The construction industry continues to be in a state of consolidation, both for clients and contractors. The mooted merger of developers including Surouh and Aldar may result in a much larger, more influential and more powerful organisation that would be active in a much smaller market and would have enormous buying power.
This could increase the challenges faced by contractors, who will be competing for fewer projects, for larger clients and with the added difficulty of securing working capital from banks. Subcontractors are already facing challenges in securing funding and in being able to offer the required guarantees and letters of credit necessary to obtain materials from suppliers. These problems can only be overcome by the larger main contactors, which have bank facilities or cash reserves in place. These larger organisations are likely to be forced to deliver projects via contracts direct with suppliers and labour-only subcontractors; this, in turn, will require enhanced management skills to offset the increased level of risk exposure.
Construction projects rely on the availability of resources and the UAE has two neighbours which have very solid investment plans. The awarding of the World Cup to Qatar will see $100bn invested, including about 40% in infrastructure; meanwhile, in Saudi Arabia, the construction sector is growing at about 4% per year and the country is looking to spend $500bn on transportation, energy and education. The UAE is having to compete with these two dominating markets, which poses an interesting turnaround from before 2008 when the rest of the Gulf Cooperation Council was trailing in the UAE's wake.
With the recovery of the markets taking place in the UAE, developers are recognising that there is a window of opportunity to maximise the benefit of the downturn in construction costs. However, the usual caveats apply to selecting purely on cheapest price; the truth of "buy now, pay later" will become apparent as claims and insolvencies gather pace from the supply chain.
As workload picks up, the fight for talent will become even more critical and retaining expertise will become a challenge. Those companies with a more sustainable approach to people and resource management will ultimately succeed as the recovery takes shape.
Flexibility in purchasing strategies is also essential. Purchasing and contracting strategies need to be developed while maintaining flexibility in a recovering market. There is, and will be, a much more assertive approach to debt collection and contractual management as all parties protect their own commercial interests.
Risk mitigation through effective project controls will also be critical in an increasingly litigious market. Evidence suggests that in an upturn, a much more commercially assertive approach will be taken by contractors and suppliers.
05 / OUTLOOK
The rules of development that prevail in the rest of the world appear to be creeping into the UAE as the property market especially feels the after-effects of 2009 and matures accordingly. High-quality, well-designed and well-located developments remain in demand and the focus is increasingly on revenue-generating developments. Although this may sound like an obvious condition, it has not always been the case. Speed-to-revenue is also a critical factor and there are opportunities in some sectors still to be leveraged.
The Dubai market has already seen some signs of amnesia, with recent property launches being over-subscribed and buying on a speculative basis creeping back in from some purchasers. This is offset by the bulk of transactions being undertaken on a buy-to-own basis; therefore, there are real opportunities to deliver sustainable support elements to enhance the ownership market. These include the development of community malls, health facilities and leisure amenities.
The Abu Dhabi market continues to move forward through its investment in infrastructure and social infrastructure in order to provide the foundations upon which future development can thrive.
B / KEY DATA