Exclusive: Double Stirling-prize winner's Basketball Arena the latest victim of Olympic marketing restrictions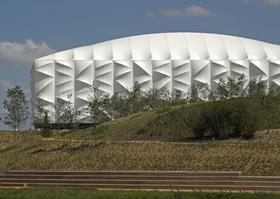 Leading architect Wilkinson Eyre was today presented with a special 'protest award' for its Olympic Basketball Arena after being forbidden from entering the temporary venue for other awards due to restrictive Olympic marketing rules.
The firm - which has won the Stirling Prize twice - was given the ironic prize at the 2012 New London Awards, organised at the Guildhall in the City by the capital's built environment centre, New London Architecture (NLA).
Wilkinson Eyre asked permission from its client the Olympic Delivery Authority (ODA) to enter the Olympic Basketball Arena for a number of architecture awards, but was turned down.
NLA boss Peter Murray, a prominent campaigner for the relaxation of strict Olympic marketing rules, said it was yet another example of the "draconian" impact of the No Marketing Rights Protocol, enforced by the London Organising Committee of the Olympic and Paralympic Games (LOCOG).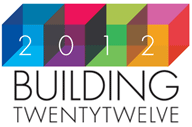 Building has used its 2012 campaign to highlight complaints from firms that the marketing protocol has gagged them as they seek to capitalise on their Olympic achievements.
Murray said: "The NLA believes the restrictions should be lifted immediately and has presented the prize in protest at these constraints.
"The Prime Minister has said that the Olympics should be used to boost UK PLC, but these rules seriously restrict the ability of British designers, consultants and contractors to promote their work and their success in delivering the Games on time and on budget."
Last week, David Cameron and Olympic Delivery Authority chairman Sir John Armitt both raised concerns over the impact of the protocol with Armitt's legacy report to government calling for "urgent action" to be taken to relax the marketing restrictions immediately after the games.
However, the government said in its response that a "workable solution" would not be found before the end of the year.
Building revealed back in March that architects including Make and Hawkins Brown had complained of an inability to promote their successful Olympic work.
Hawkins Brown said then that the ODA had prevented it from entering its £110m redevelopment of Stratford Station for any architectural awards.
Wilkinson Eyre, which designed the Basketball Arena in collaboration with Sinclair Knight Merz and KSS Design Group, uniquely won the RIBA Stirling prize two years running – in 2001 for the Magna Project near Rotherham and in 2002 for the Gateshead Millennium Bridge.