Construction adviser Peter Hansford to lead development of strategy with "advisory council"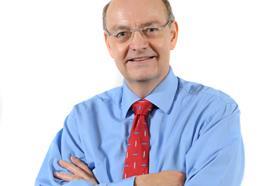 The government is to announce a team of industry advisers to aid the drawing up of a 10-year vision for the construction industry over the next six months.
Construction adviser Peter Hansford has revealed that the government will announce the members of a new "advisory council" to help create an industrial strategy for construction early next week.
Business secretary Vince Cable said in September that the government would devise industrial strategies explaining the UK's medium-term ambition for a range of different UK business sectors – including construction.
Hansford, who took over as construction adviser in December, confirmed the construction industrial strategy will be launched in the summer. However, he said he would be leading the formation of the strategy before the summer, with the help of the new advisory council.
He declined to say exactly what the strategy will include, but said it would be designed to link up existing initiatives, including the construction strategy and the Low Carbon Construction Action Plan to provide a "medium-term vision" for the industry over the next decade.
He said he was particularly interested in using the strategy to develop how to link cost effective procurement with low-carbon construction, and unlock barriers to innovation.
Hansford said: "The industrial strategy for construction … is a vision for the construction industry for the next decade or so. So [it will define] where is construction going in the UK? What is the low carbon and lower cost industry that we want to support?
"The most important thing to say is it doesn't change the existing initiatives we've got. It [will] provide the coherence of why we're doing cost and efficiency, low carbon, [and] BIM. How will these things fit together? How will we unlock innovation in this sector?
"I do think [construction] is an innovative sector – but I think there are barriers to innovation, we want to find out what are those barriers and how do we unlock them etc etc."
He said it was too early to say exactly how the strategy would affect the industry on the ground, but stressed that it would be a strategy developed in partnership with the sector. "We're doing this in partnership with industry – this is not a government strategy," he said.