Ian Kerr's allegation to MPs that contractor paid to cover up blacklist involvement strongly denied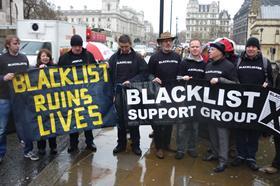 The man who ran the construction industry blacklist exposed in 2009 has pointed the finger at Sir Robert McAlpine, claiming the contractor funded the establishment of his organisation, hosted its meetings, took senior positions within it and paid for it to be wound up.
In three-and-a-half hours of dramatic testimony to MPs on Tuesday, Ian Kerr, the chief officer of the Consulting Association (TCA), also alleged that the services of the TCA - which was uncovered and shut down by the Information Commissioner's Office (ICO) - were used on a host of famous public projects including the London 2012 Olympics, where Sir Robert McAlpine was stadium contractor.
Sir Robert McAlpine is currently facing a High Court compensation claim from more than 80 workers who allege that it was at the centre of a conspiracy to illegally deny them work because they were seen as "troublemakers".
In testimony strongly disputed by the contractor, Kerr told the Scottish Affairs committee that he now believes he wrongly took the "flak" for the misdeeds of TCA in return for Sir Robert McAlpine covering the cost of winding it up, which he estimated ran to between £20,000 and £30,000.
Following the ICO raid, Kerr was fined £5,000 for breaching the Data Protection Act by running the blacklist.
Asked by the committee who paid the fine, Kerr replied: "The fine came through Sir Robert McAlpine on the basis that I put myself at the front, took the flak so they wouldn't be drawn into all of this."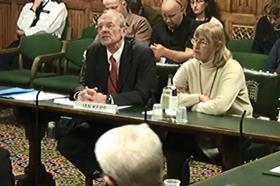 Kerr claimed that the founding chairman of TCA was Sir Robert McAlpine director Cullum McAlpine and that its final chairman was David Cochrane, McAlpine's former head of HR.
He said that Sir Robert McAlpine put up the additional money the TCA needed to cover winding-up costs as part of an "informal" agreement.
He also told the committee that the TCA was "originally funded" in 1993 by a £10,000 loan from Sir Robert McAlpine - later repaid out of TCA income - and that he would hold meetings with key members at the "Bernard Street" offices of the contractor.
A spokesperson for Sir Robert McAlpine said that Kerr had acknowledged that the TCA was established by a "large group" of construction companies and said the firm was not "solely responsible" for its establishment or funding.
She added that the TCA had also been chaired by "representatives of other construction companies" as well as by Cochrane and Cullum McAlpine.
The spokesperson acknowledged the firm had paid Kerr's fine and other costs, adding: "We categorically deny that any payments made to Mr Kerr […] were in any way linked to his taking responsibility or protecting Sir Robert McAlpine Ltd or any member of the Consulting Association."
WHAT HE SAID – CLAIMS OF A MASTER BLACKLISTER
Said blacklisting on the London 2012 Olympics was carried out by Sir Robert McAlpine, Balfour Beatty and "possibly Skanska"
Pointed to a host of other significant public projects involving blacklisting such as Portcullis House, GCHQ, the Jubilee Line extension, PFI schools and hospitals, Wembley stadium and MoD schemes
Alleged there was "an awful lot of discussion" over Crossrail at TCA meetings
Said the TCA had also held a "green file" of 100-200 environmental activists which was not discovered by the ICO
Claimed other blacklisting organisations were operating at the same time as the TCA
Admitted that workers would be put on the database if they were too "persistent" with health and safety complaints
Said companies would fax worker checks to the TCA and he would phone back information
Claimed he burned the construction industry database and "smashed up" a computer hard drive
WHAT HAPPENS NEXT
The Scottish Affairs committee will call further witnesses to give evidence including major contractors such as Carillion

Shadow business secretary Chuka Umunna will pile pressure on the Olympic Delivery Authority and Crossrail to investigate possible blacklisting

The London Assembly will pursue further answers on this from ODA chief executive Dennis Hone

A class action against Sir Robert McAlpine on behalf of workers who claim they were blacklisted is likely to be filed at the High Court. A separate action - against Carillion - is also being prepared

Both claims will grow in scale due to a new ICO policy of co-operation with key unions

The European Court of Human Rights will examine a complaint by construction union Ucatt that successive UK governments breached workers' human rights by failing to outlaw blacklisting