Group's chair, Lynn Sullivan, called for more regulation at Futurebuild 2019 conference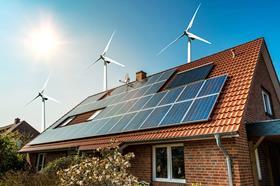 The chair of the Good Homes Alliance has called on the government to require developers to publish information on the energy performance of buildings they construct.
Lynn Sullivan, who is also a member of The Green Construction Board, said government needed to shift its focus from processes to outcomes to improve standards in the industry.
The Green Construction Board reports to the Construction Leadership Council on how government can achieve its goal of reducing the sector's carbon emissions by 50%.
Watch: Lynn Sullivan says improved regulation is a 'no-brainer'
Sullivan said: "The next step for the next 10 years has to be on a requirement for disclosure of outcomes – and this includes performance on energy use."
"We need to move from a focus on process to results. Clearly the Industrial Strategy and its Challenge Fund are moving us towards modernisation of the industry, but at the end of the day [developers] need to be called to account."
Sullivan made the remarks at Futurebuild 2019, at the ExCel centre in east London.
Fellow panellist Julia Barrett, director of Re-Thinking at Willmott Dixon, pushed back on the remarks.
She said: "I don't think its just about more building regs (…) there are some daft regulations in there which are really preventing us from doing the right thing, and its those kind of blockages with which I think we should be working with the government on."
"If you want to have an 100% renewable housing development you still have to pay for an electricity supply through the district network operator that would supply the maximum electricity on the coldest day for the maximum amount of residents."
Video: Julia Barrett at Futurebuild on carbon emissions and Building Regulations