Government's confirmation that HS2's eastern leg will be scrapped and Northern Powerhouse Rail downgraded divides opinions
The government's long-delayed Integrated Rail Plan for regional rail upgrades has been announced, confirming weekend speculation that HS2's £40bn eastern leg from the West Midlands to Leeds will be scrapped and replaced by upgrades to existing lines.
The £39bn Northern Powerhouse Rail line between Manchester and Leeds via Bradford has also been scaled back and replaced by a £23bn high speed line which skips Bradford.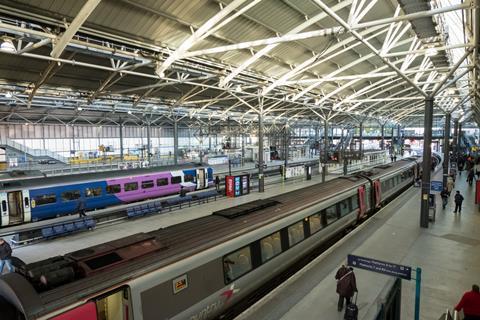 The plans outline a £96bn package of railway upgrades, although it includes the £40bn already committed for HS2's southern route between London and the West Midlands.
Other schemes will include improvements to the East Coast Main Line and East Midland Line, and a new mass transit system in Leeds to act as compensation for the city no longer becoming a transport hub between two major high speed rail lines.
Here's how the industry reacted.
"We now have a realistic plan for major long term investments to improve rail for the North and Midlands in the face of public spending constraints. In our advice to government, the Commission made the strategic case for more investment in rail to help deliver levelling up.
"It is sensible that the Integrated Rail Plan takes an adaptive approach, setting out a core pipeline of investment that should speed up delivery of benefits for communities and businesses. Beyond that pipeline, if additional funding becomes available the focus should be on further improving connections between Sheffield, Leeds, Bradford and Hull which are the kind of regional links likely to enhance economic benefits."
National Infrastructure Commission chair John Armitt
"We welcome investment in upgrades to rail in the North, but it is a missed opportunity that the government has failed to grasp the transformational potential of the full HS2 Eastern Leg and Northern Powerhouse Rail plans. It is vital that any investment now acts as a stepping-stone to future investment in the North and does not block the chance to deliver these schemes at a later date.
"The government's levelling-up agenda must include a step-change in infrastructure delivery in the North of England and the decision to scale back these plans can only hinder its stated intention of delivering a more balanced UK economy in the longer term."
Civil Engineering Contractors Association director of external affairs Marie-Claude Hemming
"This is not the plan that some expected or hoped for and there will be justified disappointment, particularly in terms of much needed East to West connectivity in the North, with longstanding and high-profile projects being pushed aside.
"However, there are silver linings too. This is a £96bn plan for rail which, in following advice from the National Infrastructure Commission, moves away from the piecemeal planning of the past."
Turner & Townsend managing director for UK infrastructure David Whysall
"Although these plans are different in some respects to what we'd expected, there are a lot of positives in here and lots of things to be excited about – a new high speed connection between Birmingham and East Midlands Parkway, direct links onto HS2 for Derby, Nottingham and Chesterfield and a commitment to the Midlands Rail Hub.
"Now that we have certainty, we must focus our efforts on delivery. Our challenge to government is simple: it should move as quickly as possible to get spades in the ground and bring benefits to local people sooner."
Midlands Connect chair John Peace
"Today's decision on HS2 and Northern Powerhouse Rail will be a blow for many. Decisions are always subject to political review but it has taken us 12 years to get nowhere - we have to make the next 12 about progress.
"The detailed background work for the schemes mentioned today has already been done, we can therefore shift right away to planning and ensuring we are maximising public benefit. We expect to see a delivery plan in the next 12 months, otherwise today's announcement is a further step on the journey to nowhere."
Institution of Civil Engineers director of policy Chris Richards
"Just 18 months ago, the Prime Minister told Parliament in a statement following the Oakervee review, that it 'does not make any sense' to build Northern Powerhouse Rail without HS2 and the government's strategy was to do both 'simultaneously'.
"Clearly the pandemic has strained public finances since then but another change of approach does not help an engineering sector scaling up skills and resources – at a time of global demand for rail expertise – around what appeared to be clear commitments and pledges."
Association for Consultancy and Engineering transport group chair and Ramboll director Andy Bell
The decision not to deliver High Speed 2 (HS2) in full and a scaled back amount of new line for Northern Powerhouse Rail is a lost opportunity for the communities the lines would serve, as well as the rail industry which was geared up to deliver. Decarbonisation of our transport network and levelling up are two of the biggest challenges of our time and investment in a high-speed rail network will pay dividends for decades to come.
"However, there is much to welcome in today's Integrated Rail Plan in terms of its ambition to rapidly strengthen connections between regional towns and cities, providing a catalyst for investment in areas that will bring in businesses, jobs and housing. For so many years the North and Midlands have suffered from terrible rail connections and the sooner these communities get new rail, the sooner they benefit.
Aecom managing director for civil infrastructure in the UK and Ireland Mark Southwell
"Government finances and passenger numbers have come under huge strain post-covid, so any package of investment in the rail network should be welcome. With nearly £100 billion now confirmed, there is a strong foundation for growth, which will go some way towards levelling up, transforming connectivity and passenger choice across the North and Midlands, and bringing positive opportunities for skills, regeneration and jobs.
"The scale of the task is huge. However, until the solution to get High Speed trains to Leeds is in place, the plan isn't as fully integrated as hoped, and so naturally many will be disappointed. The need to decarbonise and update an aging, under invested network inevitably means that some very difficult choices needed to be made. The strategic decision to prioritise connectivity within the region while investing in the High-Speed network will give a strong chance of delivering improved services for the towns and cities that can most benefit and have been historically underfunded.
Arcadis UK managing director for rail Richard Hoare
"While we welcome the long-awaited publication of the Integrated Rail Plan, the continued delays have done nothing but create uncertainty, leading to widespread and damaging speculation about the fate of schemes like HS2, Northern Powerhouse Rail and the Midlands Rail Hub. This has only been exacerbated by the lack of clarity around the future of individual projects of late. Take HS2, for example. If the scope had been delivered in full, this would have benefited the entire country but with the Eastern leg removed the areas that needed it the most are being cut out.
The continuous adjustments to funding, priorities, and overarching policy in preceding years have created inefficiencies and cost the tax-payer millions while delivering very little, so we have all been waiting for a brave, integrated and above all consistent rail plan to shape the next decade and beyond. While the IRP does at least provide some direction, it is not the 'infrastructure revolution for this country' that Boris Johnson claimed would be coming.
He himself said that now was the time to invest in Northern Powerhouse Rail so I am disappointed, although not entirely surprised, to see that the scheme has been drastically watered down. We fully support the notion of devolved investment but it's important that words translate into action. The NPR represented a real opportunity to support the delivery of the levelling-up agenda by connecting the major economic centres of the North.
Gleeds UK rail lead Paul Robinson