Contractor's disastrous foray into energy-from-waste has brought crippling losses, leading to a massive fall in Interserve's share price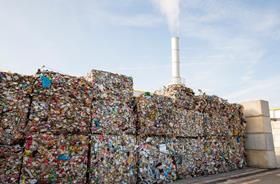 As Interserve puts forward another rescue plan amid the threat of a shareholder revolt the contractor's path forward is anything but clear.
The timeline below charts the mounting financial problems Interserve has faced ever since it announced its then chief executive of 13 years Adrian Ringrose was leaving back in November 2016.
That news was followed just a day later by the revelation that its client on the Glasgow energy-from-waste job had kicked it off the scheme.
In May 2016, Ringrose had said the cost of getting out of the energy-from-waste sector would be £70m.
At the last count that figure had gone up more than three times that amount to stand at £227m.
With mounting financial woes, Interserve's share price dropped to just 6p within 15 minutes of the market opening on 10 December last year, recovering to 12p as by 10am.
Interserve started 2018 with a 99p share price, hitting a year-high of 123p four days after the collapse of Carillion on 15 January.
It is still carrying out work on three energy from waste schemes which it promised in its interim results back in August last year that it would be finished with by the end of 2018.
The firm's debt has also headed north with Interserve saying last November that it would be up to £650m by the end of 2018. At the end of 2017, it stood at £503m.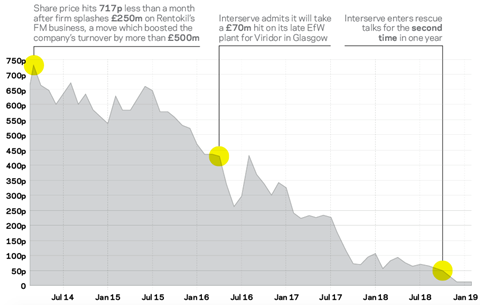 19 February 2019: US hedge fund Coltrane Asset Management turns up the pressure on Interserve after it increased its equity voting stake in the contractor from 17.5% to 27.7%
12 February 2019: Interserve's streamlining initiative claims its most senior figure yet with main board director Dougie Sutherland leaving the firm. Sutherland was the man in day-to-day charge of the firm's energy-from-waste contracts which have so far racked up crippling losses of more than £220m.
6 February 2019: Interserve unveils details of its plan to deleverage the firm's balance sheet that will be finalised in coming weeks, before being put before Interserve's existing shareholders for approval. In an update on the plans, the firm said it expected to reduce its net debt to around £275m by issuing around £480m of new Interserve equity to its creditors.
The new equity will amount to a 97.5% stake in Interserve
29 January 2019: Interserve confirms it has finished the first of four energy-from-waste plants which dogged the contractor for more than two years and cost it over £220m. It announces it has finished the plant in Dunbar, Scotland, with JV partner Babcock & Wilcox and that it has now been handed over to client Viridor.
10 January 2019: Building reveals a West Midlands council has asked Interserve to plan for its own collapse as concern for the contractor's survival grows.
4 January 2019: American energy-tech firm Babcock & Wilcox says all three of the incinerators it is building with Interserve will be finished in the first and second quarters of 2019.
21 December 2018: Interserve confirms it is considering whether to hand subsidiary RMD Kwikform to creditors as it also reveals a portion of new equity will be offered to investors.
20 December 2018: Boss of citizen services, Yvonne Thomas, a member of the Interserve's executive board, leaves following more management shuffling.
18 December 2018: Executive board member Robin O'Kelly leaves Interserve after his position, the group's director of communications, his position was cut as part of Fit for Growth.
10 December 2018: Interserve's share price halved in the first couple of hours of Monday trading, down 90% from a January high, as investors responded to the second rescue plan
8 December 2018: Reports emerge that firm is seeking second rescue deal this year under proposals which would see creditors take control of company
3 December 2018: SEC group chief executive Rudi Klein tells subcontractors to go direct to clients to get paid on Interserve jobs
23 November 2018: Shares slide as firm says year end net debt will be between £625m and £650m
21 November 2018: It emerges that government has asked Interserve to draw up 'living will' in case it goes bust
13 November 2018: Interserve shares sink to 34 year low
9 November 2018: Build UK figures reveal Interserve queries over 80% of its invoices
6 November 2018: Building reveals Interserve has missed deadline for handing over Derby energy-from-waste plant and that its JV partner on scheme may have to carry the can for its share of additional costs
August 2018: Firm says cost of energy-from-waste has gone up to £227m. Net debt at half year to 30 June hits £614m
May 2018: Financial Conduct Authority launches probe into handling of its exit from the energy-from-waste business. Gordon Kew, then the managing director of Interserve's UK construction business who would leave in August, says: "The whole energy-from-waste portfolio we expect to be out of this year." Viridor says Interserve owes it £69m on Glasgow scheme
April 2018: Announces £244m pre-tax loss for 2017 with net debt at year end standing at £503m. Cost of energy-from-waste rises again to £215m
March 2018: Agrees £300m rescue deal with lenders
October 2017: White says cost of energy-from-waste now stands at £195m. Firm begins Fit for Growth cost-cutting initiative
September 2017: Just over two weeks into the role, new chief executive Debbie White says cost of quitting energy-from-waste sector will be more than £160m
February 2017: Ringrose says cost of quitting energy-from-waste is now £160m
15 November 2016: Firm says it has had its contract at Glasgow terminated
14 November 2016: Interserve says chief executive Adrian Ringrose is stepping down after 13 years in the post
August 2016: Firm says it is pulling the plug on energy-from-waste sector, having announced £70m writedown on EfW contracts in May
August 2014: Interserve wins £145m deal to build waste treatment plant in Derby for the city council and Derbyshire county council
July 2012: Interserve wins £146m DBFO contract with Viridor to build recycling and renewable energy centre in Glasgow