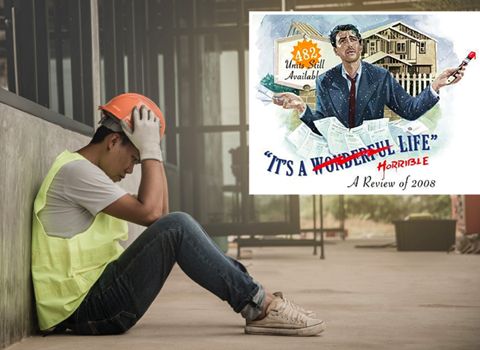 It's a horrible life: review of 2008
As we look back on 10 years since the financial crash – and discuss whether the economy is due another one – we decided to see if our review of the year 2008 could really be doom and gloom from beginning to end. It was.
A reimagining of the classic Christmas film It's a Wonderful Life saw an illustration of James Stewart clutching a paintbrush despairingly, with a failed housing scheme behind him.
The magazine had undertaken a depressing experiment: "Building took the opportunity to invest £100 imaginary pounds in shares in a selection of housebuilders and contractors. It's just as well they were imaginary: by the start of May, our £100 investment in Barratt was worth £68."
One housebuilding boss was particularly plain speaking in the the summer: "It's shit out there and getting shittier by the day and there's no sign of when the shit is going to lift."
Guardian angel Clarence did dredge up one or two things to cheer the heart – mostly Westfield in White City – but he probably would have struggled to stop some construction professionals from doing something drastic and leaving the industry altogether.
To read the full article from 19 December 2008, click here.