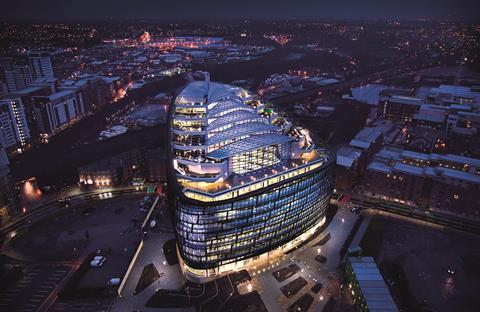 A light touch
As we look at how Manchester city centre has been transformed in the past decade, it is impossible to overlook one of the city's most famous buildings, One Angel Square.

The Co-operative group's HQ had the highest BREEAM score in the world when it was built, so Building sent along a correspondent to see what the most sustainable office building in Europe would look like. It was a "very far cry from the kind of driftwood-and-windmill look that sometimes accompanies the very highest levels of energy efficiency".
"The facade is adorned with twisting white columns and a bronze-anodised glazing frame, while the interior boasts a stunning atrium rising the full height of its 15 floors. This is statement architecture, designed to project a sleek and go-ahead image for its client," Building said.
"Energy planning has to be fundamental to the design from the beginning. There's no way you can do it with add-ons," said Mike Hitchmough of scheme architect 3DReid. For instance, heating was provided by a cogeneration CHP biofuel boiler that ran on oil from rapeseed grown on the Co-op's farms, as well as waste cooking oil.