50 years ago a GLC delegation was investigating whether Soviet Russia had the answer to Moscow's housing crisis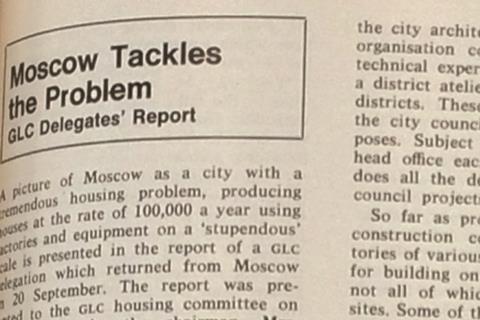 Moscow tackles the problem
As the current government struggles to embrace modern methods of construction (see this week's Farmer Review) and tackle the UK housing crisis, perhaps it would do well to take its cue from 1960s Soviet Russia.
A report by a Greater London Council delegation to Moscow, led by Evelyn Denington, describes the city as having "a tremendous housing problem", but with the "techniques and determination to overcome them in time". The report notes that "practically all of [housebuilding] is by industrialised methods, and the city is now producing houses at the rate of roughly 100,000 a year".
"During the period between now and 1980 the aim is to produce one-and-a-half million dwellings and there is every indication that the city will be successful," it adds. However, the report also notes that "production on this enormous scale must inevitably lead to some monotony in design and layout".
With its conformist, utilitarian approach to architecture and questionable human rights record, some may question the wisdom of looking to base housing policy at the height of the Cold War on pre-Perestroika Russia. It sounds almost as controversial as asking Communist China to build a nuclear power station.
See PDF file below to read the full article.