45 years ago Building was organising a conference about going into Europe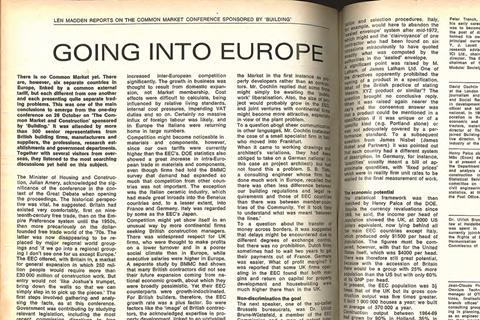 Going into Europe
At this year's Building Live event a major theme will be how UK construction will cope outside of the EU. Four-and-a-half decades ago we featured a report of a conference the magazine organised called Going into Europe, about the likelihood of the UK entering the European Common Market.
Julian Amery, then minister of housing and construction, opened proceedings by noting that the free trade world was being replaced by regional trade groupings and that "if we go into a regional grouping I don't see one for us except in Europe".
A long debate followed before conference chairman and former Bovis managing director Peter Trench summed up. He is reported to have said that "there was much still to find out, but he was confident that the know-how and flexibility of the British construction industry would serve it well provided it was also prepared to learn".
Let's hope the same is true when we have to come out.
To read the full article from 5 November 1971, see the PDF file below.