45 years ago a delegation from the RICS reported on their 'mission to America'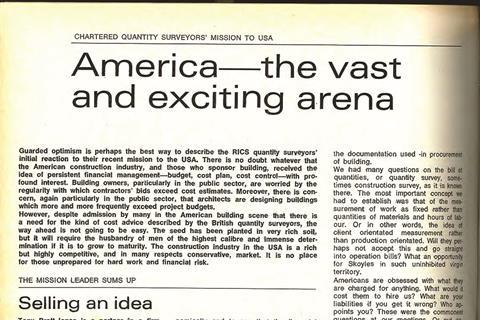 America – the vast and exciting arena
This week, we asked whether a property developer, albeit a controversial one, in the White House might be good for UK construction firms in the US (see news analysis, page 20). Back in 1971, a delegation from the RICS reported on their "mission to America" in the pages of Building.
Like Christian missionaries, setting out to spread the word in the uncivilised colonies, the object of this five-man mission was to introduce the idea of "persistent financial management" to the US construction market. The report notes that "despite admission by many in the American building scene that there is a need for the kind of cost advice described by British quantity surveyors, the way ahead is not going to be easy". It continues, somewhat alarmingly, that: "The seed has been planted in very rich soil, but it will require the husbandry of men of the highest calibre and immense determination if it is to grow to maturity."
Later, delegation member Christopher Meyer writes that US construction "is confusing and confused" under the subheading "No place for the faint-hearted"; both these phrases spring to mind when considering the current political scene in the US.
To read the full article from 14 November 1986, see the PDF file below.