As Building reports on the Grenfell temporary school this week, we note that education facilities were top of the agenda 45 years ago.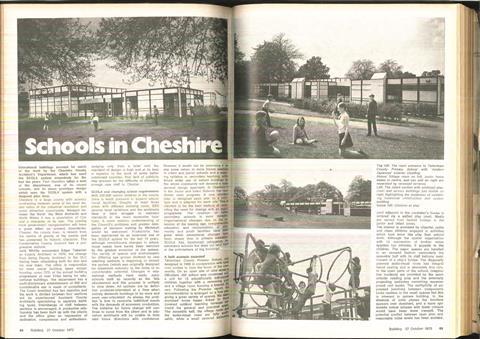 Back to school
This week, we looked at the temporary building for Kensington Aldridge Academy, which was, until the devastating fire, based at the foot of Grenfell Tower. The new modular construction was built on a former MoD site in just nine weeks, making it the fastest-built school in modern times.
Exactly 45 years ago, Building was also very focused on education, taking a detailed look around schools in different parts of the country. Just like today, councils were worried about growing pupil numbers – Cheshire council reported much pressure to expand educational facilities for its 200,000 students. However, Cheshire council was perhaps more demanding in its design specification than your average hard-pressed local authority in 2017. Tattenham County Primary School sounded very smart.
"The elegantly ordered black and white timber cladding [is] intended as a continuation of the Cheshire vernacular", said our writer – but not everything met his approval: "Unfortunately the illusion is shattered by the immediately adjacent yellow brick complex containing the swimming pool." Strangely, it was the swimming pool and not the building that stood out to us. Maybe those really were the good old days …
To read the full article from 27 October 1972, click on the pdf below.