Potential university grant cuts could have a big impact on architecture courses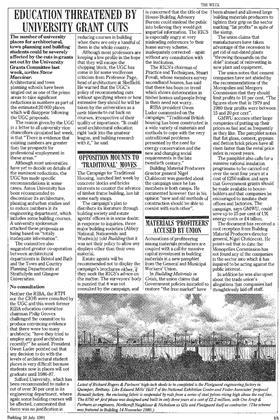 Education threatened by university grant cuts
With the threat of an industry skills shortage roaring on, bolstered by the CITB's identified need for more than 40,000 new entrants to the industry each year to meet 2019 targets, we take a look back to 1981, when the same topic was being discussed under very different circumstances.
On 10 July that year, Building reported that proposed university grant cuts set out by the University Grants Committee could have a big impact on architecture, town planning and building students across the country. These subjects were being singled out as one of the prime areas to take significant cuts as, according to UGC proposals, the number of architectural students was far greater than the number of professional positions available.
The proposed cuts were challenged by many within the industy, including then ex-RIBA education committee chairman Philip Groves, RIBA president Owen Luder and Professor Page, head of architecture at Sheffield, who warned that such cuts "could send architectural education right back into the amateur league, and building research with it".