30 years ago our parliamentary columnist was giving readers the lowdown on Margaret Thatcher latest reshuffle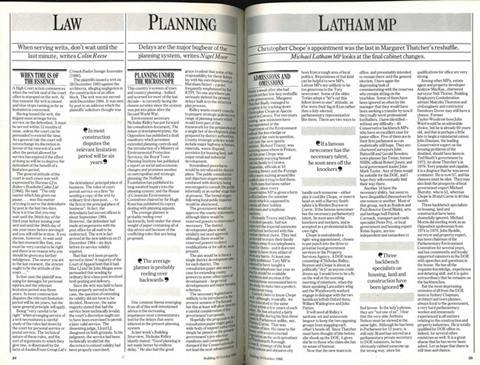 Michael Latham MP on Thatcher's latest reshuffle
Labour leader Jeremy Corbyn was in the national news headlines last week, once again, after a seemingly controversial reshuffle ahead of the next parliament, writes James Clegg.
But 30 years ago our parliamentary columnist, Michael Latham MP, was giving Building readers the lowdown on a rather more low key affair. Then Conservative prime minister Margaret Thatcher finished her latest reshuffle by appointing Christopher Chope to the Department of the Environment while the man in question was on holiday in Corsica (apparently a trend in appointing ministers to that department – it tended then to be done in their absence).
Latham went on to pay tribute to those, at the end of another reshuffle, who had been passed over for ministerial posts. He wrote: "I have again the depressing task of commiserating with the reserves who remain sitting on the touchline. Some of them have been ignored so often by the manager that they would have been seeking a transfer by now if they really were professional footballers."
One wonders if those who have not been asked to serve as part of Corbyn's shadow cabinet feel similarly disappointed.
See PDF file below to read the full article.