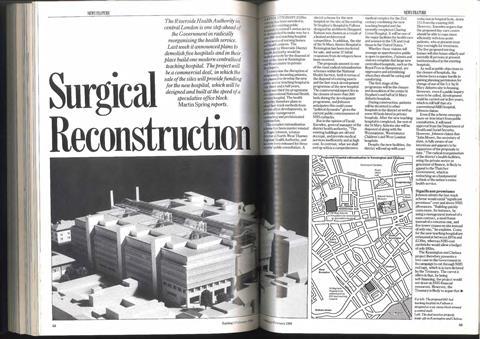 Surgical reconstruction
In 1988, attitudes to the NHS were a little less jaded than they are now. Riverside Health Authority in central London was striding forth with a £100m scheme to demolish five hospitals, build one huge modern teaching hospital and rake in the cash from four very valuable sites in Kensington and Westminster at the same time.
It was an era before endless reports of bed shortages, trolley waits and that sense the health service is an endless black hole for public money, which we write about in our feature this week.
Riverside planned to develop the hospital, which was to sit on the site of St Stephen's hospital in Fulham, at the speed of a commercial office block – about three-and-a-half years – less than one-third of the time it would usually take to build an NHS hospital. This was partially to combat bad publicity around losing 300 beds during construction – organisers were worried press attention around the loss could be "political dynamite."
The hospital was also set to feature a shopping centre "where patients and visitors can enjoy a leisurely meal", complete with waterfalls, tropical vegetation and "wallclimber" lifts. Who said there was no glamour in public services?
To read the full article from 5 February 1998, click on the pdf below.