The Construction Industry Training Board is put under pressure to collaborate fully with the new Training and Enterprise Councils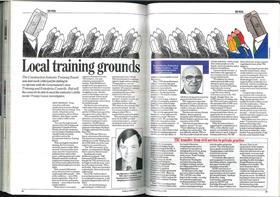 Local training grounds
With National Apprenticeship Week underway, we revisit 1991 when the Construction Industry Training Board (CITB) was under scrutiny for not collaborating sufficiently with the newly installed Traning and Enterpise Councils (TECs). With the system becoming convoluted, concerns were growing that it would impact on the number of construction trainees gaining funding.
Penny Guest reported: "The CITB, itself on a three-year probation to prove its worth to a sceptical government, is still having teething troubles with the TECs.
"First, the board is hoping to gain funding for 14,000 youth training trainees for 1991/92. Whereas formerly it would have signed a single contract with the Training Agency, now the board's 26 area managers have to negotiate 104 separate contracts with the individual TECs - competing with many other industries for the funds.
"Second is the problem of payment. A trainee may live, go to college and have work experience in three different TEC districts, his employer may be based in a fourth. But the government refuses to give ruling on which TEC is responsible for paying the grant."