The Cannes film festival came to an end last weekend and saw British director Ken Loach collect the top prize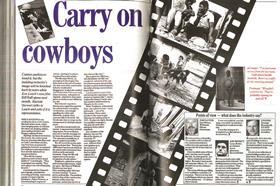 Carry on cowboys
The Cannes film festival came to an end last weekend and saw British director Ken Loach collect the top prize - the Palme d'Or - for the second time
Loach, who turns 80 this year, is a familiar face at the annual festival. In 1991, he directed the film Riff-Raff - a hit at Cannes, winning over the critics and taking home the FIPRESCI prize. But with the story based on a construction site full of health and safety violations, extortion and tax evasion, it didn't sit well with the construction industry.
Alastair Stewart reported: "Riff-Raff, the latest movie from Ken Loach, the controversial director of social realist films such as Cathy Come Home and Kes, may have been an instant hit gaining the festival's second prize but employers and union leaders have already slammed it as unrepresentative.
"The film stars Stevie, an unemployed Glaswegian who finds work on the sort of London site that most of the construction industry would rather disappeared. It takes the world of Auf Wiedersehen Pet to raucously funny extremes, with plenty of slapstick, a brief love story and a patter as earthy as you will find on any site.
"But it doesn't stop there. Skiving and a signal disregard for the taxman lead to corruption, victimisation, increasingly appalling site safety and ultimately, tragedy when someone falls to his death."