We look at wind power, 25 years ago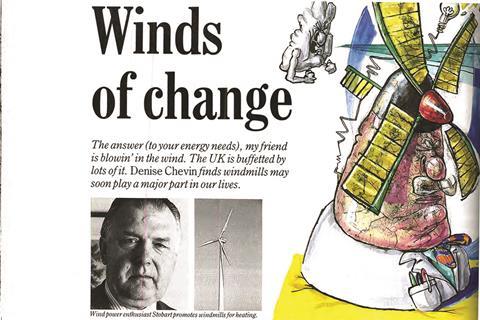 Winds of change
The industry has long been looking at imaginative ways to produce renewable energy, even if not all of them have warmed up.
"They are cheap, green and great for scaring off the birds," Denise Chevin wrote 25 years ago in Building. While it may sound as though she was referring to Primark's range of Lycra cycling shorts, she was in fact discussing windmills in an interview with engineer Andrew Stobart. Stobart wasn't talking about the huge wind farms that can now be seen dotted across rural landscapes, but small roof-top or garden wind turbines that could potentially provide heating for almost every type of housing. He referenced housing estates in Denmark and Germany, powered by community windmills, as well as developments in China.
"If the 20 million households in the UK had a little energy collection system of 500W then the amount of power generated would be the equivalent of 10 nuclear power stations," he said, expressing his anger that the government would only consider large-scale wind farms from which energy could be purchased at premium price.
To see how the UK's latest ambitious renewable energy project is taking shape, see our feature on the £1.3bn Swansea Bay Tidal Lagoon.
To read the article from 7 February 1992 download the PDF below