Quarter of a century ago the results of an Audit Commission report on council housing put the dampers on any post-election parties for the Conservatives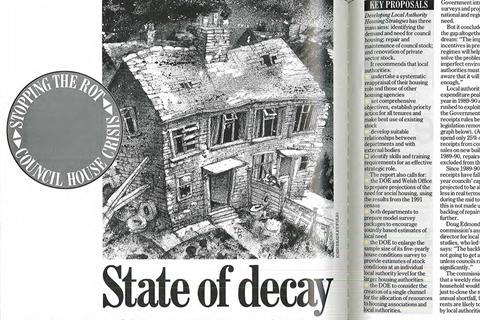 State of decay
By this time a quarter of a century ago, the Conservatives were enjoying another election victory – their fourth consecutive win – but the results of an Audit Commission report on council housing soon put the dampers on any prolonged post-election parties.
While the independent body was not allowed to dictate to the government about what to spend on this sector, it advised the "party in power" to direct its local authorities to allocate funds most prudently and efficiently.
The commission estimated that "60,000-90,000 homes must be built each year to meet needs at the low-cost end of the market". Since the construction of council housing had all but stopped by this time, investment in the repair of existing homes was critical.
The report concluded that, because of the poor state of council housing, repairs would now cost an astronomical £8.5bn, and would have a direct impact on the plans and pledges for urban regeneration.
It recommended that "councils and government should be more efficient in tageting limited resources". Sound familiar?
To read the full article from 29 May 1992, download the PDF below