Building evaluated the plans for a proposed Ferris wheel in central London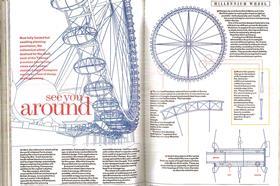 See you around
This week in 1996, Building evaluated the plans for a proposed Ferris wheel in central London, which would later become known as the London Eye.
The £9m project, funded by British Airways and designed to celebrate the turn of the millennium, was still awaiting planning permission, but aimed to be running by 1998 and was expected to remain operational for five years. The wheel may not have opened until March 2000, but 16 years later it still sees millions of visitors annually.
From its spot on the South Bank of the River Thames, the 150m-tall wheel promised the best views of the capital, and would hold the spot as the tallest Ferris wheel in the world until 2006 - when it was surpassed by the 158m Star of Nanchang in China.
Jessica Cargill Thompson reported: "At 150m, the millennium wheel will be the world's highest Ferris wheel, beating the current record holder in Tokyo by 50m. It will also be the fourth-tallest structure in London, and its elegant design and similarly elegant engineering solution will make it an exciting, if temporary, addition to the capital's skyline.
"An application for planning permission, first sought two years ago, is about to be resubmitted with detailed design. If the application is successful, the wheel will open in summer 1998 and remain operational for five years. After this it may be dismantled and moved elsewhere."