We took a look at what was on the menu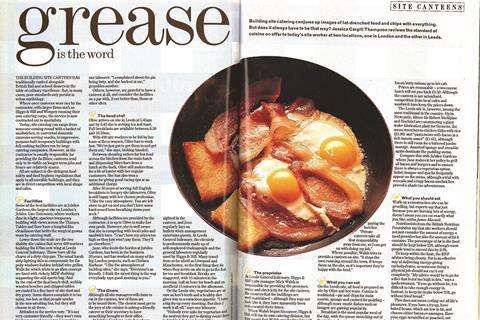 Grease is the word
This week in 1996, grease was on our minds. But Building wasn't talking about Danny and Sandy; instead it was all about a grease-filled lunch to brighten up a labourer's day.
Building investigated the building site canteen and how the culinary performance had changed from fundamentally basic school dinners to various companies contracting out the task to specialists.
Jessica Cargill Thompson reported: "Today, site catering can range from someone coming round with a basket of sandwiches, to converted domestic caravans serving snacks, to impressive, purpose-built temporary buildings with full cooking facilities run by large catering companies.
"Some of the best facilities are at Jubilee Gardens, the largest site on London's Jubilee Line Extension, where workers dine in a light, spacious temporary building with views across the Thames. Tables and floor have a hospital-like cleanliness that befits the surgical gowns worn by catering staff."