We look at hospital rebuilding, 20 years ago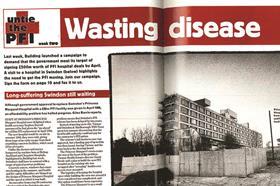 Wasting disease
Twenty years ago, plans to rebuild "crumbling concrete" hospitals thrown up after the Second World War were stalling and then, as now, the health service was suffering from a lack of funding from central government, writes Helen Burch.
The government's pledge to sign £500m of PFI deals to rebuild hospitals by April 1997 was in danger of not being met, with construction industry money being spent but no progress being made. So Building launched its "Untie the PFI" campaign, asking readers to sign a letter to then-health secretary Stephen Dorrell to put pressure on him to move the scheme forward.
Giles Barrie's article focused dramatically on Princess Margaret Hospital in Swindon, describing problems including "concrete cancer, windows that cause overheating in the summer and health and fire safety difficulties," with a visitor from a top-20 contractor concluding: "It is not an environment to make people feel better."
Eventually, the Princess Margaret Hospital was one of the first hospitals to be replaced under the PFI initiative, at a cost of £148m with Carillion as lead contractor. The new facility, Great Western Hospital, opened in 2002.
To read the full article from 7 February 1992, download the PDF below