The end of the financial year 1996/97 also brought low-level panic over tax policy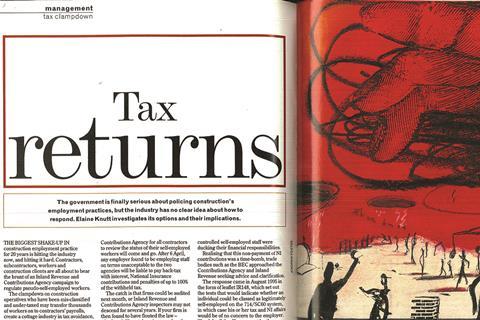 Tax returns
Such has been the uproar from the media and workers that Theresa May has already scrapped legislating for the rise in National Insurance (NI) contributions for self-employed workers that was announced in the Budget last week, amid cries that the Conservatives have broken a key 2015 manifesto pledge. The move from 9% NI this year to 10% next year and 11% by 2019 would disproportionately affect construction workers if it had been introduced.
The end of the financial year 1996/97 also brought low-level panic, with Elaine Knutt investigating what effect the government's clampdown on "pseudo self-employed" workers would have. The "sizeable slice of construction workers" who had been avoiding NI contributions had been warned – Inland Revenue and the Contributions Agency were coming to after them.
Major contractors were less likely to suffer from the tax clampdown because of their use of subcontractors. Smaller building contractors and subcontractors looked to be most affected, with one managing director of a fit-out company in Essex saying: "It's a nightmare, I'm having sleepless nights."
To read the full article from 21 March 1997, download the PDF below.