Construction cuts back on entertaining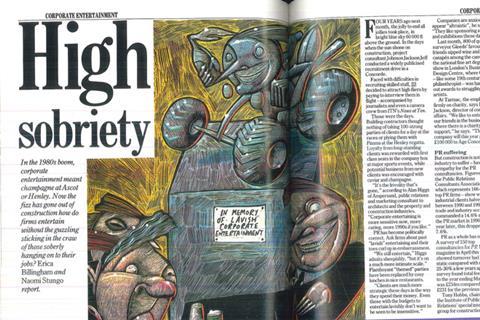 As commentators predict a tougher future for companies amid continuous political uncertainty, we look back to a time when tightening the belt had inconvenient consequences for the industry, writes Helen Burch.
"Tightening of belts" is meant literally because in the early 1990s the industry cut back on corporate entertaining. "Flamboyant 'themed' parties have been replaced by cosy lunches in nice restaurants," said PR consultant Alan Higgs in our feature at the time.
And when companies did do big entertaining, they liked to seem altruistic. In July, surveyor Gleeds hosted 800 clients at the national fine art degree show, where, our journalist noted, it handed out awards to "struggling young artists" in the manner of a "19th century philanthropist".
Some people were very pleased the industry had taken a more moderate stance. "This whole business of getting pissed and going to clubs is absolute rubbish," said Geoff Mann of RHWL.
"Whatta Mann, whatta Mann, whatta Mann, whatta mighty good Mann," Salt-N-Pepa might have sung about him in their 1990s club classic.
To read the full article from 28 August 1992, download the PDF below