The Angel of the North spreads its wings with a little help from construction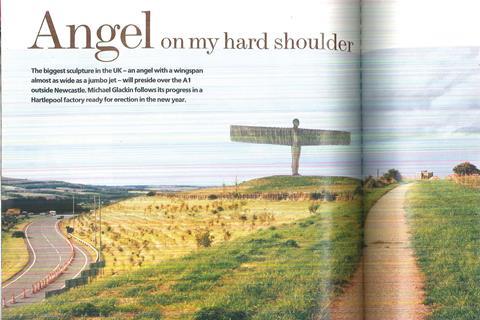 Angel on my hard shoulder
As our cover asks whether festive-looking chancellor Philip Hammond's housing giveaways will make a difference to the industry, we remember a project that is also apt for the beginning of the Christmas period. Twenty years ago, Building looked at the Angel of the North, sculptor Antony Gormley's gift to the nation (with the help of Gateshead council and a £600,000 boost from the National Lottery).
Gormley designed the concept but the task of creating the 200-tonne structure was undertaken by structural engineer Ove Arup & Partners, along with a team of welders from Hartlepool Steel Fabrications.
Gormley provided Ove Arup with a human-size plaster-cast model of the angel and the team used this as reference to build the structure around a cage cut from 50mm-thick steel, with the skeleton made of more than 2,000 horizontal ribs.
The 20m-high angel had a wingspan of 52m and was set to cost £800,000.
Both our writer and Gormley were very impressed at the quality of the work. "So far, everything has met my highest expectations," said Gormley. "The precision the welders displayed in undertaking this work has been inspiring."
To read the full article from 28 November 1997, click on the pdf below.